Movie Review: Midsommar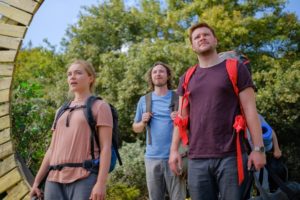 One cannot but admire the first two feature films which American director Ari Aster has delivered thus far.  In last year's chillingly effective Hereditary he presented us with a horror film of some complexity which had as its backdrop a dysfunctional family and some traumatic secrets lurking in the past.  With his new film Midsommar, Aster once again makes canny use of a backstory to propel his narrative and the individual motivations of some of his characters.  We first encounter Dani (Florence Pugh), an anxiety-ridden student, doing her utmost to deal with a horrendous family tragedy.  Uncertain of her place in the world and still haunted by the recent passing of her immediate family members, Dani's lot is hardly helped by her emotionally distant boyfriend, the self-serving and somewhat egotistical Christian (Jack Reynor).  The truth of the matter is that Christian wants out of the relationship and is only hanging in there out of some twisted sense of moral obligation.  His male friends ridicule him for this, particularly Mark (an appropriately obnoxious Will Poulter).  When Dani learns by chance that Christian, Mark and his classmate Josh (William Jackson Harper) have been invited by a Swedish colleague Pelle (Vilhelm Blomgren) to the latter's home in Halsingland to attend a midsummer celebration, she is naturally disappointed.  Her immediate response is understandable – why didn't you tell me about this?  Why was I not privy to your thoughts on such an arrangement?  It's no great plot spoiler to reveal that Christian eventually invites her to accompany them to Sweden.  He can't even be bothered to have the confrontation with his girlfriend – that would be the difficult thing to do.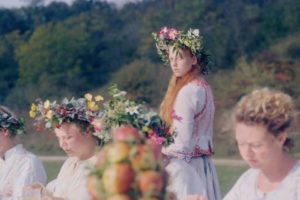 Aster – who also wrote the screenplay for this – has spoken of how he was head-hunted to direct a slasher film set in Sweden, but eventually settled upon a plot in which the main characters are involved in a deteriorating relationship which is in its final throes.  The director has said that he went through a tough break-up in recent times and describes the piece as 'a break-up movie dressed in the clothes of a folk horror film.'  Upon arriving at the commune in Halsingland, a general sense of foreboding immediately sets in.  This is accentuated by the photography of Pawel Pogorzelski (emphasising the pearly-white and the pastoral) and the costumes by designer Andrea Flesch (floral headpieces are officially back in vogue).  The overall intent and effect is to make the visitors stand out in a stark fashion.  The Americans are not the only ones there – an English couple, Simon and Connie, have also been invited by Pelle's brother Ingemar.  In contrast to the commune members are their casual workaday clothes and the not-so-subtle lack of deference they have for the ritualistic celebration which they are told occurs only once every 90 years.  In one humorous scene, for example, the uncultured Mark urinates on an ancestral tree thereby provoking the wrath of the entire commune.  Meantime, the several unsavoury events which must surely come to pass are signalled to us the audience, yet seem to escape the major players.  We ask ourselves if they do not suspect a deeply-rooted and malevolent plan at work.  What exactly is that strange structure that no one will explain?  And why are meaningful – even lustful – gazes being directed at the likes of Christian and even Mark?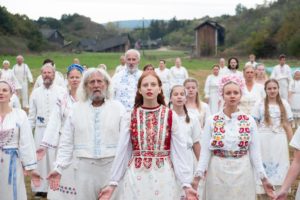 Aster has fashioned a seemingly self-contained world here, reminiscent somehow of M. Night Shyamalan's The Village, and he's not afraid to take his time as he establishes its quirky practices and more troubling rituals.  A clifftop suicide which takes place roughly an hour in ups the ante in this regard and also serves as an unwanted reminder for the still-grieving Dani.  When some of the visitors begin to disappear, the stratagem becomes somewhat clearer but is never quite entirely lucid until the film's end.  Comparisons to Robin Hardy's The Wicker Man are fully merited and, just like that famous British horror film, Midsommar's final denouement is a mix of ceremonial outlet and sacrifical venting.  In the interim, we are also presented with a maypole dancing competition (naturally, given the film's genre) and a quite bizarre mating ritual which borders on the comic (and we thought we had seen it all with Britt Ekland's seductive dance in the aforementioned The Wicker Man).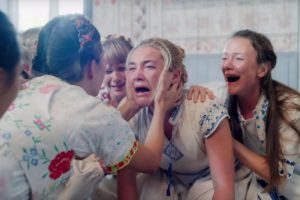 As with last year's Hereditary, this is a film which will not appeal to all audiences and many will leave the cinema scratching their heads as to what exactly that was all about.  One of Aster's principal objectives here is to hold his audience at a distance, just like the visitors who view the on-going rituals with a palpable degree of bemusement.  On a fundamental level, the film could be read as a message about engaging with customs and societies of which we have no knowledge.  Is it better to stick to those things which are tangible the writer-director seems to be asking of us – emotions and human relationships such as loyalty, affection and – yes – even love.  In this latter regard, the film's climactic moments can most certainly be interpreted as a manifestation of vengeance, of simmering resentment coming to boiling point.  It's both a cruel execution and a shocking end and the viewer will recall it for some days after leaving the theatre.  Love this one, or hate it, Midsommar will most definitely not leave you with a feeling of indifference.
Rating: B+