Movie Review: Nocturnal Animals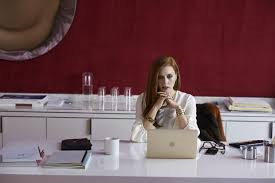 American fashion designer Tom Ford's second feature as a director is an affecting neo-noir psychological piece which juxtaposes the scenes of a short-lived marriage and a fictional work some years later by the disaffected ex-husband.  Based on Austin Wright's 1993 novel Tony and Susan, Nocturnal Animals opens with Amy Adams's unsettled Susan, an art gallery owner whose second husband Hutton (Armie Hammer) appears to be cheating on her.  The veneer of the couple's success and financial wherewithal may be at a remove from the reality of their situation and Hutton is using the old prop of a pressing business transaction to stay away from their lavishly decorated home.  Susan receives a manuscript of a novel written by her first husband Edward (Jake Gyllenhaal) whom she tacitly admits she has not seen for many years.  Intrigued by the notion that Edward has finally put pen to paper, Susan begins to peruse his work and reminisces about aspects of their courtship and subsequent faltering union.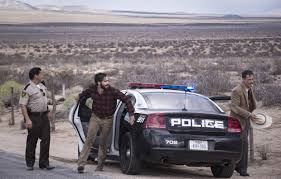 The story within the story – the Nocturnal Animals of the title (which is also Edward's moniker for Susan) – concerns a mild-mannered individual named Tony (also played by Gyllenhaal) who is taking his wife and teenage daughter on a road trip which traverses West Texas.  Driving at night, the family are forced off the road by three hoodlums, the self-appointed leader of whom is Ray Marcus (Aaron Taylor-Johnson).  Spurred on by his compadres, Lou and Turk, Ray verbally threatens the family and eventually flees the scene taking Tony's wife and daughter India with him.  Forced to drive the other car by Lou, Tony is abandoned in an uninhabited stretch of Texan countryside but – significantly – does get the opportunity to rejoin his family when Ray and Turk return to look for him.  Realising, quite rightly as it turns out, that this is potentially nothing more than a deadly ruse, he refuses to answer their calls in the night air.  The moment is one which subsequently accentuates his sense of guilt and inaction.  Aided and pitied in equal measure by a local detective Bobby Andes (the as-always sublime Michael Shannon), Tony is pulled back into the case a year later following a botched robbery involving the same trio.  But what is the ultimate price of seeing through a vendetta when the law will not play its part?  Can Tony address his perceived shortcomings from the previous year?  And what is the exact link between this slice of fiction and the present day affinity (or lack of perhaps) between Susan and Edward?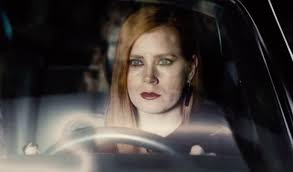 Nocturnal Animals is a film which will not appeal to all cinema-goers with its noirish allusions set in contrast to its straight moral tale of a revenge-seeking husband who is both wracked with grief and guilt.  There are more than a few shades of David Lynch here and even the master himself Hitchcock in the overall mise en scene and beautiful lingering shots of interiors and dark night skies.  A haunting score by Polish composer Abel Korzeniowski (who also collaborated on Ford's previous A Single Man) has more than a few hints of Bernard Herrmann about it.  Irish cinematographer Seamus McGarvey's compositions are, as always, exquisitely framed and instantly redolent of both LA fashion world and Texan topography; the quite contrasting milieus which the film straddles.  The script by Ford himself delves into the themes posited by its source material with often cutting precision.  This is not a warm movie even though one of its protagonists is frequently referred to as a romantic.  Time and circumstance we learn may harden even the most ardent of hearts.  The cast is pretty much flawless with standout performances in particular by Adams (currently enjoying a rich vein of form and projects), Gyllenhaal in his dual role, and Shannon as the slightly-jaded and, ultimately, ailing detective.  Actors popping up in supporting roles include Michael Sheen, Jena Malone and Laura Linney.  Nocturnal Animals is not a film to warm the cockles of the heart, but it is a sharp and incisive examination of relationships, moral compass and varying degrees of ambition to mention just a few narrative threads which are pursued during the course of its running time.  Not one for the sentimentalists though.  And the closing scene does not make for a date movie either.
Rating: B