Movie Review: Once Upon a Time in…Hollywood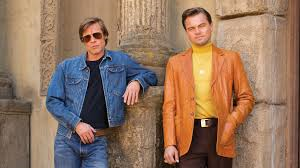 Quentin Tarantino's ninth feature film is a nostalgic survey of late 1960s Hollywood as well as a meditation on matters such as fading celebrity, the ties of friendship and the necessary transitions which take place in life when eras draw to a close and personal attitudes arrive at a finite state.  The future of his own career is very much addling Rick Dalton (Leonardo DiCaprio) at the beginning of the film.  Once the principal star of a television western series called Bounty Law, Dalton no longer commands any sort of meaningful clout in Tinseltown.  He is in his own words a 'has-been' as he confides to his best friend Cliff Booth (Brad Pitt).  Booth, on the other hand, is a curious concoction – a former stunt double for Dalton on shows such as the aforementioned Bounty Law, the worldly-wise factotum drives Dalton here and there and completes menial tasks such as fixing his TV aerial.  He does not complain or sulk because a dark secret lurks in his past and he is grateful for Dalton's unwavering friendship.  The insecure actor on the other hand is given to outbursts of melancholia and frustration, drinks too much by his own admission and even sobs quite pitifully on occasion.  As a backdrop to all of this, we are introduced to the character of Sharon Tate (Margot Robbie) who lives next door to Dalton with her husband, film director Roman Polanski.  Elsewhere, a commune of hippies have taken up residence at the Spahn Ranch in Chatsworth; among their group is one notable member by the name of Charles Manson.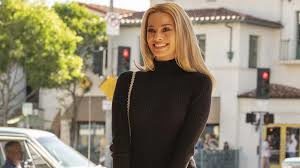 This, of course, is not the first time that Tarantino has chosen to base his fictional story in the realm of partial fact – Inglorious Basterds springs most readily to mind in this respect.  The intention on this particular occasion is not to present a revisionist text, but rather to eulogise the epoch in question and celebrate many of its intrinsic values.  Film aficionados who do not appreciate the director's proclivity for extended sequences, which add little to the basic plot, and ruminations on sidebar issues should be duly warned in advance.  This is Tarantino's tribute to a bygone era which witnessed the official end of old Hollywood and the birth of the nouvelle vague in American cinema, such as it was.  The year is 1969 and we are some two years on from the release of Bonnie and Clyde for example.  Much later in the film, Dalton – who appears to have an innate hatred of hippies – refers to one of them as Dennis Hopper.  1969 was indeed the year that his Billy and Peter Fonda's Wyatt went looking for America in Easy Rider.  The America, more specifically Los Angeles, which Tarantino presents us with is one of unavoidable change.  The film audiences who frequent the theatres in the city of angels may still love their heroes, but they also root for their anti-heroes.  Perhaps this is a reason why Tarantino has written such a marvellous role for Brad Pitt who does his best work here since 2011's Moneyball.  Elsewhere, the director's fascination with the period of time knows no bounds as he litters his film with real-life characters such as Steve McQueen (Damian Lewis), James Stacy (Timothy Olyphant) and Sam Wanamaker (Nicholas Hammond).  The less said about Mike Moh's Bruce Lee, the better perhaps.  Quite why the director chose to portray the late actor/martial artist in this particular light is unclear and it has displeased a good many people.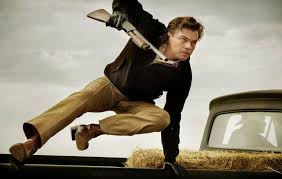 Now in his mid-50s himself, we can forgive Tarantino's whimsical approach at times and the reverence he obviously holds for a Hollywood which he did not personally experience.  The fact that the director is said to have based his two central characters on those of Burt Reynolds and his longtime stunt double Hal Needham should tell us all we need to know.  Just like ourselves, Tarantino is interrogating this period and picking it apart for what was good and what was not so good.  His Rick Dalton is a personification of the change which is happening all over the industry as the 1960s marches to a conclusion – deeply anxious and self-doubting, the actor is only too aware that he is now being typecast as the bad guy in movies and TV shows.  In a colourful cameo, Al Pacino's agent Marvin Schwarz tells him as much and advises him to pursue spaghetti westerns in Italy.  But Dalton is resistant to such change as much of establishment America would have been in spite of the 1960s and the attitudinal changes which it heralded.  Later on in the film (still in 1969 by the way), he does accede to such necessary evolution and apparently embraces the life in continental Europe in a few substantive ways.  When he and Booth eventually return after a six-month hiatus abroad (and four films – three of which are spaghetti westerns), the setting is August 1969 and Hollywood historians will know only too well what happened on a certain night that very same month at 10050 Cielo Drive.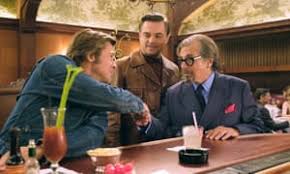 Once Upon a Time in Hollywood has enough moments of Tarantino magic to carry us through, but there are the director's trademark excesses as well.  Admirers of his will love elements such as the period setting, the perfectly-chosen jukebox soundtrack and the multiple cinematic references which he sprays throughout with abandon, whilst detractors will bemoan the familiarly long and sometimes ponderous scenes in which the director appears to indulge his love of hip dialogue and barbing wisecracks.  Brad Pitt, for one, must surely set a record for time spent onscreen in a variety of cars as he traverses the Hollywood Hills and the streets of L.A.  Elsewhere, the highly-talented Robbie (who receives third billing here) is essentially wasted as Tate, although, to be fair, the Australian actress makes the most of a role which is distinctly lacking in dialogue.  The two male leads do not fall prey to such treatment and DiCaprio tackles his role with typical vigour as he commands moments of humour and poignancy with no lack of charisma or aptitude.  A stand-out scene which perfectly combines these aforementioned tones has him opening his heart to a child actress on set.  A short time later, a meltdown in his trailer tells us everything we need to know about the actor's vulnerable state of mind.  The phrase that you're only as good as…and so on comes to mind.  The film however belongs to Brad Pitt and he is the anchor which steadies Tarantino's ship at times when it threatens to veer off course.  Now in his mid-50s also, the time it seems has come for him to be referred to as an 'old guy in a Hawaiian shirt', but Pitt wears this label well and his performance is seemingly effortless and top-heavy with some of the old Hollywood appeal which Tarantino is going for.  Alas, if only the silly denouement which the director inserts towards the end had been avoided, we would have a much much better film.  Still though, a beguiling enough tour of Hollywood a half century ago which will do well enough.
Rating: B+