Movie Review: Paddington 2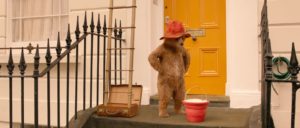 The lovable bear without a shred of cynicism or prejudice returns in this absolute joy of a sequel to 2014's Paddington based on the character created by the late Michael Bond (who passed away earlier in 2017).  Lovingly voiced by Ben Whishaw and with a returning cast which includes Hugh Bonneville, Sally Hawkins, Julie Walters and Jim Broadbent, Paddington 2 is that rare sort of sequel and film which will appeal across the board and to a broad spectrum of age ranges.  We find our hero well ensconced in his neighbourhood and surrounding environs at the opening of the film.  Paddington is well regarded by his friends and doted upon by his adopted family the Browns.  With the exception of his sole detractor Mr. Curry (Peter Capaldi, another returning cast member), the little bear is viewed as a source of inspiration for one and all; his effortless disposition seems to warm all those he comes in close contact with.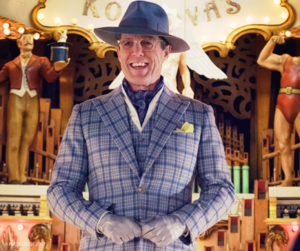 With his Aunt Lucy's 100th birthday fast approaching, Paddington settles on a very special present for the old dear – an antique pop-up book of London which he hopes will give her a taste for the city which she has never visited.  But there is a malevolent force which he is not aware of who also desires this same piece – an utterly narcissistic has-been actor named Phoenix Buchanan (Hugh Grant) who believes the said book will uncover a wealth of treasure which he can use to reinvigorate his stalled career.  One of the film's several winning sequences ensues as Paddington temporarily takes up the profession of a window cleaner in order to earn the wherewithal to purchase the book.  The theme of inclusiveness, which was a notable feature of returning director Paul King's 2014 film, is on full display here as it is in other aspects of the film.  Inadvertently, Paddington even brings two people together just by way of his unique window cleaning abilities.  The small bear can do no wrong it seems.  And Aunt Lucy's precious present is just within his grasp.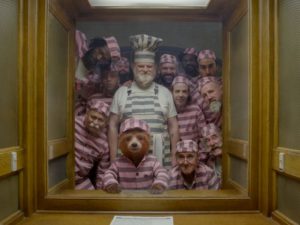 But no good deed ever goes unpunished as we well know and the amiable bear from deepest, darkest Peru is wrongfully found guilty of stealing the pop-up book as he attempts to foil a burglar who is pursuing this very item – Grant's Phoenix Buchanan as it turns out.  Put behind bars for a crime he did not commit, Paddington befriends a convict named Knuckles McGinty (Brendan Gleeson) who serves as the prison's chef.  The hardened safecracker takes to the new inmate as he samples his winning marmalade recipe first-hand.  In a similar fashion, the other prisoners also soften and begin to direct their energies in more meaningful and constructive pursuits.  Such a pervading theme of good overcoming evil and hope triumphing over despair might seem vaguely maudlin in many other films, but King and his co-writer Simon Farnaby manage a deft balance of feel-good whimsy and well-measured light entertainment.  An early barber shop scene – in which Paddington attempts to tend to a demanding customer – is one such instance.  The prison segment of the film is laden with such moments, particularly in a very humorous scene in which the Browns come to visit.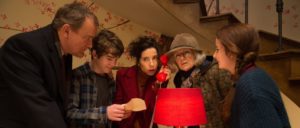 It's hardly a great revelation to say that Paddington gains many allies inside and outside the walls of incarceration.  The character who first appeared in A Bear Called Paddington in 1958 has always been a paragon of courtesy and kindheartedness.  Part of the utter charm of this film and it's 2014 predecessor is the way in which King has retained these essential characteristics and found a place and context for them in a modern world which is poles apart from that of the late 1950s.  Viewers of this note-perfect sequel will take particular delight in the way in which King and Farnaby continue Paddington's near-seamless transition into contemporary London.  The theme of inclusiveness, which I referred to previously, takes on an even more resonant aspect in this post-Brexit England.  To that end indeed, Paddington inhabits a world which is multi-cultural and all-embracing.  Such dynamics and facets of life are a good thing the film tells us; the central character himself is, after all, a relative newcomer who aspires to make this new land his permanent home.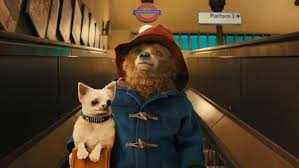 Fans of the books and the first film (in what we hope will become the expanded Paddington universe) will be more than satisfied with the production values and exquisite visuals which accompany the engaging storyline and truly disarming narrative.  As the Brown parents, Bonneville and Hawkins are at the top of their games again and they are well matched by Walters, Broadbent and Capaldi.  The standout performances of the film however belong to Grant and Gleeson who bring different levels of scenery chewing to their respective roles.  Grant's great strength has always been humour, as we know, and he is truly splendid as he addresses a collection of strange mannequins in his attic.  Gleeson, on the other hand, contrives to find a mix of world-weariness and latent congeniality in his Knuckles.  Paddington 2 is a film which one might well prescribe for those who might be of this former disposition.  In any event, it's an absolute endearing film and entertainment from first to last.  Go see it and get paw-deep in its feelgood factor.  And roll on Paddington 3 we most certainly hope.
Rating: A+