Movie Review: Rocketman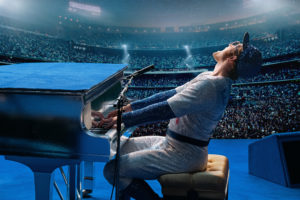 Based on the life of singer-songwriter Elton John, Rocketman is an exuberant musical/biopic which should appeal to dedicated fans and those of us who can appreciate the early genius behind such well-known ballads as Your Song, Tiny Dancer, Daniel and the titular Rocket Man.  Directed by Dexter Fletcher (Sunshine On Leith, Eddie the Eagle), the film focuses on John's early career years (roughly from the late 1960s to the early 1980s) as he comes to terms with his rapid rise to fame, his own sexual orientation and struggle with various substance addictions.  Beginning with the singer's childhood (as he grows up in the Pinner area of London), Rocketman chronicles John's burgeoning interest in music and entertainment generally as he chooses a path in life which is far from conventional and sometimes fraught with personal peril.  Dexter and screenwriter Lee Hall have chosen a jukebox musical approach with respect to some of the more pivotal moments in John's early life and career and this particular framing device works well.  There's a very effective moment early on when – performing in a local pub – the young singer breaks into a version of his own Saturday Night's Alright For Fighting in response to an especially boisterous onlooker.  At another point in time, 1972's Tiny Dancer is utilised to express an emotional response by the young singer as his star begins to rise in America.  In the central role, Taron Egerton belts out the many signature tunes with no small amount of singing talent and attendant gusto.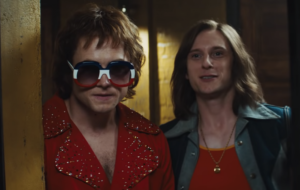 The early 1970s were John's most fertile years as an artist and the creative partnership he formed with Bernie Taupin (Jamie Bell) is documented by the filmmakers as the singer significantly breaks the much-vaunted American market and attains a global status far beyond his dreams.  There was a downside to all of this of course and Fletcher and Hall do not shy away from it.  The film begins with the adult John attending an addiction counselling session in one of his flamboyant performing costumes.  Flashbacks to his childhood and formative years inform us the audience of a somewhat distant mother (Bryce Dallas Howard) and a stern father (Steven Mackinstosh) who served as a flight lieutenant in the Royal Air Force.  When the young boy (still known then by his given name Reg) reads fashion magazines, he is scolded by a patriarch who can hardly be described as understanding.  At a later juncture, his mother informs him that he will never find true love on account of his inherent homosexuality.  The singer's problems with alcohol and substance addiction appear to exacerbate after he parts company with Dick James and Ray Williams.  The film more than suggests that a business and personal relationship with manager John Reid (Richard Madden) did not help matters as John increasingly floundered in the proverbial world of drugs, sex and rock-and-roll.  His eventual rehabilitation may not be the best realised aspect of the film in purely dramatic terms, but the musical numbers which accompany it are resonant enough to overcome such shortcomings in an otherwise excellent slice of entertainment.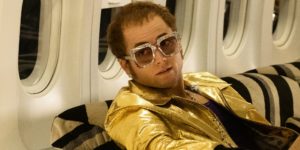 Fletcher – who effectively saved 2018's Bohemian Rhapsody (along with editor John Ottman) – is in absolute control of his craft here and he is assisted by some fine performances from his actors.  In the principal role as John himself, Taron Egerton seizes his big chance and delivers a performance which has breakout written all over it.  The comparisons to Rami Malek's Oscar-winning turn in the aforementioned Bohemian Rhapsody will be inevitable and Egerton deserves as many kudos for the way in which he inhabits the role from start to finish.  His John is every bit the accomplished artist, but the deeply-flawed human being.  In contrast to Bohemian Rhapsody is the more direct addressing of his sexual orientation.  Equally pointed and without the veneer of circuitous allusion are the insights into addiction and loneliness.  There are few punches pulled as an intoxicated John declares his intention to end his own life as he dives into an open-air swimming pool.  The vicissitudes of a life lived in the public eye are documented by the filmmakers and Egerton's fellow actors are – for the most part – equal to the task.  Jamie Bell makes for an appropriately winning and generally empathetic Bernie Taupin.  Game of Thrones's Richard Madden is menacingly charming as John Reid.  Tate Donovan and Stephen Graham also leave an impression in their respective roles as Doug Weston and Dick James.  Mackintosh and Dallas Howard fare fine as the oft-callous parents.  The film belongs to Egerton of course and it's hard to imagine an actor who could have been better in the lead role.  Fletcher and Hall also deserve their respective kudos for a musical/biopic which delivers high-octane musical numbers and full-bodied moments of drama.  As predicted by one of the characters at an early juncture, John's life was seemingly destined to be a wild ride and such was the case.  Rocketman is a movie which grasps this central premise and gives it cinematic expression to superb and entertaining effect.
Rating: A