Movie Review: Rogue One: A Star Wars Story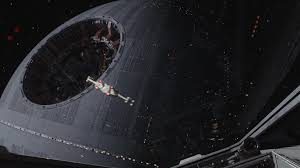 The first spin-off tale in the greater (and ever expanding) Star Wars universe is a solidly acted, solidly directed and solidly impressive visual entry in the overall canon which shouldn't disappoint die-hard fans and might even serve to entice newcomers to the series.  Did I mention that it's solid in all departments in all of this?  Serving as a prequel to the seminal events of Star Wars IV – A New Hope, Rogue One essays the efforts of, at first, a handful of rebels to steal the plans for the dastardly Death Star which the Empire is constructing.  As a backstory, and individual focus, we are introduced to the young Jyn Erso who will grow up to become Felicity Jones, the feisty female protagonist of the piece.  Her father Galen Erso (the as always excellent Mads Mikkelsen) is forced by the Empire (as personified by Orson Krennic (Ben Mendelsohn)) to complete his design of the behemoth space station, but not before he dispatches Erso's wife and sends his daughter fleeing for her life.  Raised somewhat haphazardly by the rebel extremist Saw Gerrera (Forest Whitaker), Jyn has become a renegade in the ongoing conflagration some years later when freed from an imperial labour camp by the dedicated, if somewhat dour, Cassian Andor (Diego Luna).  Recruited by the rebellion, who see the value in her family ties, Jyn is persuaded to seek out and rescue her hostage father who is covertly despised by many owing to his perceived collaboration with the Empire.  But, of course, this being a Star Wars story, there is hope.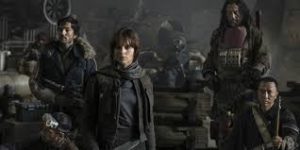 And so a rather ragtag team of mercenaries and warriors accompany Jyn and Cassian first to the mining colony of Jedha, where a wayward pilot and holographic message await them (sound familiar to anyone?), and onward then to the research facility on the planet Eadu, where father and daughter are temporarily reunited.  Meantime, we are introduced to the firing power of the evolving Death Star and to a returning familiar face from the 1977 film in the form of a digitally-generated Grand Moff Tarkin (the late Peter Cushing).  Just for good measure as well there is the appearance of that gold-plated droid and his diminutive buddy.  Plus another digital reanimation in the film's final shot of the recently passed (and sadly missed) Carrie Fisher.  Best of all such returns however is the iconic figure of Darth Vader.  Still voiced by the great James Earl Jones, Vader's form and figure casts its long and eerie shadow and is a welcome reminder of what a malevolent presence he was in the original trilogy.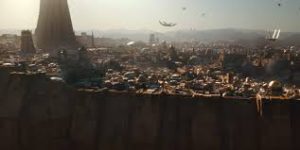 But what of the instant film you ask and how should it be judged as the Star Wars anthology gathers pace.  Well, just as I suggested at the beginning of my review, the filmmakers here have done more than a serviceable job.  There was talk of initial studio dissatisfaction and extensive re-shoots during production, but, be that as it may, Rogue One is a perfectly acceptable entry in the Star Wars universe as a whole and with a to-date healthy box office return will more than encourage planned and future spin-offs such as the developing Han Solo project.  English director Gareth Edwards (Monsters, Godzilla) handles the big set-pieces with much aplomb and composer Michael Giacchino optimises variations on the theme of John Williams' famous score.  The screenplay by Tony Gilroy and Chris Weitz is more than functional with its (as to be expected) allusions to the force and the concomitant rebel cause, but breaks no new ground with respect to the somewhat predictable narrative trajectory.  As to the cast, Felicity Jones in the pivotal role of Jyn is the only real standout, although there are nice turns by Donnie Yen as a Daredevil-type blind warrior, who constantly intones his belief in the force, and Jiang Wen as his weapon-toting best friend.  Jimmy Smits and Irish actress Genevieve O'Reilly also feature reprising their roles from previous films.  All in all, Rogue One is worth catching from the point of view of Star Wars lore and backstory.  It's well put together, expeditiously staged and will not dissuade anyone from the universal entity the series is fast becoming.  And did I mention that it's perfectly solid?  More than once I do believe.
Rating: C+