Movie Review: Shazam!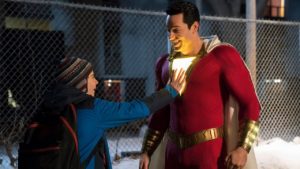 Based on the comic book character of the same name, the latest superhero film from the DC Extended Universe has a generally appealing premise at its narrative core as well as a fine streak of humour and many affable characters to boot.  For fans of comic books and the genre as a whole, Shazam! takes an engaging look at a question that has surely crossed the mind of more than a few aficionados.  What if I suddenly possessed incredible powers that have no bounds?  What if I were the envy and admiration of all those around me?  Such is the fortunate lot of one Billy Batson (Asher Angel) a fourteen-year-old foster kid from Philadelphia who is in search of his real Mom and has a tendency to run afoul of the law and generally frustrate those who try to take care of him.  Placed in a group home run by the benevolent Victor and Rosa Vazquez, Billy's losing streak appears set to continue until one day (while fleeing from school bullies on a subway) he is transported to a mysterious temple where a stoic wizard by the name of Shazam (Djimon Hounsou) offers him up powers beyond belief – one of the notable side effects being that the relatively puny Billy is transformed into a sinewy adult superhero who is portrayed by Zachary Levi.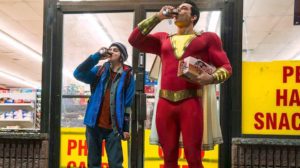 Shazam! is at its most fun during the next section of the film as Billy comes to terms with the startling abilities he now possesses as well as basking in the adulation which inevitably comes when one exploits various feats of strength and speed by way of social media.  To this end, he is aided and abetted (to a certain extent) by new pal Freddy Freeman (Jack Dylan Grazer) who also resides at the Vazquez group home; other members include the seemingly-grounded Mary (Grace Fulton), the gaming enthusiast Eugene Choi (Ian Chen), the effusive Darla Dudley (Faithe Herman) and the somewhat diffident Pedro Pena (Jovan Armand).  Inevitably, of course, there are messages to be imparted through the story (co-written by Henry Gayden and Darren Lemke) and one of them is that the individual should not lose sight of those things and people who are important to him in spite of near-universal veneration (as it appears to be).  The burgeoning hero is, naturally, brought back down to earth by the villain of the piece – Dr. Thaddeus Sivana (a suitably brooding but hardly stretched Mark Strong), a physicist who has spent the majority of his adult life seeking out the Rock of Eternity from where Billy has attained his powers.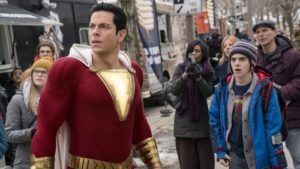 The DC Extended Universe has paled in comparison to the far mightier Marvel iteration thus far, but recent films such as 2018's Aquaman and 2017's Wonder Woman have served to steady the ship and point the way.  Director David F. Sandberg (Annabelle: Creation) has the good sense to maintain a consistently diverting tenor for the most part with some winning references to other superheroes and a pleasing visual allusion to 1988's Big.  That latter film (which, at the time, represented a huge leap forward for the career of one Tom Hanks) was the very best of the so-called age-changing comedies and Shazam! happily is not too far behind it with respect to its wit and emotional resonance.  It's not a perfect film and this reviewer found the finale and some of the action sequences a tad extended and – on occasion – tedious to be perfectly frank, but on the whole Shazam! largely succeeds thanks to Sandberg's deft direction and the efforts of its relatively young cast – kudos in particular to Grazer, Levi and Angel.  A good superhero film not a great one, but that will suffice for the present time.  The curve – it would appear – is continuing in the right direction for the good people at the DCEU.
Rating: B