Movie Review: Sicario: Day of the Soldado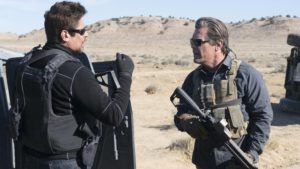 The sequel to 2015's Sicario begins, as one might expect, with a telling engagement on the U.S.-Mexico border.  It's night-time and a sizable horde of immigrants are attempting to cross into the land of freedom and opportunity.  But the country of their dreams and intended destiny is far from the safe haven it might once have been.  In Kansas City, a suicide bombing in a grocery store kills at least fifteen people, including two children.  Deducing that the drug cartels down Mexico way are now facilitating the transport of Islamic terrorists across the border, the powers-that-be at the U.S. Department of Defense determine upon a more ruthless approach of their own.  CIA agent Matt Graver (Josh Brolin reprising his role from the previous film) is duly summoned.  Graver is promised the resources that he needs and the backing of the Secretary himself (Matthew Modine).  It all smacks somehow of Rambo: First Blood Part II and a similar assurance which was given to Sylvester Stallone's central character.  How long before Graver will overstep the mark we wonder.  How long before the politicians lose the stomach for the bloodletting that will inevitably follow?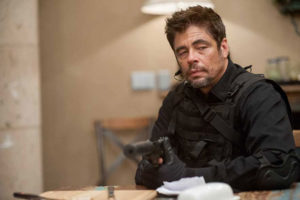 Italian director Stefano Sollima (Romanzo Criminale – La Serie, Gommorah) proves to be a good choice for the bloody mayhem which ensues and there is an undeniable visual style to this new film which is almost on a par with the Denis Villeneuve-helmed 2015 entry.  But Day of the Soldado is not nearly as good a film as its predecessor.  There are notable absences here apart from the aforementioned Villeneuve; Roger Deakins is not on cinematography duties this time around; composer Johann Johannsson sadly passed away in February 2018.  Most especially of all, the new Sicario film is bereft of the presence of Emily Blunt.  Blunt – let's remind ourselves – provided the original film with its moral compass.  She was the one who openly questioned the legality and remit of Graver's tactics and that of his softly-spoken partner Alejandro (Benicio del Toro).  When Graver enlists the help of Alejandro once again and informs him that they practically have carte blanche, we wonder from where the source of scrutiny will emanate.  Who will now question these men or hold them accountable for their actions?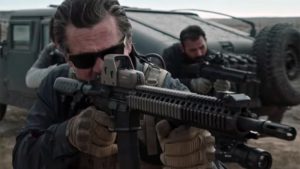 A divide and conquer approach of sorts is decided upon and Graver et al stage a false flag operation in Mexico City whereby the daughter of a cartel kingpin is kidnapped and taken to a location in Texas.  The body count rises steadily with a well-crafted assassination scene in the Mexican capital and an ambush sequence as Graver and his men are double-crossed by the Mexican federal police.  Meantime, we have a seemingly separate story involving Miguel, a Mexican-American 'coyote' who is drawn into the murky world of people smuggling contrary, we are led to believe, to his better principles.  A narrative thread concerning Alejandro and the kidnapped daughter Isabel (Isabela Moner) seems somewhat forced on the other hand.  And when we are handed some further details regarding Alejandro's tragic backstory, Day of Soldado increasingly takes on the feel of a middle chapter.  Not surprising therefore to learn that one of the producers Trent Luckinbill has gone on the record and stated that a third film is in the works.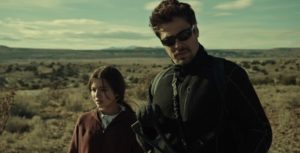 Day of Soldado has been criticised in some quarters for its lack of empathy and emotional core and, invariably, comparisons with the 2015 film have featured in many a review.  Yes, the new film pales in contrast to the Denis Villeneuve one, but it stands alone well nonetheless as a pacy and action-packed thriller.  At its centre, of course, are the performances of Brolin and del Toro – two actors who could render the sipping of a cup of coffee charismatic.  If Brolin is the compelling frontman of the piece, then del Toro is surely the detached compadre.  It's significant therefore to note that a skip forward in time just prior to the final scene does nothing to shed light on their prevailing relationship at the film's end.  This opens up many possibilities and the opportunity for the sequel which I alluded to earlier.  Neither actor will look too wizened in, say, three years' time.  Elsewhere, the 17-year-old Moner acquits herself well and Jeffrey Donovan returns as Graver's right-hand man Steve Forsing.  But Catherine Keener is horribly underused in her respective part; Matthew Modine has little to do except appear po-faced in a DoD briefing scene and, later, in a conference call.  It all makes for a fairly brutal yet strangely worthy affair with some very well-assembled set-pieces, atmospheric accompaniment by composer Hildur Guonadottir and fine photography courtesy of Dariusz Wolski.  But the film misses the presence of Emily Blunt and suffers at times from its rather one-dimensional view of this fraught world twixt two nations.  Nonetheless, a stylish and hard-hitting drama which is a more than adequate follow-up.
Rating: B