Movie Review: Solo: A Star Wars Story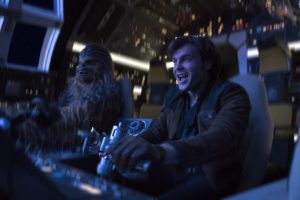 The second in Star Wars anthology film series centres on one of the most beloved characters from this particular universe and it may explain some of the difficulties encountered during this particular production as its original directors Phil Lord and Christopher Miller were replaced mid-stream by Ron Howard.  The lovable smuggler with the roguish smile is, of course, indelibly associated with Harrison Ford.  The Chicago-born actor was relatively unknown when he was cast in the role for the 1977 film, but he quickly made it his own and forged a successful career on the foot of this and the Indiana Jones series.  In this 2018 prequel film Alden Ehrenreich steps into the sizable shoes once filled by Ford.  Truth be told, the young actor fares well in the part in spite of a troubled shoot which, apparently, involved the studio hiring an acting coach to assist him with his performance.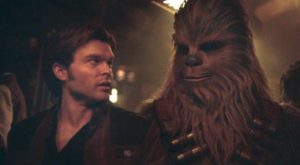 Solo: A Star Wars Story is first and foremost a space western and we are left in little doubt about this from the get-go as the young Han and his amour of the day Qi'ra (Emilia Clarke) attempt to escape the dour world of Corellia in the hopes of wider and more prosperous frontiers beyond the stars.  In case this point is missed, the titular character will later describe himself as an 'outlaw.'  He is brash, but not quite the cynical incarnation which was realised by Ford in Star Wars: A New Hope and The Empire Strikes Back.  Subsequent events on Corellia cause a separation between the young lovers, but when they are reunited some three years later, circumstances have changed for them both, most especially for Qi'ra.  Meantime, several backstory elements in Han's personal history are filled in by co-writers Lawrence Kasdan and Jonathan Kasdan.  We learn how Han acquired his surname in a manner which somehow resembles how Vito Corleone got his in The Godfather Part II.  The famed Kessel Run is contextualised and framed as one of the film's several set pieces.  Most endearing of all is the friendship between Han and his devoted sidekick Chewbacca.  Lando Calrissian also figures prominently in the narrative as played by Donald Glover.  The Kasdan writing duo are more than au fait with this story given the fact that Lawrence also co-scripted The Empire Strikes Back, Return of the Jedi and Star Wars: The Force Awakens.  Elsewhere, the production values are typically high and on a scale we would expect of a Star Wars film.  Cinematographer Bradford Young (Arrival) pulls no punches with respect to his visualisation of Corellia.  The moment in which the iconic Millennium Falcon is first sighted is suitably infused with the strains of John Williams' unmistakable score.  Pietro Scalia's editing and Howard's typically assured direction keep this one moving at an appropriate pace.  A train heist scene again takes us back to the western motif.  Woody Harrelson barely has to break a sweat in his respective part as Tobias Beckett, a career criminal who serves as an unsentimental mentor to Ehrenreich's Solo.  Paul Bettany is somewhat wasted as Dryden Vos, a crime lord who employs Beckett and Solo to purloin a shipment of a dangerous substance known as coaxium.  Phoebe Waller-Bridge is an absolute hoot as the opinionated droid L3 who succeeds in instigating a slave revolt on the planet where the coaxium is located.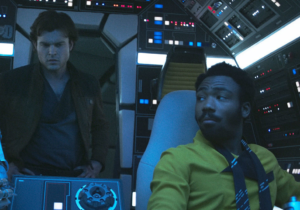 Given the troubled production history, which I've alluded to previously, this is a much better film than we had a right to expect.  It's by no means perfect, but much better for my money at least than 2016's Rogue One.  Ehrenreich and Glover are well cast in their parts and there's a suitable momentum to the piece generally which papers over any cracks which may have been present following the 'creative differences' which led to the replacing of Lord and Miller.  The production probably happened on a piece of luck in the hiring of Howard who has been around the block more than a few times and understands how to deliver a mainstream entry.  That the film has not performed as well as expected to date cannot be blamed on Howard or his actors.  Solo: A Star Wars Story ticks most of the boxes with respect to its narrative thread and its balance of action sequences.  There's an agreeable sense of fun which is not overplayed and the quips are mostly on the money and delivered to suitable effect.  Critics who have found fault with the film and complained that it adds little to the Star Wars universe should check their expectations at the door.  This is not a film intended to reinvent the wheel, but rather a summer movie intended to appeal to fans of the genre as well as newcomers to the series.  On the whole, Howard and his team have delivered a satisfyingly entertaining film which does no disgrace to Star Wars and illuminates Han Solo's background story to boot.
Rating: B