Movie Review: Stan & Ollie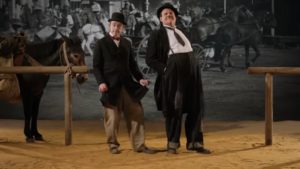 In 1953 the legendary comic duo that was Stan Laurel and Oliver Hardy embarked on a music hall tour of the United Kingdom and Ireland and this relatively short period of time in their respective careers is the primary focus of the new film which stars Steve Coogan as Laurel and John C. Reilly as Hardy.  The two men had enjoyed their greatest era of success during the 1930s and 1940s and director Jon S. Baird and writer Jeff Pope emphasise the transitory nature of fame and celebrity at an early point in the film.  Counterpointed with one of their most noteworthy cinematic triumphs – 1937's Way Out West – are the largely empty music halls to which the pair initially play to in 1953.  The filmmakers also present us with some telling flashbacks which will inform an inherent tension which still exists between the two actors: the creatively-driven and more independently-minded Laurel wished to break free of producer Hal Roach and realise a more financially lucrative career which he felt befitted their global fame; Hardy – a serial gambler on the other hand – was wary about rocking the boat.  References to the 'elephant movie' (1939's Zenobia) which Hardy did without Laurel follow and, although they made subsequent films during the 1940s, it is quite evident that their working and personal relationship suffered from the slight both men perceived in the aftermath of Zenobia.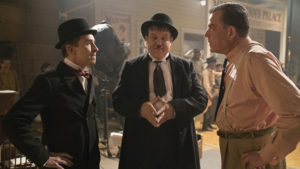 Informed by an underlying thread of nostalgia for the two men and their contribution to cinema and comedy generally, Jon S. Baird's film is a near-perfect tribute which – happily – does not wallow in pathos or maudlin sentiment.  Instead, what we the audience are presented with are two character actors who are sharply aware that their best artistic days are behind them much as they might wish to rail against this fact.  Of the two, Hardy is the more vulnerable.  Still overweight and in declining health, 'Babe' is clearly struggling with the live performances.  His knees hurt and his continuing penchant for playing the horses is not helping his financial situation.  Laurel, on the other hand, is still in relatively fine fettle, but his frustrations emanate from other sources.  More than once the tour's producer Bernard Delfont (a suitably slippery Rufus Jones) alludes to the coming star that is Norman Wisdom.  In another scene, Laurel stares contemplatively at a poster for an Abbott and Costello film which is currently on release.  The actor, who originally hailed from Lancashire, understands only too well the reduced status of himself and his longtime partner.  The post-war world has moved on and new entertainments have replaced those of the previous epoch.  A comedic adaptation of Robin Hood – which the pair are seeking to develop – finally falls through when the chief backer cannot raise sufficient money for it.  Concluding that Hardy may refuse to go on with the tour, Laurel decides to withhold this information from him.  The arrival of their respective wives, Lucille Hardy (Shirley Henderson) and Ida Laurel (Nina Arianda) adds another layer of tension with regard to their own wants and desires; Lucille is all for mollycoddling the physically-struggling Oliver; Ida simply wishes to keep Stan away from the booze and abhors the false attentions of the materially-minded Delfont.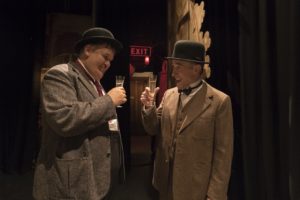 Fans of Laurel and Hardy (myself included) will wonder why it took so long to make a film about these two wonderful actors whose comic performances have more than stood the test of time, but it's been worth the wait as Stan and Ollie is indeed a film worthy of them.  In the central performances, Steve Coogan and John C. Reilly have never been better and they effortlessly replicate the demeanours and physical mannerisms of the actors onstage.  In a crowded award season, Stan and Ollie has been largely overlooked (with the exception perhaps of the BAFTAS), but these are performances which will last long in the memory.  In supporting roles Henderson and Arianda are also exceptional and Danny Huston briefly appears as the aforementioned Hal Roach.  Stan and Ollie is not just an affectionate tribute to this much-loved duo, but also serves as potent reminder of the conflicts and tensions which can enter any such artistic collaboration.  It's a testament to the filmmakers and cast that a few tears may even come to the audience's eyes as Stan and Ollie perform a final musical act in Ireland of all places.  This is film-making with real heart and conviction and the real Stan and Ollie would be justly proud of a movie which presents them as proud men who sought to re-kindle their career just one last time before time itself caught up with them.
Rating: A