Movie Review: Sully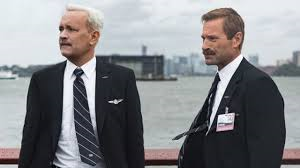 Clint Eastwood's latest screen offering essays the substantial heroics of a very modest man who saved 155 souls, including himself, one bitterly cold January day in 2009.  Captain Chesley 'Sully' Sullenberger (Tom Hanks) and his co-pilot Jeff Skiles (Aaron Eckhart) were only seconds into their flight from La Guardia airport to Charlotte Douglas when a severe bird strike took out both their plane's engines and, effectively, left them sitting in the air with few options and very bleak prospects.  Sully called on his sizeable experience (and by way of some telling flashbacks Eastwood informs us that this is sizeable) and made the decision that returning to La Guardia was not feasible as the plane would not be able to maintain a sufficient altitude.  Instead, he chose to land the plane on the Hudson River realising, as he did, that this alternative was not devoid of risk as well.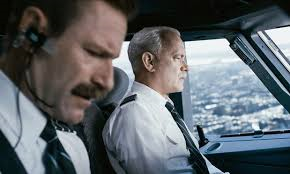 Sully is correct in his decision and assessment that the plane was disabled in mid-air, but some po-faced officials from the National Transportation Safety Board (NTSB) beg to differ and proceed to produce data suggesting that one of the engines was still running at idle power.  Following on from this, the NTSB's preliminary conclusion is that Sully and Skiles could have landed the plane at either La Guardia or the nearby Teterboro Airport.  The implications of this are clear to Sully and he seeks to prove that such was not the case and that the real-life situation he faced was far removed from any number of flight simulations the NTSB is prepared to stage.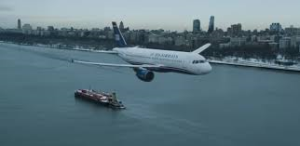 As a director throughout the whole of his lengthy career, Eastwood has had a reputation of his unshowy approach and practical application.  He does not believe in multiple takes or any other such embellishments in order to amplify his overall design or the performance of his actors.  One senses that Hanks in particular relished this style in a performance that is unremarkable and yet entirely resonant.  Hanks's Sully is just like the man himself, a very even-tempered everyday man who finds himself thrust into an extraordinary situation and the attendant glare of media and publicity.  Through the employment of flashbacks we see the events of that remarkable day in January 2009 and the experiences of both cabin crew and certain passengers of the flight itself.  Latterly, there is the aftermath of the incident as Sully and Skiles experience the effects of PTSD and are questioned ad infinitum by the NTSB regarding the decision to ditch the plane in the Hudson.  Much lauded as it has been in critical circles, Sully has not been without its detractors as well with respect to its negative portrayal of that particular investigative authority.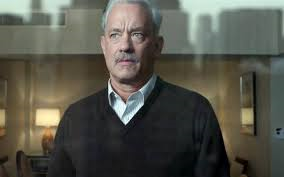 The net effect of playing up such a depiction, and possibly exaggerating its overly procedural role, is of course to emphasise the heroics of the central character, and Hanks does not flinch in terms of his workmanlike performance and astute mannerisms.  Elsewhere, the fine Laura Linney is underused somewhat as the wife on the phone; Aaron Eckhart lends, as always, strong support.  Breaking Bad's Anna Gunn plays one of the NTSB team and Entourage's Jerry Ferrara turns up as one of the passengers.  As he often does, Eastwood has also contributed to the music score which, like the film itself, is soft and understated.  Much less so is the 'brace for impact' sequence itself and Sully is the type of film that is not going to show up on mid-air entertainment channels anytime soon.  But there's an unmistakeable and gentle power to it which Hanks and Eastwood are primarily responsible for.  See it and appreciate for yourself the valour of this contemporary hero.
Rating: B+