Movie Review: The Edge of Seventeen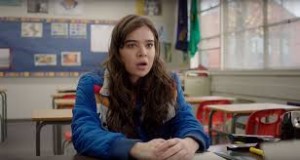 Kelly Fremon Craig's The Edge of Seventeen is this decade's Juno in terms of its sharp comedy interspersed with a bittersweet coming-of-age story.  17-year old Nadine Franklin (Hailee Steinfeld) is a precocious teenager who, by her own admission, has never exactly conformed or fitted in with the crowd.  Early flashbacks inform us of a somewhat impulsive child who feels jealousy towards her popular older brother Darian (Blake Jenner) and who is bullied for being an outsider.  She is closer to her father than her mother, but is robbed of this relationship when he passes away suddenly.  A hugely important friendship is however struck up between her and Krista (Haley Lu Richardson) and endures to the present day.  When the latter is drawn to the handsome and athletic Darian, and the two of them start to date, Nadine feels betrayed by her best friend and equally resentful of her brother.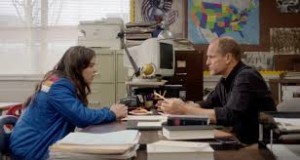 This is a comedy-drama of the highest order and it rises above the norms of the teen genre with respect to its strong direction, astute script (also by Fremon Craig) and several outstanding performances, in particular by Steinfeld, Woody Harrelson and Hayden Szeto.  The former Cheers actor plays Nadine's high school history teacher Mr. Bruner.  As per her relationship with Dad, Nadine feels the benefit of confiding to an older man; and, even though this appears to be barbing for much of the film, Bruner comes to her rescue at a pivotal juncture and offers temporary solace.  The opening scene between the two – in which she expresses an intention to commit suicide – is an absolute hoot, and both actors are in superlative form throughout.  They are complemented by others in support, most especially the aforementioned Szeto, who plays Erwin Kim, Nadine's awkward classmate who has a secret crush on her.  Jenner and Richardson do fine as well respectively playing brother and best friend.  Kyra Sedgwick emotes appropriately as Nadine's increasingly frustrated Mom.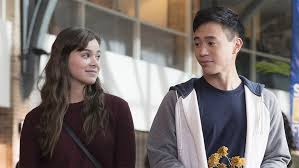 Fremon Craig takes us on a journey here which explores themes of alienation and self-hatred, public facade and private angst.  Nadine articulates that she has been living in a private hell ever since her father's death, but she has to realise also that life is not so swimming for many around her.  Her brother Darian feels obligated to act in the absence of a father figure; Erwin lives in a beautiful mansion, but is separated from his parents who are away on a lengthy business trip; Mr. Bruner even has a life outside of school which the preoccupied teen has not allowed for in her thoughts.  Meantime Nadine has a crush on the seemingly enigmatic Nick Mossman (Alexander Calvert) who appears like a rock star on his Facebook page.  But, of course, Nadine has to learn the life lesson that all that glitters is not gold.  Fremon Craig's approach to this important theme is like so much of the film's engagement with its subject matter, polished, compassionate, and not without a sense of agreeable mirth overarching the proceedings.  This is a film that all exasperated parents and unsettled teens should see, preferably together, if possible.  An absolute gem from first to last.
Rating: A