Movie Review: The Favourite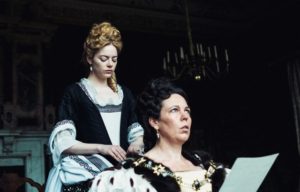 Yorgos Lanthimos can never be accused of the humdrum or the conventional.  The director of Dogtooth, The Lobster and The Killing of a Sacred Deer has presented us with microcosms of a somewhat dystopian world which involve matters ranging from power play and aspirations of domination to the disjointed familial entity and societal constructs.  The theme of power play is very much to the fore in his new film – a period drama with the director's trademark flourishes of black humour – and it should come as no surprise that the original screenplay by Deborah Davis was titled The Balance of Power.  Set during the reign of Queen Anne in the early 18th century, The Favourite tells the story of some no-good jousting which takes place between two ladies of aristocracy vying for the attention and great power vested in the ailing monarch.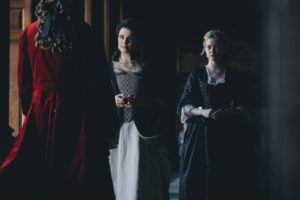 Sarah Churchill, Duchess of Marlborough (Rachel Weisz) is without doubt the lady in control at the beginning of Lanthimos's film which was scripted by the aforementioned Davis and Tony McNamara.  A woman of keen resource and astute perception, Sarah has risen to a position whereby she effectively pulls the strings in the background.  The Queen (Olivia Colman) on the other hand is a rather pathetic figure who evinces no great desire to govern or to lead.  Severely afflicted by a plethora of physical afflictions – which include a debilitating strain of gout – the monarch spends the vast portion of her time screaming at servants and doting upon her family of seventeen rabbits.  Students of history will be familiar with the reference during the film to the seventeen pregnancies by her husband, Prince George of Denmark, which ended tragically leaving her without issue.  For the historical record, Anne was the last monarch of the House of Stuart and was succeeded by her second cousin George I of the House of Hanover.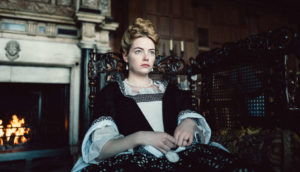 Into this world of court machinations and fine-drawn confidences ventures one Abigail Hill (Emma Stone), a cousin of Sarah's who has fallen on hard times.  Used as a virtual pawn by her father to settle his debts, Abigail is determined to take full advantage of her new environs.  Forced to work as a menial scullery maid in the first instance, the quick-witted girl soon eyes an opportunity to curry favour with the sick Queen.  An initial set-back aside, the pretender to Anne's affections is very soon in her conniving element.  In acknowledgement of as much, she is approached by one Robert Harley (Nicholas Hoult) to spy on Sarah and provide him with information regarding her plans and designs.  But Abigail has her own overarching plan which quickly becomes apparent to one and all, including Sarah.  The clever usurper is determined to become the titular favourite and bask in the comforts and privileges of a life she has been all too familiar with in the past.  To that end, she is willing to employ whatever means necessary, including sharing the Queen's bed and – later – a smidgen of poison into the mix.  As a backdrop to all of this, the filmmakers provide us with contextual information concerning Britain's ongoing war with France and the public taxes which are being employed to fund this conflict.  Lanthimos juxtaposes scenes of serious debate in relation to this struggle with the excesses and debauchery of an upper class which engages in frivolous pursuits such as duck racing.  With respect to the portrayal of sexuality here, the director himself has acknowledged that there are historical inaccuracies in terms of Anne and Sarah's intimate relationship and the consequent one which is shown to take place between Anne and Abigail.  It matters little when political and social intrigue is presented in such wonderfully indecorous terms.  The plots and manoeuvrings of a royal household have seldom been such fun.  The participants have rarely been so immaculately despicable.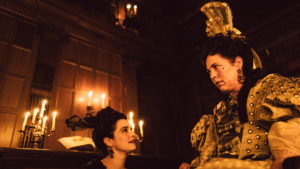 It helps of course that Lanthimos has assembled a trio of female actors in the central roles who excel as much as many of the other elements of this exquisitely-realised period piece.  As the perpetually ill sovereign, Olivia Colman does more with a glance of anguish and infirmity than most could articulate in a lengthy monologue.  The Golden Globe-winning actress, who has been cast to take over from Claire Foy in The Crown, may not have as much screen time as one might expect, but she more than makes up for this with her best performance to date.  In Colman's capable hands, Anne is indeed a pitiful figure, but one who still registers the authority of her station.  The much-discussed final scene is one such example of this.  In support (though in actual fact they both share as much screen time with Colman), Rachel Weisz and Emma Stone have never been better.  As the duplicitous Abigail, Stone in particular is a revelation and both actresses clearly revel in the latitude afforded them by Lanthimos.  Among the male members of the cast, Nicholas Hoult is a standout as the shifty Robert Harley.  The set decoration and production design are as good as one can imagine and special mention should be made of Irish cinematographer Robbie Ryan whose previous credits include Philomena and Slow West.  As for the director himself, the Greek helmer continues to remind me of Stanley Kubrick with regard to his visual style and use of the camera with particular relevance to interior scenes.  Kubrick's 1975 period drama Barry Lyndon (which also involved a social-climber, albeit of a different kind) most readily comes to mind in this respect and there is also more than a trace of the great man in Lanthimos's use of music as an almost repeating motif.  The Athens-born director is steadily carving out his own niche and this is a gloriously delicious historical drama to rival the likes of Dangerous Liaisons and The Madness of King George.  Personally speaking, I can't wait until he makes a film about human evolution in space or sets one in an isolated Colorado hotel during winter-time.  Highly recommended as you may have inferred.
Rating:A