Movie Review: The Irishman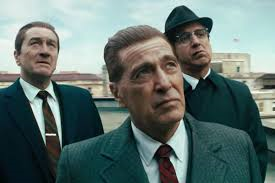 It's not often that one has the opportunity to employ the term bona fide classic, especially with regard to the work of a filmmaker and actors in the twilight of their careers (and, yes, let's face it, probably lives as well), but Martin Scorsese's The Irishman pretty much fits this description.  A lingering sense of mortality (ok, let's use that phrase autumnal) pervades the piece and not just because of the story.  Fans of cinema will be only too aware of how long the likes of Scorsese, Robert De Niro, Joe Pesci, Al Pacino and Harvey Keitel have been around for.  Some of them have played a pivotal role in the shaping of modern-day American cinema.  De Niro and Scorsese delivered their respective masterpiece – Raging Bull – almost 40 years ago.  Pacino, for his part, is of course synonymous with two epic gangster films which were released in the first half of the 1970s.  The Irishman is familiar ground for the principal players and the presence of such stalwarts with respect to the mafia/crime genre adds to the film's sense of nostalgia, even wistfulness.  Sitting in a retirement home sometime in the late 1990s/early 2000s, Frank 'The Irishman' Sheeran (De Niro) has little left in his life save the memories of his former years.  A one-time truck driver who happened to fall in with the Bufalino crime family in Pennsylvania, Sheeran quickly moved up through the ranks from bit player to principal character.  His friendship with Russell Bufalino (Joe Pesci) in particular proved critical in this regard.  Bufalino, in turn, is presented as the associate who introduced Sheeran to one James Riddle Hoffa (Pacino).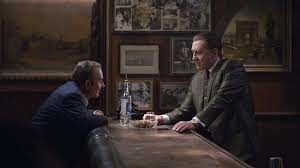 The first hour of the film plays like a sombre version of Scorsese's earlier crime film Goodfellas (1990).  The colours are diluted, even grim at times.  The editing of Scorsese regular Thelma Schoonmaker – whilst technically accomplished – is nowhere as ostentatious as that previous work.  Let's remind ourselves again that this is the later work of a master filmmaker.  A dedicated student of film himself, Scorsese will be only too aware of the fact that famous names such as Kurosawa and Ford delivered later pieces in their respective careers which were contemplative, even revisionist in content and tone.  The director allows his camera to linger on certain moments and takes an extra beat with regard to certain scenes.  Pivotal moments from the second half of the 20th century in America flash on television screens and are referenced intermittently by the main characters.  Frank and Hoffa themselves are unassuming patrons in a cafe as JFK's assassination is announced on television in November 1963.  Later on, we hear of Watergate and the impending impeachment of then-president Richard Nixon.  The overall device is scarcely subtle, but it is highly effective.  Scorsese and his screenwriter Steven Zaillian (Schindler's List) are at pains to remind us that, in spite of the veneer of power and prestige, time marches on inexorably for all and sundry.  In a hundred years' time, all these characters will be dead.  In one of the film's concluding scenes, Frank himself (wheelchair-bound and by now a resident in a retirement home) is reminded that the vast majority of his friends and former associates have – by that time – shuffled off their mortal coil.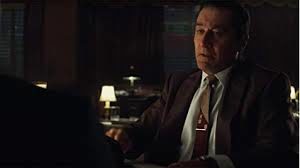 The middle act of the film is dominated by De Niro and Pacino as their friendship grows and undergoes specific pressures.  Working with Scorsese for the very first time, Pacino delivers a performance laden with charisma and top-heavy with several memorable lines and quips.  A devilish sense of humour runs through the entire film and one senses that Pacino has the most fun with his character.  His Jimmy Hoffa is a man fully cognisant of his own special aura and position in the pecking order of power.  The character becomes all the more interesting when this authority is wrested away from him (following an extended spell in prison) and as he seeks to re-establish himself at the top of the pile.  The powers-that-be (mafia that is) do not take kindly to this and a certain type of tragedy inevitably plays out.  To put it quite simply, Pacino is superb as a man desperate to rekindle a sense of purpose in his life.  And he's also incredibly funny without ever becoming hammy in the role.  The character's obsession with time-keeping and his predilection for ice-cream (not alcohol) are among the several sidebar delights of the three-and-a-half hour film (but I assure you the running time is fully warranted).  Elsewhere, the returning Joe Pesci (he hadn't made a feature film since 2010's Love Ranch) is similarly in fine form as Russell Bufalino.  Harvey Keitel (as crime boss Angelo Bruno) – on the other hand – is not afforded a great deal by way of dialogue, but his very presence is nonetheless a welcome thing.  An excellent supporting cast includes Jesse Plemons, Ray Romano, Bobby Cannavale, Anna Paquin and Stephen Graham as Anthony Provenzano/Tony Pro (check out his stand-out exchanges with Pacino's Hoffa).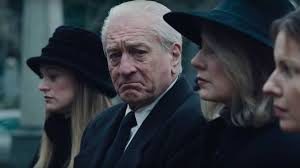 The final third of the film is where Scorsese and De Niro really imbue this one with an epic – even, as I suggested, – tragic sweep.  Yes, of course we have no cause to believe everything that Sheeran is telling us from the comfort of his armchair in the retirement home.  Addressing the audience directly at an early juncture, the character may well be an unreliable narrator in the vein of Dustin Hoffman's Jack Crabb in Little Big Man.  Conflicting theories surrounding Jimmy Hoffa's 'disappearance' in 1975 would dispute Sheeran's account of the union leader's demise at his very hands.  But this does not detract from the story of a man who is torn between his sense of duty and allegiance to a way of life versus his close relationship with an ultimately charming crook.  Pacino's Hoffa is certainly no saint, but he does have his redeeming features in spades.  One is reminded here of Jake LaMotta's dive in Raging Bull and Tommy DeVito's murder in Goodfellas.  In a very similar fashion, the offing of Hoffa is presented as a necessary evil.  In one of the film's latter scenes, a stroke-afflicted Russell muses on how much he liked Jimmy in spite of his inherent arrogance.  Sheeran also must hold regrets we sense despite an outer veneer which suggests an almost impenetrable soul.  By far De Niro's best work in many a year, the character is seen to take a back seat at various points and the actor generously allows the likes of Pacino to gobble up the scenes he is involved in.  As an old and, ultimately, infirm man, Sheeran too has an aura of pathos about him, especially in his conversations with a Catholic priest.  The notion of such inevitable guilt is a theme which Scorsese has returned to time and again ever since 1973's Mean Streets and the closing frame of the film reminded me oddly of the conclusion to his 1980 masterpiece Raging Bull.  The message of this coda piece is that all things must pass – both good and bad.  Frank is consigned to his private room in the retirement home in the same way that Jake LaMotta is all alone in the dressing room of a dingy nightclub.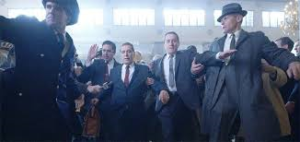 The de-ageing process involving the principal players, which has been remarked upon quite widely, is not so problematic and – let's face it – it allows Scorsese the latitude to have these wonderful actors play younger versions of themselves.  A Once Upon a Time in America scenario (in which younger actors inhabited the roles later played by De Niro and James Woods) would not have worked in this particular instance, so – on that score – the de-ageing process works even if it does smack of the artificial at times.  The same goes for the involvement of Netflix in this production.  Stuck in development hell for years, The Irishman might never have got made had it not been for the rapidly-expanding production company.  Those of us who bemoan the digital streaming of movies such as this one should balance our judgments with the consideration that they might not get made otherwise.  In the case of The Irishman, the involvement of Netflix ought to be praised for delivering the long-in-gestation project, rather than derided for the manner in which the film is ultimately distributed.  This latter reflection of mine brings me to the suggestion that a limited theatrical release, followed by the inevitable streaming online, is perhaps the perfect scenario.  The Irishman is indeed a film to be savoured at the cinema because we may well never see the likes of it again – meaning that we may never see such sizable talents working together again.  This is one of the several reasons why it matters so much.  It's one of the plethora of reasons why you should watch it in some format, preferably on the big screen if you can at all.  The best film of 2019 by a country mile as far as this reviewer is concerned.  The old guard still have it in spades and, thankfully, they are still with us.  Long may that be the case.
Rating: A++