Movie Review: The Killing of a Sacred Deer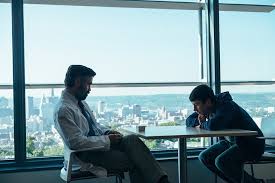 The latest screen offering from Greek director Yorgos Lanthimos (The Lobster, Dogtooth) is a stark and deeply unsettling psychological piece in which a husband and father must make a near-impossible decision and sacrifice.  Dr. Steven Murphy (Colin Farrell) appears to be the man who has it all.  A successful and highly-regarded cardiovascular surgeon, Steven has a beautiful wife Anna (Nicole Kidman) and two talented children Kim and Bob.  At meal time, the family engage in polite and bland conversation which verges on the insipid.  At surface level all seems to be well in the Murphy household; Kim's singing is improving all the time, Bob's reports from school are generally in the exceptional category.  But behind closed doors, there is a suggestion of things being somewhat out of sync.  Steven has an ever so slight predilection for somnophilia (what he and Anna refer to as 'general anaesthetic').  At a social function he speaks casually about the beginning of his daughter's menstruation like it was a new sport or a hobby she'd taken up.  And then there is the matter of his meetings with the vaguely sinister Martin (Barry Keoghan).  Steven presents the youth with the gift of an expensive watch for no good reason.  He offers fatherly advice about the necessity of wearing a helmet whilst riding a motorcycle.  When he invites Martin to his house for dinner, we sense that this is a decision he will regret with the passage of time.  Despite his rather peculiar form of expression, Martin is well-liked by the other family members.  He is enigmatic and quite unlike anyone they have ever met before.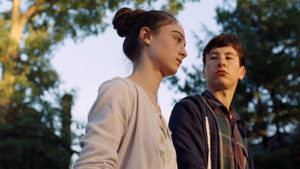 But matters take a dramatic and disconcerting turn as Bob succumbs to a mysterious illness.  Paralysed from the waist down, he stops eating all of a sudden and is bedridden for the most part.  An extensive suite of tests are conducted, but science is unable to explain the cause of this affliction.  The doctor side of Steven's personality refuses to believe that this might be psychosomatic.  Ordering yet more tests, he argues with his wife who herself is a doctor by profession.  He forces Bob to eat donuts and tells him an intimate story from his own childhood as a means to cajole the young boy and spur him back to good health.  But it's all for nothing as revealed by Martin in one of the film's most chilling moments.  Somehow he is responsible for the illness which also strikes down Kim as he practices in her school choir.  In a blunt warning which leaves nothing to the imagination, Martin predicts how each of the family members will become paralysed and eventually bleed from their eyes.  The only way to stop this is for Steven to make a sacrifice – kill one of his beloved and save the other two in the process.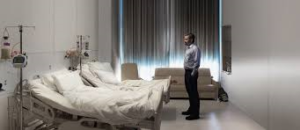 It transpires that Martin's father had died some years before whilst he was under the knife and on Steven's surgical table.  The doctor is insistent that he was not the cause of the man's untimely passing – 'A surgeon never kills a patient' he tells Anna as he informs her of Martin's dark disposition.  The youth blames the doctor for the loss of his father and Anna, aware of her husband's alcoholic past, suspects that he may indeed have slipped up during the operation.  The ramifications of all of this are considerable and Steven must now atone in Martin's estimation.  'This is the closest thing I have to justice,' he tells Anna as she visits him and pleads that he remove his so-called curse on the family.  Steven's subsequent decision to hold him captive in the garage does not have the desired effect.  Martin remains adamant and unrelenting – this situation has been caused by Steven he insists.  A man who holds in his hands much sway over life and death must choose who lives and who dies.  It's an impossible choice to make as demonstrated by the film's eventual denouement.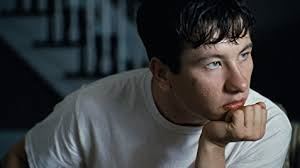 Lanthimos is one of the most interesting and original directors working in the business today and – as per his previous work – The Killing of a Sacred Deer is edgy, off-key and far from archetypal.  Working with his regular cinematographer Thimios Bakatakis, Lanthimos presents us with a world which is seemingly orderly and pristine right down to the smooth surfaces of a kitchen and the whiter than white hues of a hospital corridor.  There are more than a few hints of Kubrick here as Farrell, Kidman and others are tracked by Lanthimos's camera as they go about their daily business.  Other directors such as Michael Haneke also come to mind with respect to the visual style of the film and the ominous themes it explores.  This could be the world of the Stepford Wives, but such a world could never have a place for a Martin or a Steven for that matter.  Just how culpable is the family man?  Does he deserve such punishment?  Is the unflappable Martin symbolic of a universe which is exacting a perverse form of vengeance on him?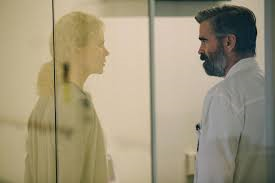 Lanthimos's film has divided some critics and audiences and it is not a form of entertainment which will appeal universally.  There is no happy resolution here and the director and his co-writer Efthymis Filippou are not intent on making us feel comfortable with the matters they present and portray.  The victim of Martin's machinations is himself a flawed individual.  He is no hero and shares some characteristics with Nick Nolte's similarly questionable protagonist in Scorsese's remake of Cape Fear.  Like Max Cady in that 1991 film, Martin has a single-minded sense of purpose and feels he has a good concept of what his justice will look like and entail.  There are no winners in this scenario and none of the central characters have illusions about the possibility of him withdrawing or deviating from his overarching plan.  Farrell and Kidman are excellent in their respective parts and Raffey Cassidy and Sunny Suljic fare well as the physically impaired kids.  There is also a nice turn from Alicia Silverstone as Martin's doting and somewhat overly-attentive mother.  This is Barry Keoghan's film from first to last however and the young Dubliner excels as the calculating and clinical Martin.  'What a charming boy,' Anna comments upon their first meeting, but how she will come to rue those words later on.  Not a charming watch, but never less than incredibly tense and gripping.
Rating: B+