Movie Review: The Lost City of Z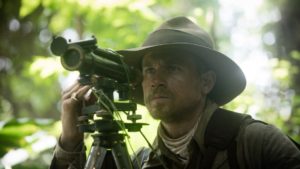 The episodic adventures of British officer and far-reaching explorer Percy Fawcett is the subject of writer-director James Gray's new film The Lost City of Z starring Charlie Hunnam and Robert Pattinson.  We first encounter Fawcett (Hunnam) in County Cork of all places in 1905.  He's stationed there as a major for the war office, but is privately consumed by fears that he will not rise in rank or reputation on account of his background and class.  'He's unfortunate in his choice of ancestors' one elitist old gent comments to another after Percy has displayed his skills with a rifle on a hunt in the rebel county.  When unexpectedly summoned to the offices of the Royal Geographical Society, for what's described to him as a 'grand adventure', Percy is reminded of his father who was a drunk and whom he claims he did not know.  One suspects this to be something of a lie however when Percy first encounters Henry Costin (Pattinson) en route to the Americas in 1906.  Discovering that his aide-de-camp is somewhat inebriated, Percy pours away the remainder of a bottle in the man's possession.  The clear suggestion is that he's seen this behaviour before and utterly abhors it.  Hoping that the expedition to Bolivia (where he's been commissioned to map a jungle area at its border with neighbouring Brazil) will earn him 'soldierly decoration' and reclaim his family name, Percy is soon greatly enamoured by the jungle environs, in spite of the ever-present threats posed by indigenous tribes and harsh conditions.  This first expedition proves to be a substantial success particularly with respect to artefacts his group find where no white man has apparently ventured before.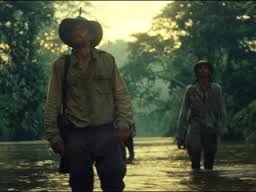 Returning to England some years later, Percy receives the type of hero's welcome he's often dreamed of, but an insatiable appetite for more discovery and resulting prestige drives him on in his mission to prove that Amazonia is far more than a green desert.  The powers-that-be and scientific minds of the day meet his theories of an advanced civilisation in this corner of the world with raised eyebrows and incredulous voices.  'It's one thing to defend the jungle man, but quite another to elevate his capacity' Percy is advised as he delivers a rousing speech on the very subject.  Not easily dissuaded however, Percy insists that this City of Z is a 'missing piece of the human puzzle.'  He secures backing from the RGS and is accompanied on this next quest by James Murray, biologist, explorer and a former member of Ernest Shackleton's Nimrod Expedition.  Murray, however, proves to be a liability on this mission and is eventually dispatched by Fawcett who allows him the group's remaining horse, some supplies, and an Indian guide in order to avoid complete disaster.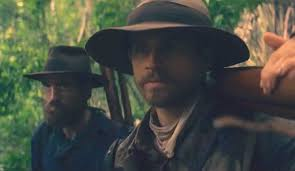 Returning home once again, Fawcett is confronted at the RGS by an irate Murray who managed to survive what he deems to have been an abandoning by the former.  'I mistook a man's rank for his mettle' Fawcett gives back when the humiliated Murray demands an unequivocal apology.  Gray's script is given to many such a noble speech and throwaway line which are tinged with more than a little of the valour and sense of duty of the day.  When we next come upon Fawcett he's involved in the Battle of the Somme in 1916 and still pronouncing on the need for such precepts.  But the dreams of returning to his beloved Amazonia abound as well.  'Our world has set itself on fire and I must look elsewhere to quench the blaze' he tells a fortune teller on the front.  Domestically there are rumblings as well when his wife Nina (Sienna Miller) suggests that she accompany him on an earlier expedition and becomes more than irked when Percy tells her she could not possibly cope with the physical demands of such an undertaking.  His eldest son Jack also articulates a sense of separation and distance which has been born from his father's many years spent on the other side of the world.  'You think only of Indians and Germans and whatever other path of glory you can find' he informs Percy in a heated moment.  Injured in a chlorine gas attack in no-man's-land, Percy's days of adventure appear to be over as his family reunite with him in the hospital.  Again Gray raises the theme here of the personal life juxtaposed with the public sense of obligation; an overriding desire for intrepid deeds and the status these may well secure.  Percy is a brave soul, but he's also something of an egocentric creature.  The tears he sheds underneath those bandages are purely for himself and for the opportunities he imagines will never present themselves again.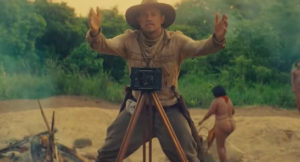 Gray's film is a very worthy piece, nicely old-school with respect to its style and execution, and populated by some classy performances.  In the central role Charlie Hunnam looks as if he belongs to this age and epoch and he's nicely complemented by Pattinson and Miller in support.  Tom Holland turns up later in proceedings as the explorer's grown-up son Jack who – in this adaptation of the David Grann book of the same name – is the one who persuades Fawcett to travel to Amazonia once again in the mid 1920s.  The father and son went missing on this final expedition and their fate remains a mystery to this very day.  Gray strikes an upbeat suggestion about how they may have fared but, in spite of this, the closing titles advise that Percy and Jack were never located by successive rescue missions.  The Lost City of Z ends on this suitably enigmatic note in keeping with the character at the heart of its narrative.  Beautifully shot by Iranian-French cinematographer Darius Khondji (Seven, Evita, The Beach) it is a highly visual piece which will remain on in the mind for quite a time after those end credits roll.  The scenes shot in Antrim and Down are just as evocative as those in South America and speak, as the film does, of a richly-textured bygone era.  Well worth checking out if one is in the mood for a period piece and a yarn about unflinching escapades.
Rating: B