Movie Review: The Nice Guys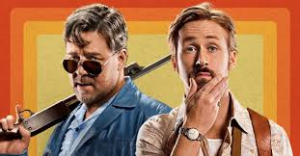 Lethal Weapon creator Shane Black's latest offering teams Russell Crowe and Ryan Gosling as unlikely allies in a tale of late 70s seedy Los Angeles involving the porn industry and a cabal of car manufacturers from Detroit intent on preserving their industry's status in the face of pesky environmentalists.  Got that so far?  Well in reality The Nice Guys boils down to a nicely observed buddy movie which showcases the fine acting skills of its two leads.  Crowe is Jackson Healy an enforcer-for-hire who pushes doorbells and explains the physical damage he is about to inflict, but underlying his character is a world-weariness at this game and he longs to be 'useful' for a change.  Holland March (Gosling), on the other hand, has such opportunity at his fingertips in the form of a smart, feisty daughter (the excellent Angourie Rice) and a private-eye business that could make a difference if only he bothered to apply himself.  Trouble is that he's fond of the hard stuff and frittering his time away following an accident which cost his wife her life and destroyed his family home.  He's inclined towards the easy work and even easier money and one such job brings him into contact with Mrs. Glenn (Lois Smith) who is convinced she's seen her niece (a porn star named Misty Mountains) alive some two days after her involvement in a fatal car crash.  Intrigued by a connection with a very real-life missing person, Amelia Kutner, March agrees to take on the work for what he hopes will be another soft pay day.  The fair lady in question, not wishing to be found, in turn employs Healy to persuade March to back off.  Which he does.  However, as with so many buddy movies, the two men find some tenuous common ground and pool their resources in order to determine Amelia's association with Misty Mountains and an amateur filmmaker named Dean.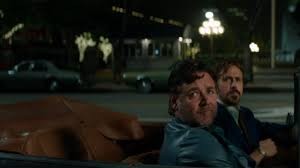 A Shane Black film has certain key ingredients and one of these is the tendency for its lead males to barb and spark off each other.  We've seen this before in the Lethal Weapon series, The Last Boy Scout, and Kiss Kiss Bang Bang, and The Nice Guys is no exception.  Crowe is the intrepid enforcer, a man who feels proud of the fact that he once foiled a diner robbery at the expense of a gunshot wound, whilst Gosling, the so-called professional, is actually quite a timid man in terms of his physical dispensations.  He's not adverse to being mouthy however and many of the best quips of The Nice Guys belong to him.  A supporting cast includes Kim Basinger as the dubious mother of Amelia, a high-ranking official in the Department of Justice; and Keith David as a thug known simply as Older Guy.  The scene-stealing performance of the film, however, belongs to the aforementioned Angourie Rice as Gosling's resourceful daughter Holly.  She plays off both actors very well and her best scenes are perhaps with Crowe, particularly when she asks him to spare the life of one of the baddies dispatched to kill Amelia and destroy a porno film which is to serve as a means to expose the wider conspiracy involving the car industry and pollution of God's green earth.  Indeed there is a humorous line in which Amelia (Margaret Qualley) explains that the film needs a commercial aspect (i.e. pornography) in order for it to attract a distributor.  This comes from a screenwriter we must remember who hit such a commercial mother lode way back in the mid-1980s with his Lethal Weapon script.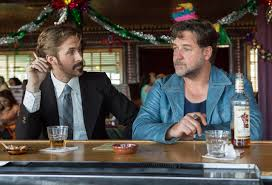 We move progressively then towards the film's denouement which involves a mother who has ulterior motives in wishing to locate her daughter, an assistant who sends the fractious buddies on a wild goose chase as a means for the most dastardly of the hired thugs John Boy (references to The Waltons abound) to track down Amelia at March's home, and a seeming cover-up which is beyond the capabilities of the two men – and the ubiquitous Holly – to expose.  However, as it turns out, there remains one copy of the investigative journalism/porno movie titled How Do You Like My Car, Big Boy? and a final face-off between the Nice Guys and sinister forces from Detroit ensues at the Los Angeles Auto Show.
The Nice Guys is another fine entry in Shane Black's buddy canon and, as per such other instalments, it derives much of its strength from the performances and chemistry of its leads.  Crowe is nicely gruff, but there's also a warm humanity to his character, particularly in his moments with the exemplary Rice.  As for Ryan Gosling, it's refreshing to see him throw the shackles off and try his hand at humour, at which he proves quite adept.  For too many films he was (in my estimation) overplaying his hand ever so slightly as the brooding, barely-communicative type.  Here he is excessively loquacious and also vulnerable as well following the death of his wife.  It's a pity, therefore, that the Nice Guys hasn't found a wider audience as it deserves to.  It's fared only just about ok at the box-office to date and when one considers the way some of the so-called Hollywood blockbusters are tanking and stinking so far this summer, you could do a lot worse than to go and see this one.
Rating: B