Movie Review: The Old Man & the Gun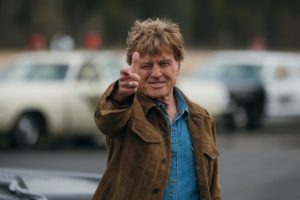 The latest cinematic offering from director David Lowery (Ain't Them Bodies Saints, A Ghost Story) is the occasion for a memorable turn by Robert Redford playing an ageing career criminal by the name of Forrest Tucker.  Based on an article by David Grann which appeared in the New Yorker in 2003, The Old Man & the Gun is largely set in the year 1981.  Tucker – who has busted out of San Quentin some two years before – has embarked on an audacious crime spree which sees him rob banks with a never-employed gun, a soft word and an amiable smile.  In one instance, he implores a tearing bank employee not to cry – 'Chin up' he tells her.  An earlier such hold-up is recounted by the bank manager in almost nostalgic terms – 'He was sort of a gentleman' he informs the police with reference to Tucker.  The elderly malefactor is indeed a man of some charm and geniality.  Fleeing from the scene of his latest stick-up, he assists Jewel (Sissy Spacek) whose car has let her down at the side of the road.  The two retire to a nearby cafe where they share some pie and coffee.  Forrest even goes so far as to tell her what his occupation is; naturally, she does not believe him at first.  The acting and chemistry between veteran stars Redford and Spacek in this scene and others throughout the film is second-to-none.  It reminds us of how effective this art form can be when it seems so natural and easy-going.  There's no substitute for decades of experience and both Redford and Spacek have this and then some.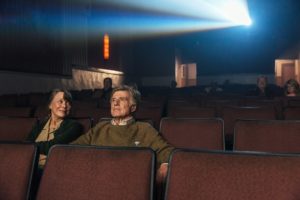 Lowery's film is not the kind that's going to change your life, or impart a weighted message for that matter, but that's not the point of the proceedings here.  The use of some intertitle cards during the film's 93-minute running time tell us that this is an entertainment to be simply enjoyed and we duly sit back and relax.  As Forrest's crime spree catches the attention of the authorities, a police detective by the name of John Hunt (Casey Affleck) finds himself strangely enthralled by Tucker's exploits.  The cop soon deduces the motivation which informs the seasoned criminal – he enjoys it plain and simple.  The media labels Forrest and his accomplices – Danny Glover as Teddy and Tom Waits as Waller – the over-the-hill gang.  Fans of Redford will of course enjoy the crafty nod here to one of the star's most famous films – Butch Cassidy and the Sundance Kid.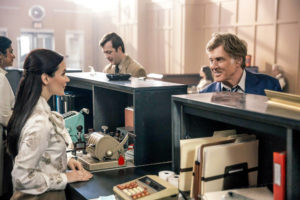 Lowery's film is biographical with respect to its subject matter and there is a very pleasant montage towards the end in which Forrest's various prison breaks (including San Quentin) are relayed.  The tone on the whole is not comic, but there are nonetheless many smatterings of humour.  When Redford and Affleck meet in a men's room roughly half-ways through the film, we cannot help but smile at this encounter – both men know who the other one is.  Forrest fixes Hunt's tie and, with a cheery disposition, as is his inclination, advises the younger man that a sharp image serves to impress even when you don't quite know what you're doing.  Another scene which should amuse one and all involves a jewellery shop and Spacek and Redford's characters.  It's no great surprise when Lowery frames the two actors quite lovingly in a cinema at a much later point in the film.  Up on the screen is where these two Oscar winners belong and no film fan could resist the likable rapport which they weave here.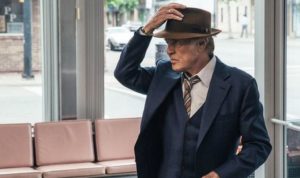 The star of such classics as the aforementioned Butch Cassidy and the Sundance Kid, The Sting, All the President's Men and Three Days of the Condor dominated the entertainment headlines when he announced his intention to retire from acting as of August 2018.  If this is indeed to be the great man's last cinematic outing, then he is going out in some style in a role which fits him like the proverbial glove.  Charismatic and irresistible to the last, Redford's Forrest is the kind of character you can genuinely root for in spite of his personal shortcomings.  When quizzed by Spacek as to his own familial background, Forrest voices the hope that he has no children.  The truth of course is that he does as is established in a scene involving Affleck's Hunt and a fleeting appearance by Elisabeth Moss.  Other notables who turn up in such smaller roles include Keith Carradine and John David Washington.  But the film belongs to Spacek and Redford in the central roles, and to the latter in particular with respect to his natural performance and convivial demeanour.  This is indeed going out on a high if such proves to be the case.  A curtain call to savour and a film that effortlessly delights from start to finish.
Rating: A