Movie Review: The Personal History of David Copperfield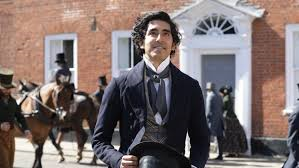 Director Armando Iannucci's new take on Charles Dickens's David Copperfield is a welcome reminder of how well a proper film adaptation of a classic text can capture the spirit and essence of its source material without compromising its central themes or diminishing the effects of its many memorable characters.  The story is more than familiar to fans of Dickens and we know that the author himself regarded this as his own favourite work.  Dickens opted for a first-person narrative and incorporated elements from his own life which he interspersed with fictional situations.  At the beginning of Iannucci's film, the grown David (Dev Patel) takes to the stage before a captive audience and introduces his own personal history as it has played out to this point.  Will I be the hero of my own life he wonders aloud in a paraphrasing of that famous meditation at the beginning of the 1850 book.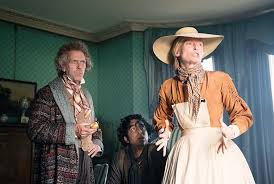 The script by Iannucci and Simon Blackwell seizes on the very best elements of the source material and allows the pertinent characters to shine in all their various glories and idiosyncrasies.  Over the course of its tight and unflagging 119-minute running time, some parts of the original book (and characters for that matter) have been sacrificed for the greater good.  There is no Mr. Barkis for example and the character of Peggotty has been edited in the interest of other facets.  When David seeks out his great-aunt Betsey Trotwood (Tilda Swinton) and encounters the somewhat childish Mr. Dick (Hugh Laurie), we appreciate the choices Iannucci and Blackwell have made in bringing their version to the silver screen.  Both Swinton and Laurie shine in their respective roles.  A short time later, Ben Whishaw channels every bit of creepiness he can muster as the seemingly toadying but ultimately devious Uriah Heep.  Peter Capaldi, on the other hands, seems to have been born to play Mr. Micawber.  Benedict Wong is gloriously cast as the troubled Mr. Wickfield who has a propensity for wine.  Bronagh Gallagher and Paul Whitehouse also impress as Mrs. Micawber and Mr. Peggotty.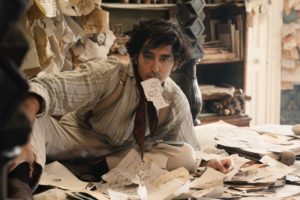 The central thread of Dickens's famous work was to chart his hero's personal evolution as he moved from youth to adulthood and Iannucci's film plots such a course in a manner which never ebbs and is never less than endearing.  The central character's engagements with the various persona who enter his sphere and shape his advancing life in some way is a joy to behold throughout.  In the titular role, Dev Patel makes for a wonderful Copperfield and he is aided and abetted by his fellow players.  The more exacting fans of Dickens will be glad to hear that the filmmakers in this particular instance make appropriate use of the text within the text.  When – at a much later juncture – the hero of the piece edits out the involvement of one of the more annoying and insubstantial characters, the design of Iannucci and his writing collaborator is evident to see.  Happily, the film does not venture down one of the more maudlin aspects of Dickens's work and is all the better for this – I'm referring here to the hero's marriage to Dora Spenlow prior to his eventual union with Agnes (played here with due robustness by Rosalind Eleazar).  The film's ethnic diversity may appear to be a contemporary nod to inclusivity, but it's also reflective of the fact that 19th century London itself was a melting pot as regards nationalities and racial types.  This is a world in which all have the same opportunities and there is no restraint on betterment.  The character of the underhanded Uriah Heep, as we know from Dickens's book, is of course a reminder that ambition of the manipulative kind is not the sort of advancement which society ought to tolerate.  When Heep is eventually unmasked as the fraud that he is, there is the concomitant sense of justice being served which the author had promoted in his work.  David's development as a full and rounded character was the ultimate desire of his creator and such contributions by him were Dickens's way of flagging this progress.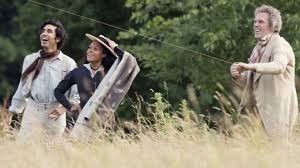 This is surely the best Dickens's adaptation in some time and Iannucci and his collaborators deserve all the praise that they get.  Film fans like myself may have previously seen the 1935 adaptation of the book by George Cukor which featured the likes of Basil Rathbone, Lionel Barrymore, W.C. Fields and Maureen O'Sullivan in supporting roles.  Cukor's earlier version was and remains a wonderful screen realisation of the book and it's certainly saying quite a bit to state that Iannucci's 2019 iteration is up there with it in terms of its wonderful cast and perfectly-judged manner and pace.  Hopefully, a whole new generation of cinema-goers will be inspired to pick up the book and delve into this literary treasure.  The author would be greatly pleased by this and he would certainly approve of this new film.
Rating: A+