Movie Review: The Salesman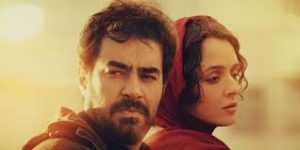 The recent winner of the Best Foreign Language Film Oscar at the 89th Academy Awards is an affecting slice of human drama that explores a number of themes ranging from an unexpected fracture in relations to an inherent desire for revenge and empowerment.  Written and directed by Iranian filmmaker Asghar Farhadi, The Salesman opens somewhat appropriately with an apartment building which is apparently crumbling at its very core.  A short time later the male protagonist Emad (Shahab Hosseini) remarks as to the sorry state of the city he inhabits.  'It ought to be razed to the ground,' he says.  He is reminded that happened before.  The past is something which cannot be changed no matter how he or anyone else may rail against it.  Emad and his wife Rana (Taraneh Alidoosti) are actors currently appearing in a production of Arthur Miller's much-revered Death of a Salesman.  By day Emad is a popular teacher at the school where his respectful students enquire as to the progress of his latest work.  Emad and Rana are forced to move out of the now dangerous building and consider staying at the theatre where they tread the boards.  Through a seemingly happy circumstance though one of their fellow players – Babak – offers them an apartment he rents out.  There is a sense of early mystery raised however when a locked room in the apartment reveals many personal items belonging to the former female tenant.  Refusing to collect these, she abruptly ends a telephone conversation when an increasingly impatient Babak demands once more that she take them with her.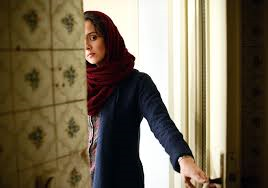 An early performance of the play takes place, but Emad is required to stay late at the theatre to discuss three lines in the play which the censor wishes to have removed.  Rana returns home to their temporary abode and works on the apartment, still in her makeup from the play (she is playing the part of Linda opposite Emad's Willy Loman).  The front door buzzer sounds and, believing this to be Emad, Rana leaves the apartment door ajar.  There's a quietly brilliant moment here as Farhadi allows the camera to linger just long enough on the gaping door.  It's an ominous visual warning to the audience – not exactly subtle, but nevertheless highly effective.  A distraught Emad returns and eventually tracks his wife down to the nearby hospital where she has been taken by a few neighbours.  Rana returns to the apartment the following morning, but is highly agitated following an attack by an assailant she swears she never saw.  She asks Emad to wait by the door when she needs to use the bathroom.  She does not wish to remain in the building by herself and insists that she can carry on with performances in the theatre.  However, as one might imagine, her return to the stage is not a happy one and increases tensions between the couple.  'You're blowing hot and cold,' a frustrated Emad tells her, 'during the day you want me here, but at night you won't let me come near you.'  Emad loses face at his school when he confronts a student who has recorded him on his phone sleeping during the screening of a film in the classroom.  The first reference to humiliation is mentioned at this point.  It returns later in the film with far greater force and even more dramatic consequences.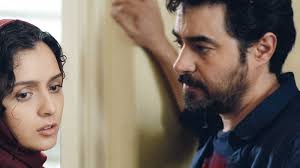 All signs point to an attack that was not intended for the victim in this case and Emad seeks to find the perpetrator whom he correctly deduces had believed the former tenant was still in residence.  He hears stories on the stairwell of the apartment building and in the basement where a delivery van belonging to the assailant has been left behind.  The woman was a prostitute by all accounts who had a fairly extensive clientele.  Emad himself is reprimanded ever so slightly by an older lady living in the building when she asks why he has not reported the incident to the police.  'We thought your wife had had it when we saw her,' she tells him.  Such moments serve to up the pressure and vexation building in his mind.  Rana does not want to go to the authorities as she believes this will serve no purpose.  A feeling of guilt also pervades because she dropped her guard by leaving the door of the apartment open and not asking who was downstairs.  Furious with Babak, as he did not disclose the former tenant's exact history to him, Emad takes the opportunity to improvise on stage and call the latter a rat in public.  Returning home one evening to a seemingly improving atmosphere in the apartment, he soon comes to realise that a meal prepared by Rana was inadvertently paid for by money left by the assailant.  Farhadi's film is unsettling in a hundred such quiet moments which, when taken in combination, add up to a seismic displacement of his characters and the environs which they seek to occupy.  There will be no happy ending for Emad and Rana.  The former most especially has become much too morally ravaged by thoughts of revenge and humiliation.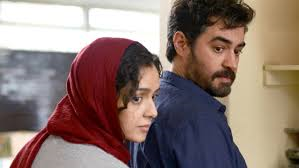 All this comes to pass in the film's third and final act as Emad eventually tracks down the quite pathetic perpetrator who is far from the physically imposing man he might have imagined.  This does not detract however from the gravity and significance of the revenge he wishes to exact.  Realising that he has an unexpected trump up his sleeve, Emad holds the unidentified man against his will in his former apartment which remains damaged from the events of some two weeks before.  He offers to release him, but only on the condition that the sickly and contrite man admits his rather sleazy proclivities to his family.  He's gone too far by now and Rana begs that he allow her attacker to leave unpunished.  But in Emad's twisted mind now is the two-fold desire for revenge and humiliation.  In an earlier – and quite significant scene – he has experienced the latter emotion himself in a taxicab opposite one of his students.  Farhadi posits a world here in which the male seeks to re-empower himself despite the entreaties of his beloved who can quite clearly see that he is acting far outside the boundaries of his own moral compass.  In its final moments The Salesman reaches its most devastating act of cruelty which will have far-reaching implications for the central characters.  The leads Hosseini and Alidoosti are outstanding with the former in particular a deserving Best Actor winner at the 2016 Cannes Film Festival.  The play within a play is perhaps less convincing and the allusions – if they are so intended – do not exactly ring through or seem so very relevant.  Nevertheless, Farhadi continues to forge a quite remarkable canon of films in Iranian cinema which centre on narrative threads such as domestic strife, class, social and gender distinctions.  A weighty study of personal disharmony which remains raw and unhealed right to the final frame.
Rating: B