Movie Review: The Siege Of Jadotville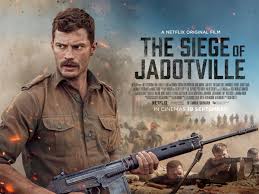 Every so often cinema brings to our attention a sidebar story or faded footnote in history that might otherwise not be known by the public at large.  Such is the case with the Siege of Jadotville, the recounting of an incident which took place during a United Nations intervention in the Katanga conflict in the Congo in September 1961.  Based on the 2005 book by Declan Power, the film opens with a short historical context regarding the escalating Cold War and the volatile ground Africa had become in all of this.  We switch then to some of the characters themselves – the Irish soldiers who are set to be shipped abroad for duty, an especial focus on their commander Pat Quinlan (a very solid Jamie Dornan with Munster accent) who himself is a married man.  Quinlan is somewhat aghast upon arrival in Katanga at the station where he and his men have been posted.  Set outside the mining town of Jadotville, the station in truth is little more than a series of functional buildings of no discernible value and, worse still, the position appears highly vulnerable should it come under attack.  Nevertheless, Quinlan is shown to be a man of honour and duty and very soon he has his men pitching in to make this position somewhat more fortified than it is.  Things do kick off as expected when UN Secretary General Dag Hammarskjold initiates Operation Morthor – an offensive against the military units working for the Katangan state which has seceded from the Congo.  The semantics of conflict take over (peace enforcement as opposed to peace keeping) and the former Irish minister for posts and telegraphs Conor Cruise O'Brien (then a special representative of the Secretary General) finds himself caught up in diplomatic efforts to fight the fire and prevent the situation from escalating.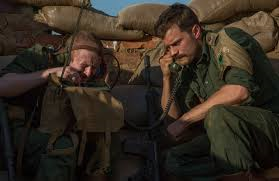 It's well-nigh impossible not to be reminded of Cy Endfield's 1964 film Zulu as Quinlan and his small company are besieged by the advancing forces of local tribesmen, mercenaries and Belgian settlers.  Like the more famous incident at Rorke's Drift, The Siege of Jadotville seeks to portray men of duty in a near-impossible situation with limited supplies of armaments and ammunition.  What the Siege of Jadotville also attempts to relay is the seeming feckless efforts at diplomacy in the background.  A number of arguments take place between Quinlan and his superiors – the aforementioned O'Brien (Mark Strong in a very unshowy role) and McEntee (played by Game of Thrones Michael McElhatton).  From Quinlan's point of view the imperative objective is to ensure that none of his men are lost in the series of engagements taking place; his superiors meantime are intent on the larger picture per se.  The script written by Power himself and Kevin Brodbin even has O'Brien's character repeat verbatim to Quinlan a speech the UN Secretary General had previously made to him about seizing his place in history.  The film leaves little doubt as to who is the hero of the piece and who is the prevaricator.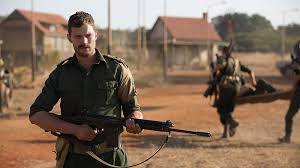 Elsewhere we are treated to some fine set pieces and quieter moments of comradeship.  The Irish UN force at Jadotville held out for six days and director Richie Smyth alternates the bullet-laden engagements with the even tenser interims as the soldiers wait to see what may be thrown at them next.  There's a refreshing lack of CGI here and Smyth, a video director himself, handles the military proceedings with much aplomb.  Jamie Dornan – away from that Mr. Grey role – is well cast as Quinlan and he's supported by a solid cast of players including Strong and McElhatton.  Quinlan's intrepid group – with five men wounded, but none killed – were eventually forced to surrender when their supplies were completely expended.  Taken prisoner, they were held for approximately one month before their release and return to Ireland in December 1961.  As the ending of this fine film explains, the siege of Jadotville itself was not given its due recognition at the time.  None of the participants were awarded any honours despite their heroic efforts, if anything there was a derisory attitude shown towards them which has only been addressed with the passage of time.  In 2016 reparations for this scandalous overlooking have perhaps been completed with the Irish Government awarding a Presidential Unit Citation to A Company, the first such bestowal in Irish history.  It's no more than these brave men deserve and Smyth's film is a perfect complement to this.  See it in the cinema if you can.  Or Netflix if needs must.
Rating: B