Movie Review: The Two Popes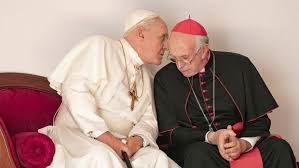 Set mostly in the year 2012, The Two Popes tells the story of a pivotal meeting between the then Pope Benedict XVI (Anthony Hopkins) and Cardinal Jorge Mario Bergoglio (Jonathan Pryce) – the future Pope Francis.  Both men are at something of a cross-roads in their respective spiritual lives.  Some seven years into the term of his papacy, the incumbent head of the church is beset by scandals and a loss of purpose.  He bemoans the fact that he can no longer hear the voice of God at one point.  And then there is the matter of his advancing age and the condition of his eyesight which has become more tenuous.  Although younger in age than the Pontiff, Cardinal Bergoglio also wishes to dispense with some of his own responsibilities.  A man of simple taste and humble disposition, the Argentine desires to return a more basic state of service befitting his views on poverty and the common man.  Summoned to Rome by his superior before he has had a proper chance to tender his resignation, Bergoglio nevertheless reflects on his own belief that there are no coincidences in this life – God, as he puts it, has a plan for everything.  As it turns out, Pope Benedict has a definite plan in mind in which the Cardinal from Buenos Aires is set to be a prominent player.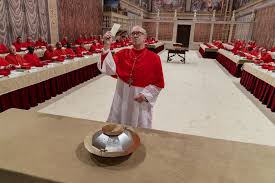 Directed by Fernando Meirelles (City of God, The Constant Gardener), The Two Popes opens with the death of Pope John Paul II in 2005 and the election of his successor Joseph Ratzinger as Pope Benedict.  The opening scenes as presented to us by Meirelles and screenwriter Anthony McCarten (Darkest Hour, Bohemian Rhapsody) give us a brief glimpse of the conclave and the politics surrounding the election of a new Pope.  The first smattering of humour occurs when Ratzinger and Bergoglio come face to face in a bathroom inside the Vatican as the latter is heard humming ABBA's well-known hit Dancing Queen.  It's of no great surprise that the stolid German does not recognise the popular tune.  Later on, there is a similar amusing moment concerning The Beatles' Eleanor Rigby and Abbey Road.  A devoted soccer fan, Bergoglio watches the game he loves at every opportunity possible.  He earnestly believes in the requirement to move among ordinary people because this is precisely how he views himself.  Ratzinger, on the other hand, is definitely old-school.  He understands the trappings of his office and can speak readily on the history of his estate down through the centuries.  When he raises the possibility of his impending resignation with the younger man, a precedent in the annals of the papacy is cited immediately.  And he is only too aware of the fact that the liberal-minded Beroglio is one of his harshest (yet discreet) critics.  On the first of their consequential meetings in 2012, the Pontiff does not pull any punches when confronting his Cardinal on this matter.  When the latter attempts to pass on his formal letter of resignation, he is surprised that the Pope does not want to accept it.  What rationale could he have for not accepting this he surely thinks.  What is his exact motivation for asking me to make this journey from Buenos Aires to Rome?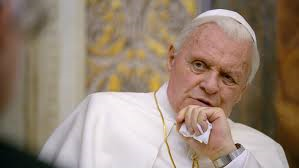 It's no great spoiler to reveal the fact that Benedict has one eye on his own retirement (which he deems a necessity) and the other on his potential successor.  His reasoning is wholly sound in this regard.  The future of the church as a whole is at issue and the time has come for more than a modicum of progress to be embraced.  At Castel Gandolfo first and subsequently the Vatican, the two men bare their respective souls to a certain degree and acknowledge previous failings.  Bergoglio takes centre stage in this regard as we see flashbacks of his youth and a significant encounter which determined his path to the church.  His controversial interactions with the Argentine dictatorship in the 1970s is also touched upon.  In contrast there are few if any allusions to Ratzinger's past and his one-time membership of the Hitler Youth.  On more than one occasion he is referred to as a Nazi by a peripheral character, but that is all.  McCarten's otherwise excellent script also glosses over the thorny subjects of clerical abuse and the corruption of the Vatican Bank.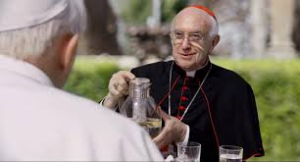 The Two Popes main strength resides in its effectiveness as a two-hander and in Pryce and Hopkins Meirelles has two veteran actors at the top of their game.  Pryce – as Bergoglio – has the meatier role and the Welsh actor has never been better as a man imbued with a deep faith and an inherent sense of fun (the future Pope's proclivity for the tango is well referenced) who accepts the twists of fate which his spiritual life has brought about.  As Pope Benedict, his fellow countryman Hopkins also excels as a man given to study and deep contemplation.  Outwardly phlegmatic, Benedict is shown to be not entirely averse to a joke or a moment of levity; his essential problem is that he does not know how to wear such emotions given his current position and previous past in his guise as 'God's Rotweiller.'  On more than one occasion, he remarks on the popularity of the younger man in contrast to himself – people don't like me when I try to be myself he is heard to say.  The film's big reveal may well be that 'God's Rotweiller' was flesh and blood like the rest of us; a man who also had his moments of doubt and despair.  When – at a later point in the film – he asks Bergoglio to hear his confession, we sense that some of the latter's humility has rubbed off on the Pontiff to good effect.  An amusing scene involving the tango and a droll farewell on Ratzinger's part are practically touching.  In Pryce's and Hopkins's more than capable hands, these two men of God are rendered immediate and tangible.  They become mere mortals grappling with a crucial moment in the church's history.
Rating: B+