Movie Review: Three Billboards Outside Ebbing, Missouri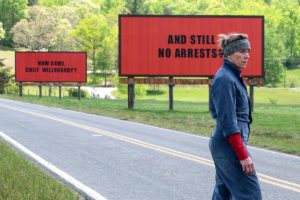 A grieving mother's unimaginable pain and her relentless pursuit of justice is at the heart of Martin McDonagh's new film set in the mid-west of the United States and featuring a stellar cast of remarkable actors which include Frances McDormand, Woody Harrelson and Sam Rockwell.  The presence of the aforementioned McDormand and the original music composed by Carter Burwell suggest that we are in Coen Brothers territory here and the premise of Three Billboards does indeed evoke many of the thematic strains which inform their movies.  This is small-town, backwater America.  There is a strong female protagonist at the heart of the story.  Many of the male characters are morally indolent at best, viciously racist at worst.  There is a good man within the confines of justice who is simply trying to do his best for his family and in his job.  A blackly comic undertone pervades the piece.  The threat of violence is merely a few beats away and its chief proponent becomes a far more complex personage than we might imagine.  The titular high concept is set by McDonagh's brilliant original screenplay at a very early stage.  Travelling home in the dark one spring's night, divorcee Mildred Hayes (McDormand) chances upon the idea to effect some progress in the investigation of her daughter's murder.  The somewhat rebellious and definitely headstrong Angela has been dead some seven months.  A fog of inactivity informs the local police department as far as Mildred is concerned.  She rents out the billboards and places on them some carefully directed messages for the so-called purveyors of justice.  Sheriff Bill Willoughby (Harrelson) is singled out and named specifically – 'Raped while dying', 'And still no arrests', 'How come Chief Willoughby?'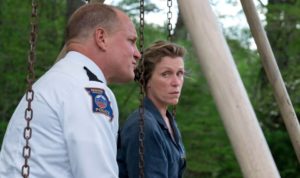 The strategy appears to be a success initially.  Mildred gains some local media attention.  The police department are duly discomfited as she'd hoped.  Willoughby personally calls to see her at her home.  Expressing his understanding of her motivation (he has two young daughters himself), he makes the perfectly valid point that the investigation has been hamstrung by a complete lack of evidence.  There is little he can do as the case has become cold.  Mildred may have vented, but her quite unique gesture will do little to bring the perpetrators to justice.  McDonagh's film is not a murder mystery.  It's about the fallout which can occur following such a deeply felt tragedy.  Mildred soon learns that the local townspeople are on her side as regards the loss of her daughter; but they have little or no empathy for the way in which she is seeking redress for the crime.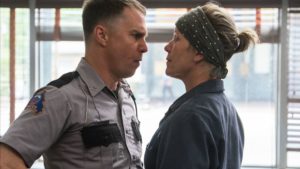 Mildred and her long-suffering son Robbie (Lucas Hedges) soon learn of the personal tribulations of Willoughby himself.  The popular sheriff is terminally ill with pancreatic cancer; nevertheless he tries to go about his daily business in the same way Mildred tries to run her souvenir shop.  A dentist scene in which Mildred turns the tables on the less-than-sympathetic surgeon will amuse those of us who have sat waiting in that dreaded reclining chair.  It leads directly to an unexpected moment of compassion between Mildred and Willoughby.  One of the great strengths of McDonagh's script is to emphasise the similar predicaments of the lead characters; in spite of their flaws, they are ultimately human and have been scarred by their experiences in the real world.  On first view Sam Rockwell's Jason Dixon seems little more than a Mommy-fixated, unprincipled thug.  An officer in Willoughby's police department, Dixon is notorious for his vicious streak and racist propensities.  Upset and confused by Mildred's left-of-centre brand of advertising, Dixon first confronts Red Welby (Caleb Landry Jones) who rented her the billboards; his chagrin next centres on Mildred herself.  The feisty lady refuses to back down even when the town turns on her following the demise of one of the lead characters.  Her pain and anger implacable, Mildred proves herself to be just as intransigent as Dixon is in his view of the world and his racial discrimination.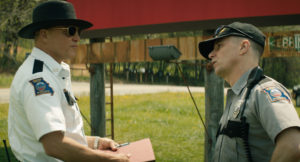 There are no heroes here and, in the final analysis, no villains either.  Mildred is plucky and focused, but her single-mindedness and somewhat ruthless side has implications for others including her family members.  Her son Robbie – as I mentioned – is one such victim.  The film's ultimate denouement involves an extreme act on her part with consequences for another leading character.  The message McDonagh is conveying at all times during the 115-minute running time resonates through every scene – for the most part these are essentially decent people who strive to survive and make sense of the world.  Life has failed them in some way and they have become lesser versions of themselves.  Even Dixon has suffered as a result of the death of his father.  There are no unblemished individuals or persons of paragon.  Mildred's ex-husband Charlie (John Hawkes) has been physically abusive to her on some level – we never quite learn to what extent.  The local car salesman James (Peter Dinklage) is a self-acknowledged alcoholic.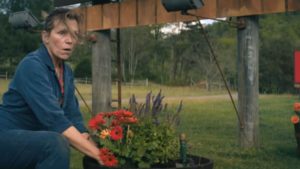 McDonagh's film, therefore, is a story ultimately about human suffering which occurs in the main in private moments and domicile settings.  One of the film's more tender moments involves two schoolchildren being extracted from the said institution for the day so that they and their parents can once again experience the rarely-felt idyllic.  The effect of Mildred's billboards is to shock many of the film's characters out of their moral inertia, their seemingly mental torpor.  But will this dramatic and conspicuous demonstration lead to resolution or restitution?  The film's closing moments suggest something imperfect and in-between; a compromise perhaps for two of the characters as they travel on the road to Idaho of all places.  McDonagh's direction is assured and built upon a terrific script, the premise for which he apparently devised having seen similar billboards somewhere in the deep south of America.  The music of Burwell is typically evocative and melancholic; the cinematography of Ben Davis appropriately restrained and wistful.  This is a film which will live long in the memory however on account of its three central performances.  McDormand has never been better and may well scoop her second Academy Award for Best Actress (having previously won for Fargo).  Harrelson demonstrates how versatile he is and channels the ordinary man under extraordinary public and private pressures – just watch for his despondent expression in a hospital scene.  Sam Rockwell is an actor I've admired for years and this is one of his best performances to date.  Overlooked by the Academy for his tour-de-force work in Duncan Jones's Moon a few years ago, the Californian will surely receive recognition this time around and might well win Best Supporting Actor for his complex Dixon.  An intense and deftly structured drama which is further bolstered by these three central performances.
Rating: A