Movie Review: Toy Story 4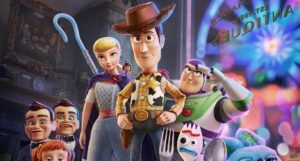 The Toy Story film franchise has delivered near-perfect entertainments over the last 24 years and the fourth installment happily continues in this vein with respect to its rich storytelling and memorable characters.  When Toy Story 3 concluded the then trilogy some nine years ago, it appeared as if the narrative had reached its satisfying apex.  And so it had.  Andy had donated his beloved toys to Bonnie and a feeling of proper closure pervaded as Randy Newman's theme struck up over the end credits.  Woody and his pals had a new owner and a new sense of purpose.  The existential crisis (one of many in this series) of being unnecessary in the world of a maturing teen was replaced by the excitement of acquiring a renewed raison d'etre.  So where could the storytelling conceivably go with a fourth chapter we asked ourselves.  The answer is by further elaborating on and amplifying some of the themes which have been explored in previous films.  In a prologue to the main action, the absence of Bo Peep (Annie Potts) from Toy Story 3 is explained.  The porcelain figurine who had served as Woody's romantic interest in parts 1 and 2 is philosophical as to her fate as she is given away by Andy's younger sister.  This is part of what being a toy is she explains to a visibly-distraught Woody.  Sometimes you can't change destiny.  And change itself is inevitable in the world of the toys as the child moves through his or her formative years.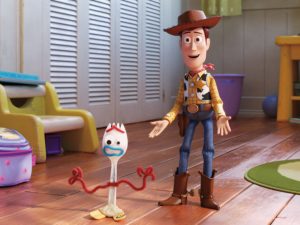 The narrative proper of Toy Story 4 begins with Woody (Tom Hanks) questioning his own future once again as he faces the prospect of becoming increasingly irrelevant to his kid.  Bonnie no longer selects him on a frequent basis for play time.  Woody sits in the closet and is reminded of as much by some other toys who have, similarly, been diminished in importance.  A constant theme which has been a feature of the Toy Story films is the relevance of community.  Inclusiveness has also been a recurring topic.  Remember how Woody spent much of 1995's Toy Story seeking to convince Buzz Lightyear (Tim Allen) that he was a toy?  Part of his own inherent fear was that he would get pushed down the pecking order and thus become an anachronism.  1999's Toy Story 2 and 2010's Toy Story 3 considered alternate worlds which were also less than appealing to the central character.  Woody's principal mantra is that a toy exists for its owner solely and all else is secondary to that motivation.  Accompanying Bonnie on her orientation day in kindergarten, Woody takes matters into his own hands as he covertly places a spork and other items from a trash can onto the young girl's desk during arts and crafts.  The mutation that transpires from all of this is Forky who comes to life and – believing himself to be trash – seeks out the nearest receptacle at every given opportunity.  But Woody – alone it seems – comprehends Forky's importance to Bonnie and her sense of confidence.  The child needs this creation of hers to get her through the potentially bumpy period of kindergarten and what may lie beyond.  A road trip which ensues only makes him all the more determined in spite of Forky's continual penchant for trash cans.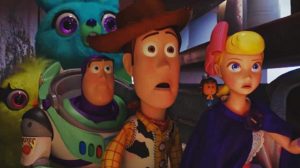 It may not be quite as expansive as previous chapters in the series, but Toy Story 4 is nevertheless a side-splitting animated feast which has many touching meditations on subject matters such as alienation and loneliness, as well as several hilarious set pieces.  Those of us who recall the groundbreaking visual effects of 1995's Toy Story (as they were back then) will be more than satisfied as this entry is more than up to scratch.  Younger members of the audience will also approve of the proceedings on show here.  The regular voice members of the cast – Hanks, Allen, Joan Cusack, John Ratzenberger – are joined by the likes of Keanu Reeves (Duke Caboom) and Jordan Peele (Bunny) to great effect.  Don Rickles – who passed away in 2017 – returns as Mr. Potato Head courtesy of the magic of archival recordings.  The star of the show perhaps is Annie Potts's Bo Peep with whom Woody is reunited.  Bo's story – since the time of her last appearance in 1999's Toy Story 2 – is one of the more interesting aspects of the new film and it's heartening to see a character who is so well written and perfectly realised.  One of the more pivotal moments of Toy Story 4 is her differing opinion as to what constitutes a 'lost' toy in contrast to Woody's attitude.  A lost toy is not necessarily a toy without an owner; it is one which has disregarded the group ethos, the sense of a communal spirit.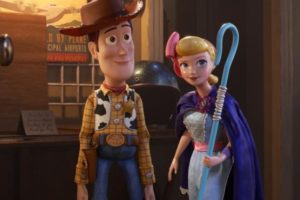 Making his feature directorial debut here, former Pixar storyboard artist Josh Cooley delivers a film which is not just an afterthought following on from 2010's Toy Story 3.  Toy Story 4 is yet another marvel from an animation studio which has consistently produced strong storytelling material, as well as visual effects which are second-to-none.  The film's eventual denouement will cause some to shed a tear, but this might not yet be the final word for the toys.  Some deft and highly-amusing mid-credits scenes offer up more than a few tantalising narrative threads which the good people at Pixar could well pursue at some time in the future if they are so inclined.  Now that's what I truly call a happy ending.
Rating: A+