Movie Review: True History of the Kelly Gang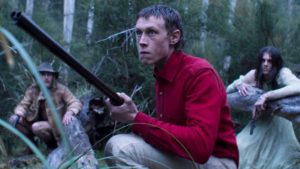 Based on the Booker Prize winning novel of the same name by Australian author Peter Carey, True History of the Kelly Gang is far from being a neat origin story for the famed bushranger and outlaw, nor is it a romantic account of his various exploits.  The terrain is harsh and unforgiving; the principal characters stark and angular.  Beginning with its purported history of Ned Kelly as a youngster, Justin Kurzel's film pulls no punches with respect to the severity of the world which he moves through.  The son of an Irishman (John 'Red' Kelly) transported to Van Diemen's Land who eventually settled in Victoria, the young Ned is a boy who quickly becomes versed in the ways of crime and the art of survival.  Allegedly sold by his own mother (Essie Davis) to the bushranger Harry Power (Russell Crowe), the young Ned (Orlando Schwerdt) learns that life is cheap and that familial bonds stand for very little when money is concerned.  Growing up to become the gaunt-like George MacKay (most recently seen in 1917), Kelly is viewed as presented as something of an awkward anti-hero; never quite certain of his moral base, short of a tangible idealistic code in spite of his own background and his family's cultural antecedents.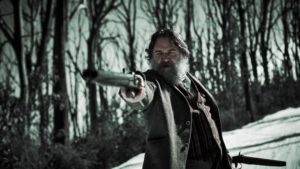 Kurzel (who previously directed 2015's Macbeth) presents the central character's life in a series of stark vignettes.  Our first encounter with young Ned has him playing a Peeping Tom of sorts as his promiscuous mother satisfies the carnal needs of the local police sergeant (played by Charlie Hunnam).  The fractured relationship between mother and son was one of the most notable aspects of Carey's source novel and this carries through into the adaptation by Shaun Grant.  At no point is there a modicum of sentimentality or of familial affinity on display here.  Instead, Kurzel and Grant posit a dog eat dog world in which the principal players rely on their wits and their fundamental instincts.  In a much later scene, Ellen Kelly impresses on her son the need to hold his tongue and face his executioners without resorting to language.  The message imparted by her here is that mean are weak when they rely on words.  Only actions count in this singular universe.  The hesitant and the frail can never possibly prosper.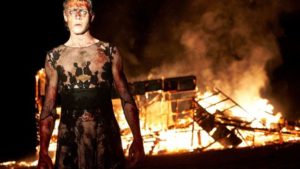 The subject of a number of big screen adaptations over the years (including a 1970 version starring Mick Jagger and a more recent 2003 film starring Heath Ledger), the so-called Robin Hood of Australia is certainly not an easy or convenient historical character to pin down and Kurzel's fragmented approach reminds us the audience that (as per Carey's source novel) the figure we are engaging with here is one who passed into the mythology of a fledgling nation and is rendered indeterminate as a result.  There are no immediate answers presented here despite the various soundings by Kelly himself that he is an Irishman fighting the English enemy in a colonial venue far from the native land of his parents.  Kurzel's narrative trajectory is disjointed, but – like the enigma of Kelly himself – it is never less than potent and certainly inclined towards the bizarre at times (the disparate bunch of outlaws dressed in women's attire if you will).  At its heart also, is a fine performance by the ever-impressive MacKay and a strong supporting cast including Crowe, Hunnam, Davis and Nicholas Hoult.
Rating: B