Movie Review: Widows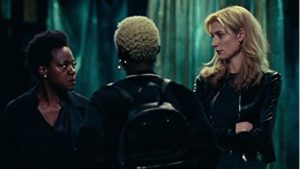 A film with a credit list which includes the likes of Viola Davis, Robert Duvall, Colin Farrell and Gillian Flynn was never likely to disappoint and such – thankfully – is the case with director Steve McQueen's latest offering based, as it is, on the 1983 ITV series of the same name.  The opening moments of Widows (edited with no little panache by Joe Walker) launches us into the thick of the action and drama immediately – an in-progress robbery has not worked out to the design of its chief architect Harry Rawlings (Liam Neeson).  Rawlings and his partners – Carlos, Florek and Jimmy – are dispatched from the narrative in double-quick time and their widows of the title are left to make sense of this and their own way in the world.  For Rawlings's widow Veronica (Davis), there is a sense of inherent loss which extends further back than Harry's demise; but more immediate is the imminent danger she finds herself in.  Jamal Manning (Brian Tyree Henry), a crime lord with political aspirations, wants the $2 million which Harry stole from him in order to finance his tilt for alderman of a South Side precinct.  An act of physical intimidation soon rouses Veronica into action and demonstrates that she is no shrinking violet.  Discovering Harry's meticulously kept notebook, which contains future plans, she determines to take matters into her own hands.  To this end, she contacts the other ladies who have recently been bereaved.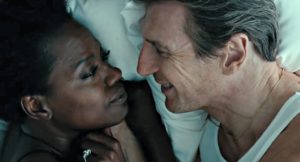 Viewers who might have feared a variation on the earlier Ocean's 8 can happily park that reservation at the cinema door.  There is simply too much class on offer here to allow Widows to dwindle into the ordinary or depend upon any prosaic cliche.  A top-line cast – which is headed by Davis herself – reads as one of the very best ensembles of 2018.  The male members – including Neeson, Farrell, Duvall and a menacing Daniel Kaluuya – are impressive here, but they are rightly eclipsed by those of the opposite sex.  Davis is characteristically terrific, but she's equally matched by Michelle Rodriguez, Cynthia Erivo and a deliciously fleeting Jacki Weaver.  One of the film's more interesting plot lines involves the fortunes of Alice (Elizabeth Debicki), a widow whose husband has been physically abusive.  To make ends meet Alice (encouraged by her overbearing Mom) is moonlighting as an escort.  The screenplay by McQueen and Gillian Flynn suggests empowerment as opposed to acquiescence.  Each of the central characters has motivation aplenty and wishes to better her own circumstances.  A political sidebar concerning Farrell's Jack Mulligan serves to emphasise how stagnant this male-dominated sphere can be.  Corruption is synonymous with a fear and a resistance to change.  The incumbent alderman Tom Mulligan (Robert Duvall) lectures his reluctant son Jack about the need to continue his own legacy.  A central message which McQueen and Flynn are at pains to communicate is the requirement for proactive thinking and decisive action.  If Veronica and her unlikely accomplices accept the roles which the powers-that-be would have them play, then they will be powerless and bereft of a sustainable future.  Enterprise is therefore the answer.  Enterprise involves planning and no small amount of risk-taking.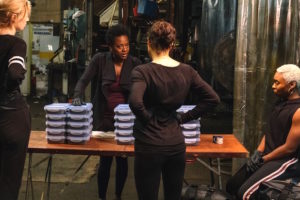 It helps proceedings greatly when you have a cast of this range and quality, but McQueen has also backed himself with the likes of Hans Zimmer (on composing duties) and the aforementioned Walker in the editing room.  The Turner Prize winner, who has directed four features to date (including 2013's 12 Years a Slave), shows that he has an innate sense of pacing with respect to the narrative and an ability to invest emotional resonance in each of his characters.  Davis and Debicki are particularly effective in this regard and might well snag Oscar nominations for their memorable turns.  For all of its themes regarding sexism, establishment inertia (Chicago being a microcosm for establishment America) and the iniquity of the criminal underworld, Widows is also a highly entertaining film which will have audiences rooting for its central protagonists.  When McQueen chooses to unleash the set pieces and attendant pursuits, he pulls these off as effectively as he stages the more intimate and personal moments of the film.  Any filmmaker can choose to mix various genre elements, but it takes a truly talented director to expedite them with such balance and clarity of purpose.  For this reason – and several others – Widows is one of the very best of 2018.  Go see it and enjoy a brilliantly atypical heist movie.
Rating: A