Movie Review: Wonder Woman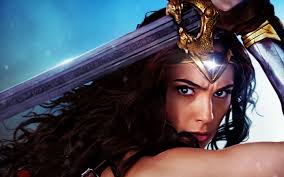 In a significant early moment in Patty Jenkins' big screen adaptation of the DC Comics character created by psychologist and writer William Moulton Marston, Queen Hippolyta (Connie Nielsen) dispenses some advice to her daughter Diana (Gal Gadot) as the latter departs the shores of Themyscira to assist humanity in the throes of the Great War.  'They do not deserve you Diana,' the Amazon queen tells her immortal daughter, 'you are the greatest love of my life; now you are the greatest sorrow.'  There's no sense of such regret as one watches the closing credits of the fourth installment in the DC Extended Universe because, thankfully, Jenkins and scriptwriter Allan Heinberg have delivered here a superhero story which is deserving of its title character with emotional resonance, well-drawn supporting characters and just the right smattering of action to boot.  As an origin story, Wonder Woman begins on just the right note as we are introduced to the young Diana as she inhabits the idyllic Themyscira.  As per its depiction in the comic books, the island is lush, colourful and vibrant – kudos here to DOP Matthew Jensen, costume designer Lindy Hemming and set decorator Anna Lynch-Robinson.  Conflicted between her mother Hippolyta – who would rather she didn't realise the full extent of her powers – and aunt Antiope (Robin Wright) – who is insistent that she channel her considerable abilities – the young Diana is portrayed as a headstrong young woman who knows her own heart and has the emotional intelligence to inform her decision-making process.  Into her world then crashes a handsome captain of the US Army Air Service, Steve Trevor (Chris Pine), who is being pursued by a host of German forces annoyed at the fact that he has stolen a notebook with chemical formulas which might just turn the tide of the four-year-long war for the German Empire.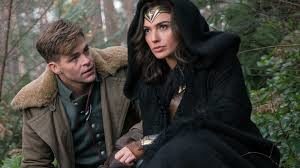 Themyscira knows nothing of the ravages of war, but Trevor soon makes these clear with his stories of death on a mass scale and a world that has turned in on itself with no apparent end in sight.  'My father once told me I could do something or I could do nothing,' he tells Diana, 'I tried to do nothing.'  It's a very honest moment from a character in such a film as he freely admits how he considered the alternative, the easier course.  When Diana, for her part, tells him that she wishes to go and end the conflict (by defeating Ares, the God of war, as she naively thinks), but her mother is against the idea, Trevor responds with another such piece of candour – 'I wouldn't want anyone I love anywhere close to it either.'  Gadot and Pine are perfectly cast in their respective roles.  The rebooted Star Trek leading man proved that he had acting chops in last year's Hell or High Water; he also has an innate instinct for comic timing which serves him well here as it does in his role as the younger version of William Shatner.  We get such a sense of the potent chemistry between the two as he bathes in a variety of a Themysciran jacuzzi.  The scene – in which Diana appears unruffled by his nudity – is played for laughs, of course, but there's also an admirable restraint on the part of Jenkins and Heinberg not to overkill as regards the double entendres.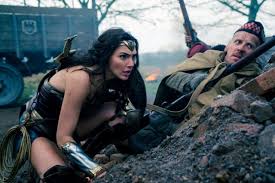 The focus of the film changes quite dramatically as Steve and Diana return to his world where the prolonged conflict has sapped humankind entirely and left it almost bereft of hope.  Diana is visibly shocked by the skeletal faces she sees along the western front and the individuals – such as the PTSD-afflicted Charlie (Ewan Bremner), a sharpshooter who is barely up to the task any longer.  There's a welcome infusion of humour prior to this as Steve and Diana initially arrive in 1918 London, the latter commenting on how grey and ugly it is compared to her sun-kissed Themyscira.  The fish-out-of-water motif is not unexpected here as Diana is at variance with a world where secretaries are akin to slaves and lavish costumes a physical impediment to combat, but Gadot's charisma and performance is good enough to rise above such hackneyed gags.  More to the point – and in keeping with her singular persona – is her insistence on toting sword and shield and infiltrating the inner confines of the War Department as Trevor seeks to convince his superiors of the malicious plot to unleash a new and far more deadly type of nerve gas.  The absurdity of war and paraphernalia of military rank is well captured in a scene in which she berates a stuffy general for fighting from the safety of his office.  This is a woman of word and deed – empowered by her sense of duty and physical ability – and Jenkins articulates this well in the first set-piece on the western front as Diana enters no-man's land.  It's quite a stirring scene as she leads the despondent men – including Pine and his cohorts – into battle capturing, as they do, the nearby village of Weld.  Jenkins and Heinberg tip their hat to some romance at this point which does not jar as it might do in other superhero films; the fact of the matter is that Pine and Gadot are so good in their parts that it matters not a jot how cliched the scene is in which they dance as a light snow descends around them.  The decision by the filmmakers to set this origin story in the past works just as well as it did for Captain America in 2011's The First Avenger.  An interesting point to note here is that the comic book origins of the demigoddess posited her as a supporter of the Allies during World War II.  An overly discerning mind might be tempted to suggest that Jenkins and her team looked at the template of The First Avenger (which also has a notable sacrifice towards the film's conclusion), but decided not to set it during the same era.  In any case the period piece setting suits Wonder Woman and one wonders where a stand-alone sequel, were it to happen, might be set.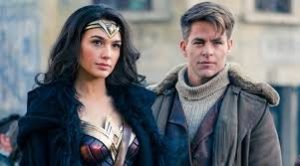 The spirit and momentum of the piece comes off the tracks ever so slightly in the final act as CGI overwhelms a little and the much-mentioned Ares finally appears.  Danny Huston is somewhat one-note as the evil General Ludendorff who will not accept the notion of defeat and is willing to kill his own peers for the sake of victory; the same can be said of Elena Anaya as Doctor Poison, Ludendorff's scientific associate.  Elsewhere Eugene Brave Rock, the aforementioned Ewan Bremner and Said Taghmaoui fare much better as Steve Trevor's motley bunch of allies.  Former Office actress Lucy Davis is suitably perky as Etta Candy, Steve's secretary who Diana equates to being a slave.  There's little mistaking the manner in which Jenkins positions the character as a woman who believes in equal rights and the common good.  One suspects that Diana would have kicked ass in the Votes for Women campaign of the period.  As it is, she's a mobilising force here for both genders as she leads the men into battle and comforts women and children in the decimated town of Weld.  The final battle between her and Ares is almost academic in the end when juxtaposed with the impending plot to drop gas on Greater London.  The filmmakers have focused our attention on the plight of civilians throughout this section of the film, so of course we root for Diana, Steve et al.  There are unfortunate resemblances to 2016's Dawn of Justice as Diana and Ares square off in a battle of physiques as opposed to wills.  But we can forgive such a reminder because of all that has gone before and the admirable fusion of wit, warmth and wonder (excuse the rather lame pun).  And – for once – the filmmakers appear to have avoided that modern-day cinematic cliche of cliches, namely, the mid-credits sequence at the end.  Instead we have the rousing 'To Be Human' performed by Australian singer Sia which is every bit as effective as Foo Fighters' 'Walk' was in 2011's Thor.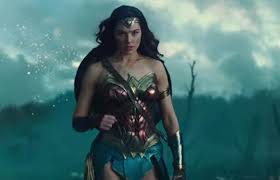 So Wonder Woman works – and how.  It's funny but I had a sense it was going to do so ever since seeing the initial trailers late last year and then again this year.  These suggested to me that the filmmakers, in this case, had realised what they had set out to do, namely, to tell an origin story with verve and heart combined with witty interjections and suitably-mounted set-pieces.  Great credit in this respect is due to Jenkins, who, criminally, had not directed a feature film since 2003's Monster; and also Heinberg for delivering a script with fine comic flourishes contrasted with deeper reflections on the nature of war, duty and personal sacrifice.  Wonder Woman belongs to Gadot and Pine in the lead roles and a particular standout scene between the two is that which occurs on a small airfield towards the film's conclusion.  I try not to hark back to this too much, but I can't help but thinking how this more than vaguely resembles a similar scene from Captain America: The First Avenger which – just like this one – comes at a climactic moment and has much emotional impact.  That latter film remains my own personal favourite of the Marvel Cinematic Universe thus far.  Wonder Woman is up there with it and is, by a country mile and then some, the best offering from the DC stable to date.
Rating: A