Movie Review: You Were Never Really Here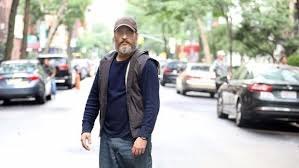 Scottish director Lynne Ramsay could hardly be described as prolific, but her films leave an undoubted impression which lingers long after the final frame and are permeated by her economic style of storytelling.  You Were Never Really Here does not waste a single frame and some viewers may depart the cinema feeling slightly exasperated by Ramsay's pared-down exposition.  Based on the novella of the same name by Jonathan Ames, the film opens with a bearded and paunchy Joaquin Phoenix expediting his latest assignment in a darkened Cincinnati.  Phoenix plays Joe, a war veteran and former FBI agent who clearly suffers from post-traumatic stress disorder.  There are no lengthy flashbacks provided by Ramsay in this regard, rather she suggests Joe's backstory with stabs of sound and darts of vision.  An abused childhood seems evident as do abiding traumas from his tour of duty and career back Stateside.  Joe is a man of few words who depends upon painkillers to dull his suffering.  That he appears to specialise in extricating minors and pre-teens from the clutches of paedophiles and other such malefactors is somehow appropriate.  Tormented by his inner demons, Joe nonetheless has an oblique purpose and clarity about him.  He is a man with a mission in a very angular way.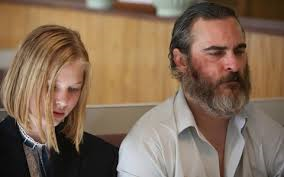 Ramsay's first feature-length film since 2011's We Need to Talk About Kevin is extremely bleak in tone and subject matter, but the writer-director does allow for intermittent moments of warmth and tenderness.  We get some sense of Joe's compassionate side by way of his interactions with his elderly mother (Judith Roberts).  This is the only section of the film in which Ramsay vaguely loiters as the two exchange some jokes about Hitchcock's Psycho which has just been playing on TV.  It's not long however before Joe is summoned by his boss John McCleary (The Wire's John Doman) for details of his next errand of mercy.  An up-and-coming New York politician Senator Votto (Alex Manette) is offering a sizable reward for the safe return of his daughter Nina (Ekaterina Samsonov).  Nina has been abducted and forced to work in a brothel for some high-powered patrons.  Votto does not want to involve the authorities as he wishes to avoid such undesirable publicity.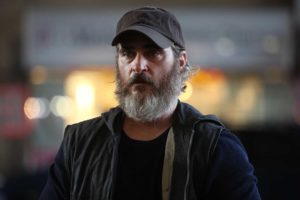 There are distinct shades of Scorsese's Taxi Driver here with respect to the unhinged saviour who is seemingly impervious to fear and varying degrees of physical pain.  Channeling his internal Travis Bickle, Phoenix is suitably redolent of an individual who has experienced anguish and despair the whole of his life.  A CCTV montage inside the aforementioned house of ill repute will remind some of Travis Bickle's killing spree at the denouement of Scorsese's 1976 classic.  There is blood and gore aplenty as the orchestrated plan of rescue goes horribly wrong a short time later.  You Were Never Really Here becomes a revenger's tragedy then in the mould of a hardboiled pulp story.  The likes of Jim Thompson would not object to his name being associated with this contemporary piece.  The dialogue is subdued, but the overarching framework is lucid.  As a number of distressing events befall him, Joe is literally driven to the brink of his own mortal existence before an inherent compulsion towards good kicks in.  His is not an odyssey of self-discovery, but rather an acknowledgement that his life – though twisted and imperfect – still seeks to right the wrongs he sees about him.  When asked if he knows where he's going, he simply responds with a muted no.  Joe's path is uncertain and fragmented, but Ramsay shines some chinks of light on it by way of his relationship with Votto's daughter.  There is a sense at the film's conclusion that the two need each other just as Ryan O'Neal and Tatum O'Neal did at the end of Peter Bogdanovich's Paper Moon.  Damaged people may help each other to heal is the message this reviewer took away from the film.  All is not hopeless in spite of the past.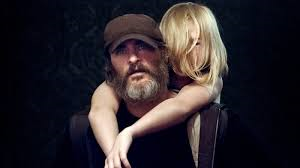 The recipient of the Best Screenplay Award and Best Actor Award at the 2017 Cannes Film Festival, You Were Never Really Here continues Ramsay's fixation on themes of grief, guilt and personally-felt distress.  There is torment at almost every juncture here and the writer-director leaves us in little doubt as to the extent of the central character's inner pain.  One of the greatest actors of his generation, Joaquin Phoenix excels as Joe.  Physically he fits as a man who appears to be on the wrong side of a poor diet; and yet he explodes with violence and rage when the job at hand calls for it.  In 2012's The Master, Phoenix showed audiences how incredibly effective he was as a maladjusted war veteran who appears to have no discernible moral compass.  Once again the actor is at the top of his game here as the unbalanced but intrinsically upright Joe.  The terrain traversed is rich soil for his considerable talents.  Ramsay fares very well on writing and directing duties also and there's a methodical discipline to the piece given its sparse 90-minute running time.  These people do not hang about and believe in relating their story with the minimum of fuss and without any extraneous elements.  Quite a thing in this day and age when narrative cinema normally inclines towards elucidation to the nth degree.
Rating: B+