Oscar 2016 – 12 Talking Points From The Awards
Well, Oscar 2016 has come and gone and, yes, whilst I got some of the categories correct in terms of my predictions, I also have to hold my hand up regarding those that I got completely wrong.  But I comfort myself with the knowledge that many of the so-called experts and pundits out there also found themselves with their mouths agape after the 88th awards ceremony.  There were a few major upsets, and certainly some talking points, and allow me to talk through some of these below: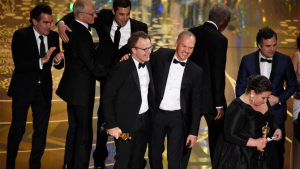 Spotlight is the first film since The Greatest Show on Earth in 1952 to win only one other award apart from Best Picture. 
Momentum towards the latter half of the ceremony certainly seemed to be with The Revenant after it had captured both Best Director and Best Actor.  But then Morgan Freeman took to the stage and it was truly one of those moments.  The 78 year-old actor appeared to do a double-take himself as he read out the name of the winner – Spotlight!  So how did it win?  Why did it win?  We'll never know what the distribution of votes was of course as the Academy does not release such details, but it appears very likely that this year was a very close run race.  I spoke about this in a previous post here when I attempted to predict the Best Picture winner.  Alas, I had plucked for The Revenant.  But any of the top 3 contenders – Spotlight, The Revenant and The Big Short – could potentially have sneaked it in the end.  We'll never know in hindsight.  But let's also remember that Spotlight does deal with a very weighty issue and it's based on a true story.  The Academy likes to honour films with important messages and this may be what sealed the deal for it in the end.  Spotlight is a fine film – I'd argue that it's hardly the stuff of vintage cinema – but there's a great ensemble cast to admire in there and actors like to vote for such ensemble pieces as has been seen in the past with Crash.  A great twist to the end of the ceremony though.  We haven't had that for a few years since…well…Crash.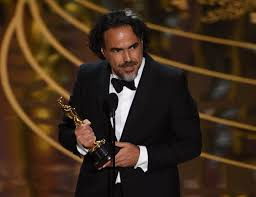 Alejandro Gonzalez Inarritu becomes only the third director to win back-to-back Oscars.
The Mexican director joined an elite group of three (himself, John Ford and Joseph L. Mankiewicz) winning back-to-back Best Director Oscars and also completed a hat-trick for Mexico in the process (Alfonso Cuaron remember won for Gravity in 2014).  He had a shot at becoming the first person to direct back-to-back Best Picture winners, but Spotlight prevailed here in the end.  Another split between Best Picture and Best Director in the process.  Is it me or is this becoming more frequent?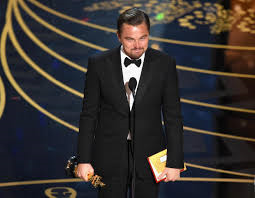 Leonardo finally wins Oscar as expected.
Not much that I can really say about this one.  If he hadn't won, there would have been howls of shock no doubt.  The other nominees probably hadn't even bothered to pen acceptance speeches.  They didn't need to.  Leo was gracious enough and mentioned some of his former directors, including Martin Scorsese.  He also implored us to save the planet.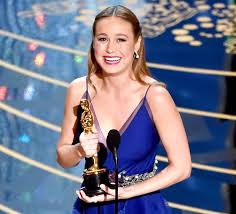 Brie Larson wins Best Actress as expected.
Not much that can be said about this award either.  Brie Larson, like her male counterpart, had been the favourite in this category from some distance out.  She gave a good measured speech and remembered to thank her director and wonderful little co-star.  Future nominations beckon I think.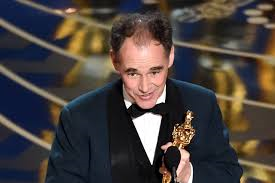 Mark Rylance causes the biggest upset of the night.
Now this was the biggest shock of the night and few I suspect saw it coming.  Sylvester Stallone had been the favourite for most of the awards season even though – significantly as it turned out – he was not nominated for a SAG or a BAFTA.  But form and experience told us that the emotional factor was surely on his side.  And he was playing Rocky for God sake!  So why didn't he win?  Did the Academy reveal their snobby side and decide they simply weren't going to give Rambo the Oscar.  If so, Mark Rylance fitted the bill perfectly.  He's classically-trained, he's a former artistic director of Shakespeare's Globe, he's won the Olivier Award twice, the Tony award three times, he snagged several nominations last year for Wolf Hall – enough said about his track record.  Plus he was very good in Bridge of Spies, no doubt about that, and he's only the second actor that Steven Spielberg has directed to an Academy Award (Daniel Day-Lewis was the first for Lincoln in 2013).  You have to feel for Sly though.  It won have been a great Oscar moment if he'd won.  But it didn't come to pass.  Rocky lost the count.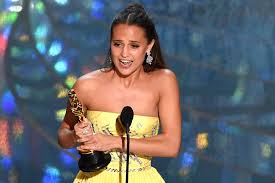 Alicia Vikander wins Best Supporting Actress ahead of Rooney Mara.
This was a category that was close, but the momentum had shifted significantly to the Swedish actress in recent weeks.  She won the SAG and the Critics' Choice Movie Award.  And she'd also picked up a number of nominations for her work in the superb Ex Machina – let's not forget that.  A well-measured acceptance speech as well which will do her chances of future nominations no harm at all.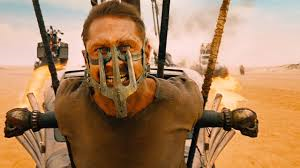 Mad Max: Fury Road wins the most awards on the night.
There was no surprise in this, but, significantly, it became the most successful Australian film at the Oscars in the process.  What chances now for a sequel I wonder.  Tom Hardy seems to be the busiest actor on the planet, so can he fit anything into his agenda these days?  George Miller has repeatedly asserted his intention to continue the franchise, but even he can't wait out another 30-year gap.  Two fully written sequels are reportedly in the pipeline.  Watch the space called the wasteland.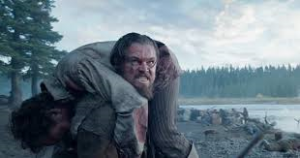 Emmanuel Lubezki joins an elite group of cinematographers who have won three Oscars.
Now this really is a heck of an achievement because not only is the Mexican cinematographer just one shy of tying for the overall record of four, he is also the first individual to win three consecutive Oscars in this category.  And look at for what films – Gravity, Birdman and The Revenant – all of which have fairly unique visual and aesthetic dynamics.  If that's not range, then I don't know what is!  Spare a thought though for poor Roger Deakins who is now zero awards from 13 nominations.  The English cinematographer – best known for his work with the Coens and Sam Mendes – must surely win eventually.  He does not deserve to be the bridesmaid forever.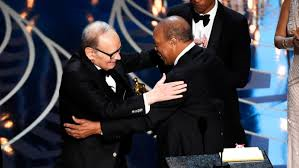 Ennio Morricone finally gets his competitive Oscar.
The great Italian composer had received an honourary Oscar in 2007 for "˜his magnificent and multifaceted contributions to the art of film music.'  But that was never going to do and it was a truly wonderful moment to see him take to the stage and finally get what he most certainly deserved.  He paid tribute to his fellow nominees and singled out John Williams in particular.  A class act, even if The Hateful Eight was not his best score ever.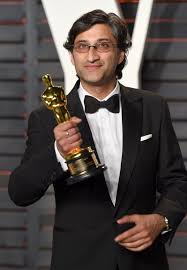 Asif Kapadia is recompensed for Senna by way of Amy.
Kapadia's truly wonderful documentary about the Brazilian driver was disgracefully left off the list of nominees a few years ago when, in fact, it should have been the clear winner.  They made it up to him this year.  He won't be getting any congratulations from Mitch Winehouse (Amy's father) though who has labelled this film about his late daughter 'a sham.'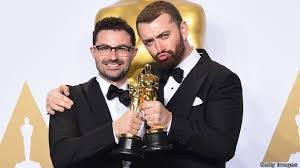 Best song is a surprise.
Lady Gaga and Diane Warren had been the favourites in this category, and the former received rave reviews on the night for her performance of "Til it Happens to You" from The Hunting Ground.  But Jimmy Napes and Sam Smith were the ones taking to the stage when the envelope was opened.  This was the second consecutive winner for a Bond song by the way.  Adele won for Skyfall at the 85th awards.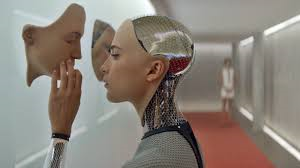 Best visual effects is a surprise.
The smart money here had this coming down to a straight shootout between Mad Max: Fury Road and Star Wars: The Force Awakens.  But the much smaller and compact Ex Machina beat them both to the punch and I, for one, have to say I was delighted.  One of the best films of 2015.  One of the best science fiction films of recent years.
Well, that's it for the 88th Academy Awards recognising cinematic achievement for the year 2015.  What will the year ahead of us provide in terms of likely Oscar contenders?  Will some of the same nominees be back in 2017?