The 12 Films Of Christmas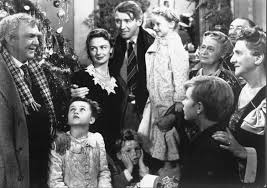 What's your favourite Christmas movie?  Do you incline towards the more modern-day comedies which have turned up in recent years in which individuals and families find themselves entirely overwrought by the festive season?  I'm thinking along the lines of Big Arnie in Jingle All the Way here.  Tim Allen and Jamie Lee Curtis let on to be Yuletide pariahs in Christmas with the Kranks.  Danny DeVito and Matthew Broderick went toe-to-toe as feuding neighbours in the pretty forgettable Deck the Halls.  Or do your seasonal preferences lean towards the more traditional like myself?  The list of 12 holiday films below include many a usual suspect in that regard.  But I make no apology for this.  I'd much rather watch screen greats such as Jimmy Stewart or Alastair Sim than Vince Vaughn or Macaulay Culkin.  The loveable Muppets or even ghastly Gremlins are a much more agreeable prospect than the Griswold Family or Ernest P. Worrell.  Ditto Bing Crosby, Cary Grant and Edmund Gwenn in this regard.  Would you perchance be interested in watching one of the twenty or so big screen versions of Charles Dickens' classic A Christmas Carol?  Then look no further; two of the very best of these make up this seasonal selection.  And then there is the perhaps little-known gem that is 1942's The Man Who Came to Dinner with Monty Woolley in terrifically acerbic form as an unwanted wintry guest.  You may not even have seen 1940's The Shop Around the Corner which came a long time before its more modern iterations such as You've Got Mail.  In any case, I hope that there's something for everyone on this list and, hopefully, you will catch one or two of them over the holiday season.  Happy Christmas everyone.  See you at the movies in 2017.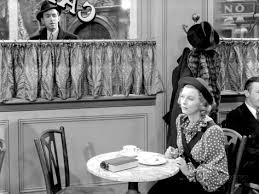 The Shop Around the Corner (Ernst Lubitsch 1940)
German-Austrian director Lubitsch (Ninotchka, To Be or Not to Be, Heaven Can Wait) delivered this quite beautiful romantic-comedy film based on the 1937 Hungarian play Parfumerie by Miklos Laszlo.  James Stewart and Margaret Sullavan play employees at a leathergoods shop in Budapest who do not realise that they are secretly corresponding with each other.  Fate, circumstance and just a smattering of pride keep them apart until the film's finale which, most appropriately, occurs on Christmas Eve.  An excellent supporting cast includes Felix Bressart, Sara Haden, William Tracy and Frank Morgan (perhaps best known to most viewers as the titular character in 1939's The Wizard of Oz).  Stewart had starred in Frank Capra's Mr. Smith Goes to Washington the previous year and would go on to win the Best Actor Oscar for his work in George Cukor's The Philadelphia Story the same year this one was released; he is excellent in this type of role as usual, awkward and diffident at times, but also bright, funny and capable of speaking up for himself.  As for the tragic Sullavan, she more than holds her own against the screen great (they made four films together during their respective careers) and her sense of comic timing is quite something to behold, particularly in the cafe scene as she awaits her supposed date.  The film's substantial reputation is only further enhanced by the fact that it spawned two musical remakes – 1949's In the Good Old Summertime starring Judy Garland and the Broadway hit She Loves Me.  Utilising the more modern means of communication that was email, 1998's You've Got Mail, starring Tom Hanks and Meg Ryan, is essentially a modernisation of this classic seasonal film.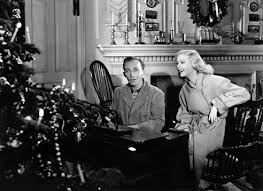 Holiday Inn (Mark Sandrich 1942)
The film that introduced many cinema-goers to Irving Berlin's timeless White Christmas, this one is in fact an all-year-round tale as it encompasses various American holidays such as Independence Day and Thanksgiving.  But the primary focus is Christmas and New Year's as Bing Crosby and Fred Astaire vie for the affections first of Lila Dixon (Virginia Dale), and then Linda Mason (Marjorie Reynolds).  Crosby's character Jim Hardy is the the singer in a musical act who wants out on account of the increasingly busy schedule.  Astaire's Ted Hanover is the dancing supremo who has ambitions beyond his current fame.  Hardy comes up with the idea of Holiday Inn – a leisurely establishment that will open on holidays only; he convinces the aspiring Mason to join him professionally and romantically in this venture.  It's all great fun and, along with the aforementioned Berlin classic, there's a plethora of wonderful songs by the venerable composer such as Happy Holiday, Easter Parade, Be Careful, It's My Heart and Lazy.  Regarding the film's most famous song, it's worth noting that Bing Crosby, great singer as he was, did not recognise White Christmas's potential when he first heard it.  His simple remark to Berlin during rehearsals – 'I don't think we have any problems with that one Irving' – scarcely hints at the huge success the song was to subsequently enjoy (it's still listed by the Guinness Book of Records as the best selling single of all time and won the Academy Award for Best Original Song).  A loose remake of this film followed in 1954 by way of Michael Curtiz's White Christmas which paired Crosby with Danny Kaye.  More about that particular one further below.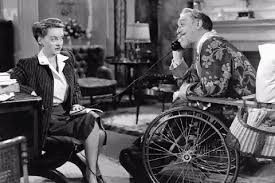 The Man Who Came to Dinner (William Keighley 1942)
This is one many of you may never have seen, but it's well worth picking up on DVD or sourcing it by some other means as it does not seem to turn up on Christmas TV very much; which is a shame I might add.  Based on the 1939 play of the same name by Moss Hart and George S. Kaufman, this tells the story of the very sardonic and cutting radio personality Sheridan Whiteside (based on the real-life commentator Alexander Woolcott) who, through an accident on ice, comes to stay in an Ohio home in the weeks leading up to the holiday season.  The egotistical Whiteside proceeds to take over the house with his acerbic barbs, idiosyncrasies, and, sometimes, bizarre guests (including a chain gang), and is a general nuisance to all, with the exception of the couple's adult daughter and son.  Meantime, Whiteside concocts a plan to stifle the blossoming romance between his trustworthy secretary Maggie Cutler (Bette Davis in a very unshowy role) and local newspaperman Bert Jefferson (Richard Travis).  Adapted for the screen by Oscar-winning twins Julius J. Epstein and Philip G. Epstein (Casablanca), The Man Who Came to Dinner is an absolute delight from start to finish.  In the central role of Sheridan Whiteside, the great Monty Woolley is pitch-perfect and he's ably supported by a cast which includes Davis, Travis, Ann Sheridan and Jimmy Durante.  Woolley had played the part in the original stage production, but Davis's preference for the screen version was John Barrymore; however, Barrymore did not work out in the role owing to his inability to deal with the rapid-fire dialogue occasioned by the script.  Word has it that Orson Welles and Charles Laughton also expressed a keen interest in the part.  Personally, I'm glad Woolley eventually got the role as he is really the icing on the cake in this very fine, and very funny, seasonal offering.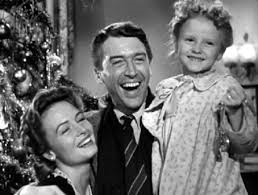 It's A Wonderful Life (Frank Capra 1946)
This one just has to be included in any such seasonal list, doesn't it?  Capra's marvellous fantasy-drama was actually something of a disappointment on its original theatrical release, and probably has television showings of the 1970s and 1980s to thank for its now renowned status.  The director himself remarked on this later phenomenon in 1984 when he commented, 'I'm like a parent whose kid grows up to be president.  I'm proud, but it's the kid that did the work.'  In fairness to Capra, it has to be said that much of the credit for Life's magic has to be given to him and his co-writers Frances Goodrich and Albert Hackett.  They adapted the 1939 short story The Greatest Gift by Philip Van Doren Stern and populated the narrative with several memorable characters and a somewhat chilling final act which repays viewing over and over again.  James Stewart declared Life to be his own favourite film and George Bailey most certainly is one of the great actor's finest creations.  But just consider the wealth of actors (many of them Capra regulars) in support here as well – Donna Reed, H.B. Warner, Ward Bond, Thomas Mitchell, Gloria Grahame and a scene-stealing Lionel Barrymore as the Scrooge-like Henry F. Potter.  Personal favourite scenes of my own from this festive classic include the young George saving his employer Mr. Gower from accidentally adding poison to a prescription, the graduation dance as a dance floor transforms into a swimming pool, George's speech to Potter following his father's death and, of course, George's prayer on the bridge towards the film's conclusion as he begs to be returned to his own wonderful life.  A dreadful colourisation version aside, this one, mercifully, has been spared a big-screen re-make to date.  Long may that continue.  There has been some talk of a sequel in recent years as well, but, at time of posting, this has not come to pass.  Watch Joe Dante's Gremlins carefully and you'll spot George's gleeful dash through town as he appreciates the restored Bedford Falls.  Or better still, just watch the entire film from start to finish.  This is one for everybody's Yuletide.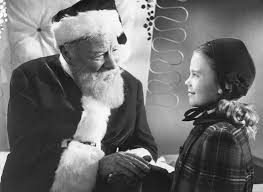 Miracle on 34th Street (George Seaton 1947)
Another excellent festive offering, this one comes courtesy of writer-director George Seaton who nabbed an Oscar for Best Adapted Screenplay for his troubles.  The late great Maureen O'Hara plays Doris Walker, an all-too busy single Mum whose daughter Susan (a young Natalie Wood) has been raised not to believe in giants or knights in shining armour or jolly old Kris Kringle himself.  The plot thickens for both mother and daughter when a genial old gentleman by that very name (Edmund Gwenn) takes a job playing Santa at Macy's department store, where Doris works, and befriends the doubting Susan.  Claiming to be the one and only Santa Claus, Kringle falls foul of the powers-that-be, and an in-house psychiatrist, and finds himself temporarily committed to Bellevue Hospital.  The onerous task of proving the old man is who he says he is falls on Doris and Susan's attorney neighbour Fred Gailey (John Payne).  This is a seasonal film of great warmth and humour with several delightful performances from O'Hara, Wood, Payne and a supporting cast which includes Porter Hall, Thelma Ritter and Gene Lockhart.  The film however belongs to Edmund Gwenn (who won an Oscar for Best Supporting Actor) – his Kringle is a delight from top to bottom and his scenes with Wood are especially resonant.  Four remakes and a Broadway musical have come along in the meantime, most prominently perhaps the 1994 version in which Richard Attenborough played the part of Kringle.  The multifaceted veteran was well cast in the role generally, but the later film positively pales in comparison.  So stick to the 1947 original in my humble opinion.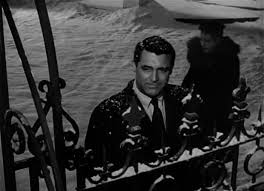 The Bishop's Wife (Henry Koster 1947)
Released the same year as Miracle on 34th Street (though more seasonably it had its premiere in December as opposed to May), The Bishop's Wife is a tale concerning one Bishop Henry Broughman (a mostly grumpy, but well cast David Niven) who is under immense pressure to raise funds for a new cathedral in his diocese.  Despairing about the prospects of realising this venture one night, Henry is visited by an angel called Dudley (Cary Grant) who is both well-spoken and very debonair.  To the consternation of the addled clergyman, Dudley proceeds to ingratiate himself with his wife Julia (Loretta Young), daughter Debby (Karolyn Grimes) and longtime friend Professor Wutheridge (Monty Woolley).  Henry is especially annoyed at the strong bond which forms between Dudley and Julia.  Beautifully staged and with fine performances all round (including James Gleason, Elsa Lanchester and Gladys Cooper), The Bishop's Wife is a great festive treat and few will dislike the admirable barbing which takes place between Grant and Niven.  The aforementioned Karolyn Grimes was one of two cast members who appeared in this and also 1946's It's A Wonderful Life (she played George Bailey's youngest daughter Zuzu – as in 'Zuzu's petals').  The other actor to grace both these festive classics was Bobby Anderson (who turns up in the snowball fight scene) – he played the part of the young George Bailey in Capra's film.  Remade in 1996 as The Preacher's Wife starring Denzel Washington, Whitney Houston and Courtney B. Vance.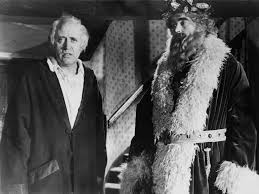 Scrooge (Brian Desmond Hurst 1951)
Belfast-born director Brian Desmond Hurst helmed this 1951 version of the Charles Dickens classic A Christmas Carol, which is, quite rightly, regarded as the best screen adaptation.  The great Alastair Sim is sublime in the central role as the misanthropic Ebenezer Scrooge, a shrewd and unsparing money-lender who receives a series of ghostly visitations on Christmas Eve night.  Sim effects the transition from pitiless Shylock to convivial gent to excellent effect and he is ably supported by a cast which includes Patrick Macnee (as the young Jacob Marley), George Cole (as the young Scrooge), Jack Warner, Kathleen Harrison and Mervyn Johns.  Sir Michael Hordern appears as Jacob Marley's ghost.  This particular realisation of the novella (scripted by The Wizard of Oz's Noel Langley) expands quite notably on Scrooge's prominent rise in business and his dealings with both Marley, Fezziwig and a Mr. Jorkin (who is a newly-introduced character here and not a Dickensian creation).  The film also establishes a different narrative thread with respect to Scrooge's mother dying in childbirth – his birth – and his father resenting him as a result of this.  In a key flashback scene (one of many) we also see Scrooge becoming more hardened as he witnesses his own sister dying in childbirth.  Such sombre flourishes aside, this is a well-crafted and atmospheric rendition of the classic story with the brilliant Sim holding court and with solid direction from Desmond Hurst.  Incidentally, the film's editor Clive Donner would go on to make his own Christmas Carol in 1984, but more about that below.  Both Sim and Hordern reprised their respective roles in a 1971 animated version which won the Academy Award for Best Animated Short.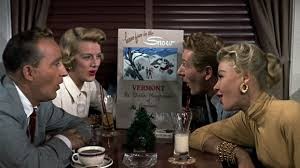 White Christmas (Michael Curtiz 1954)
Mentioned above in connection with Crosby's earlier Holiday Inn, this 1954 film is notable for its variation on the theme of an inn which is much in need of a commercial lift as the festive season approaches.  Bing is paired with Danny Kaye for this one as a duo who make it big on the nightclub/radio circuit following the end of the Second World War.  Introduced to the Haynes Sisters (Rosemary Clooney and Vera-Ellen) they travel to the Columbia Inn in Pine Tree, Vermont where, alas, not a solitary flake of snow is in sight for Yuletide.  They also discover that the proprietor of the struggling inn is none other than their former commanding officer General Waverly (the excellent Dean Jagger).  Realising that the good old man needs some showbiz assistance, the four set about staging a show to entice guests to the inn and boost his faltering business.  White Christmas is at times a little bloated and not nearly as good as Holiday Inn, but its inclusion on this list is merited nonetheless by its fine cast, several excellent choreographed scenes and, of course, a few great numbers by Irving Berlin (including Count Your Blessings (Instead of Sheep), Love, You Didn't Do Right By Me and The Best Things Happen While You're Dancing).  It's also a great film visually and was the first of its kind to be released in the VistaVision format.  A huge financial success in its day, White Christmas emerged as the top moneymaker of 1954.  A musical followed in the early 2000s.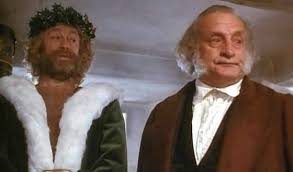 A Christmas Carol (Clive Donner 1984)
Technically a bit of a cheat on my part as this was made for television, but I'm including it on this list on account of its excellent production (filmed on location in Shrewsbury), fine supporting cast and a standout central performance by George C. Scott (who received an Emmy nomination for his efforts).  The Oscar-winning Patton star is in more than fine fettle here as he takes on the role previously played by notables such as Seymour Hicks, Alastair Sim and Reginald Owen.  He is joined here by notables such as Michael Gough, Joanne Whalley, Roger Rees, Frank Finlay and Susannah York.  Versatile English actor David Warner plays Scrooge's humble and tolerant clerk Bob Cratchit.  Equalizer/Wicker Man star Edward Woodward plays The Ghost of Christmas Present.  There's much to admire in this beautifully staged version and great credit is due to director Donner, who, as I mentioned above, served as the editor on 1951's Scrooge.  Just like that previous film, Donner's adaptation (scripted by Roger O. Hirson) incorporates a number of additional scenes and motifs to move its narrative forward.  These include the introduction of the miser's father – Silas Scrooge – in a flashback; as well as the impoverished family whom Scrooge and The Ghost of Christmas Present witness huddled together under a bridge.  This and another telling scene at the Royal Stock Exchange suggests that the filmmakers were seeking to introduce a more hard-edged sensibility to the tale by juxtaposing the avaricious frame of mind of the individual set against the need of the multitude (one of the traders Scrooge deals with comments on how his driving up the price of corn will in turn impact on the price of bread for the poor).  The scenes involving The Ghost of Christmas Future are eerier than many other screen versions as well, so this might not be the version of the tale to introduce to the kids.  But anyone who loves the source material of Dickens' novella should appreciate this re-working.  Kudos chiefly to Scott and Donner in this regard.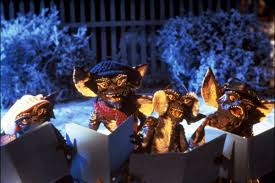 Gremlins (Joe Dante 1984)
An absolutely riotous concoction from director Joe Dante and writer Chris Columbus which is effectively a very dark comedy set against the backdrop of the festive season in small-town America.  Billy Peltzer (Zach Galligan) receives the unusual present of a cute furry creature called a mogwai prior to Christmas from his inventor Dad (Hoyt Axton).  The mogwai – which he names Gizmo – is not like your average pet as there are rules to be observed by its owner – it must not be exposed to bright lights; it must not get wet; and it must never be fed after midnight.  Simple really you would think, but, of course, very soon all three rules are broken and Billy finds his town Kingston Falls overrun by demonic-like critters intent on wreaking havoc on the unsuspecting townspeople, in spite of the season of peace and goodwill to all men.  Standout scenes in this regard include their terrorising of Billy's mother in her own house, their antics in a bar as they drink the night away and the classic scene as they are enthralled by Snow White and the Seven Dwarves in the local cinema.  Let's also not forget the dispatching of the Scrooge-like Mrs. Deagle (Polly Holliday) by means of her stair-lift and the classic moment in which Kate (Phoebe Cates) morbidly reveals how she discovered there was no Santa Claus.  A terrific supporting cast to these mischievous sprites includes Jonathan Banks (of Breaking Bad and Better Call Saul fame), Judge Reinhold, Frances Lee McCain and a very young Corey Feldman.  Watch out for cameo appearances also by executive producer Steven Spielberg, animator Chuck Jones, The Thing from Another World's Kenneth Tobey and Forbidden Planet's Robby the Robot.  The aforementioned It's A Wonderful Life appears on TV during the film, as does the classic 1950s science fiction film Invasion of the Body Snatchers.  A box office success in its day, Gremlins did engender some controversy and negative reaction owing to its level of violence and it was influential in the creation of the PG-13 certificate rating.  Mostly this is cartoonish in nature, but it certainly is not for younger kids.  A perfectly acceptable (if not quite as good) sequel Gremlins 2: The New Batch followed in 1990.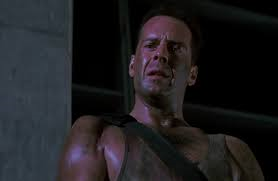 Die Hard (John McTiernan 1988)
A strong contender for best action film of all time as far as I'm concerned, this one is set in Los Angeles on Christmas Eve and concerns an off-duty New York City cop named John McClane (an excellent, self-deprecating Bruce Willis) who attends a party at the Nakatomi Corporation building hoping to reconcile with his estranged wife Holly (Bonnie Bedelia).  Events take a most unexpected turn when a group of terrorists led by one Hans Gruber (an immaculate Alan Rickman) gatecrash the festive proceedings and seize the tower holding its occupants hostage.  Evading the no do-gooders, McClane sets about thwarting them as best he can, all the while mindful that his wife is one of their reluctant captives.  Based on Roderick Thorp's 1979 novel Nothing Lasts Forever, this project was first offered to Frank Sinatra of all people as he had starred in the film version of The Detective – Thorp's previous novel concerning the same central character (Joe Leland) who would, subsequently, be renamed as John McClane for McTiernan's film.  Sinatra passed on the idea as he considered himself too old for the genre by then, and Arnold Schwarzenegger was then approached with a star vehicle for him in mind.  The Austrian also declined and Bruce Willis was handed the role which would provide him with a significant breakout hit at this early juncture of his screen career.  The Moonlighting star is more than up to the task as he scurries around the skyscraper (the then in-construction Fox Plaza building in Century City doubling for the Nakatomi) in bare feet with little else but his wits and instinct to rely upon.  The momentum is suitably fast-paced and the dialogue funny and razor-sharp.  Best scenes include the 'Now I have a machine gun! Ho! Ho! Ho!' one, the finale involving a concealed handgun and a Rolex watch, and the unplanned meeting between Willis and Rickman's characters.  For seasonal aficionados, the end credits feature a great rendition of Let It Snow! Let It Snow! Let It Snow by Vaughn Monroe.  Four sequels have followed since and, knowing Hollywood, I wouldn't entirely discount the possibility of a sixth film in the franchise.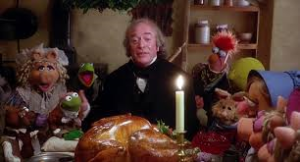 The Muppet Christmas Carol (Brian Henson 1992)
Dedicated to the late great Jim Henson (who passed away two years before its release), this is a wonderfully warm and absolutely amusing seasonal offering from those loveable puppets, directed, in this case, by Jim's son Brian.  Michael Caine takes on the role of Ebenezer Scrooge for this version and he is surrounded by a cast which includes Kermit the Frog as Bob Cratchit, The Great Gonzo as Charles Dickens, Miss Piggy as Emily Cratchit, Fozzie Bear as Fozziwig and Robin as Tiny Tim.  Non-Muppet cast members include Steven Mackintosh and Robin Weaver.  Caine is in vintage form as the seemingly intransigent penny pincher and his performance is complemented by a lovely production and several catchy tunes (courtesy of Paul Williams and Miles Goodman).  Watch out for some scene-stealing moments involving Sam the Eagle as Scrooge's former headmaster and the as-ever acerbic duo of Statler and Waldorf as his former business partners Jacob and Robert Marley.  A perfect festive treat for kids and adults alike.