The 90th Academy Awards – The Prospects and The Possibilities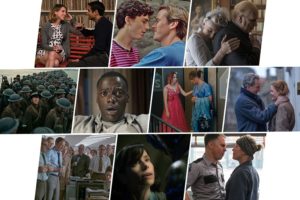 The 90th edition of the Academy Awards takes place at the Dolby Theatre in Hollywood, Los Angeles on Sunday 4th March, 2018 and we consider the top ten categories and deliver our predictions as accurately as we can.  When host Jimmy Kimmel takes to the stage that evening many minds will be cast back to the conclusion of the 89th awards ceremony when La La Land was incorrectly named as Best Picture of the year prior to eventual winner Moonlight being named as the actual recipient.  Kimmel, for my money at least, coped extremely well under the circumstances, but the Academy itself will wish to avoid such a blunder again and we can expect a tight show interspersed with the usual razzmatazz befitting Tinseltown's biggest night of the year.  Much of the talk in the lead up to this year's ceremony has focused on the close races in some of the main categories, particularly Best Picture.  This has become an increasingly difficult one to call in recent years ever since a preferential voting system was applied to it.  It may very well explain why there has been a greater tendency for Best Picture and Best Director to split in the last few years (2017 saw Moonlight triumph in the Best Picture category, but La La Land won Best Director; similarly, in 2016, Spotlight won Best Picture, but The Revenant's Alejandro G. Inarritu captured the directing spoils).  Some of the acting categories appear more straightforward, but do not discount the possibility of upsets in the supporting acting stakes.  We can also expect to see a few nominees finally win Oscars for their work in the past year and during the course of a lifetime in the cinema industry – I'm thinking of the likes of Roger Deakins in the Best Cinematography category (he's been nominated a startling 14 times without a single win) and veteran American filmmaker James Ivory who, at the age of 89, should win for his work on Call Me by Your Name.  Other welcome records include Greta Gerwig's nomination for Best Director (the fifth female filmmaker to be so nominated) and Rachel Morrison's nomination for Best Cinematography (the first woman in Academy Award history to be nominated in this category).  Elsewhere, Meryl Streep extends her own record with her 21st nomination for Steven Spielberg's The Post and John Williams chalks up his 51st remaining the most nominated living individual.  For his work on the critically acclaimed horror film, Get Out, Jordan Peele becomes the first black filmmaker to receive nominations for producing, directing and writing in the same year.  Guillermo del Toro meantime becomes just the fifth Latin American filmmaker to be nominated for Best Director.  But who and what films will prevail at the 90th Academy Awards?  Let's take a closer look at those ten main categories and tip our hats at the potential winners.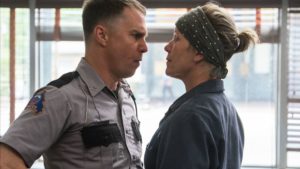 Best Picture:
Martin McDonagh's omission from the Best Director shortlist initially suggested that Three Billboards Outside Ebbing, Missouri was going to fall short in its bid for Best Picture.  The story of a mother who rents out three billboards in order to focus waning public attention on her daughter's vicious murder won four awards at the 75th Golden Globes (including Best Drama), but the Academy's failure to recognise its director seemed to dash its chances.  The Producers Guild of America's decision to award The Shape of Water with its highest honor also seemed to scupper Billboards' hopes.  You won't come back from that one many of us said in our supposed infinite wisdom.  Surely a signal that the unlikely love story between an amphibian creature and a mute custodian would take home the gold statuette on Oscar night.  But then Billboards won big at the recent BAFTAs (5 in total, including Best Film) and I, for one, began to change my thinking.  A split is very much on the cards again I believe and I now think that Three Billboards has the momentum to win the biggest prize on the night.  It's a film which has been especially praised and lauded with respect to its central performances (Frances McDormand, Sam Rockwell and Woody Harrelson) and let's not overlook the fact that actors form the largest voting block in the Academy as a whole.  Three Billboards to squeeze past The Shape of Water is my prediction here – 2nd and 3rd preference votes might very well be critical once again.  Get Out and Lady Bird have distant chances, but it would be a major surprise if either one of them won.  Now just make sure you pass the correct envelope this year.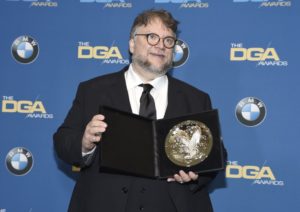 Best Director:
Guillermo del Toro is the favourite to win for The Shape of Water and it's difficult to see anyone else coming close on the night.  The Mexican film director has won just about everything before him including BAFTA, Golden Globe and – most crucially of all – the Director's Guild of America Award.  Most previous recipients have gone on to similar success on Oscar night.  The one glaring exception to this rule in recent times was Ben Affleck (for his work on Argo) who – like Martin McDonagh – wasn't even nominated in the Best Director category that particular year.  The only possible upset might be provided by Greta Gerwig if there were a surge of support for her delightful Lady Bird, but I'm not expecting this.  The Oscar appears to be del Toro's to lose – I don't think he will be disappointed in this regard.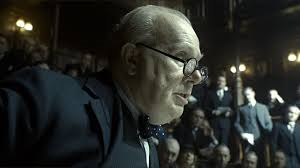 Best Actor:
Gary Oldman has long been the favourite in this particular category and little has changed since the time of the nominations.  The English actor secured his second nomination (his previous being for 2011's Tinker Tailor Soldier Spy) by way of his superb performance as Winston Churchill in Joe Wright's historical drama.  At the age of 59 (soon to turn 60), Oldman will also be viewed by many voters as an actor whose time has come.  And like Guillermo del Toro, in the Best Director category, Oldman has pretty much seen off all the opposition at the major awards ceremonies to date, including BAFTA, Golden Globes and SAG.  Previous winners Daniel Day-Lewis and Denzel Washington will not get the merest sniff this time around.  First-time nominees Timothee Chalamet and Daniel Kaluuya (both still in their twenties) will be deemed too young in spite of their fine work.  Bet on gold for Gary.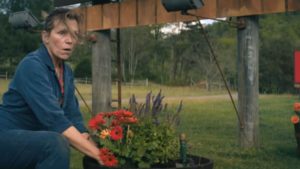 Best Actress:
Viewed by some as one of the tighter races, the simple truth of the matter is that Frances McDormand has opened up a significant lead with her recent win at the BAFTAs.  The American star also won the Golden Globe Award for Best Actress – Motion Picture Drama – and the all-important Screen Actors Guild Award.  This impressive tally to date suggests that she will also prevail come Oscar night in spite of strong competition from the likes of Saoirse Ronan and Margot Robbie.  Previous winner Meryl Streep will not figure in the race in spite of her excellent turn in The Post.  The Shape of Water's Sally Hawkins will not win this time around either, but expect more nominations for her in the future.  McDormand is a previous Best Actress winner for 1996's Fargo, but this is unlikely to hurt her chances and she certainly seems to have sufficient momentum behind her as she has progressed through awards season.  Only Ronan or Robbie might emerge as an upset on the night, but methinks this is unlikely given McDormand's form and record thus far.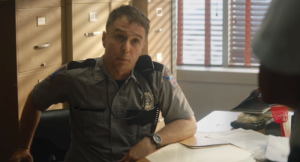 Best Supporting Actor:
Willem Dafoe was the early favourite in this category for his excellent work in The Florida Project.  The Wisconsin-born actor's time had surely come many reckoned.  After all, he is one of the most prolific character actors working in American cinema today.  Time surely to recognise that by way of a gold statuette we fervently believed.  Sam Rockwell, however, had other ideas and the Californian has won all the critical awards in the run-up to Oscar night – BAFTA, Golden Globe and SAG.  His scenes opposite Frances McDormand in Three Billboards were positively electrifying and her expected triumph as Best Actress may well advance his own cause.  Rockwell is my tip here owing to the merits of his performance and the crucial awards he has captured to date.  Dafoe cannot be entirely discounted, but none of the other three nominees (Woody Harrelson, Christopher Plummer and Richard Jenkins) seem likely to challenge Rockwell's status as favourite.  The only previous winner in this category – Christopher Plummer – becomes the oldest acting nominee of all time.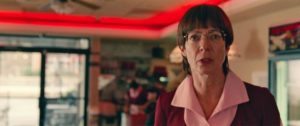 Best Supporting Actress:
A tight race initially it seemed, but I, Tonya's Allison Janney has moved well ahead of the rest of the field.  Janney, for the record, has triumphed at the Golden Globes, BAFTAs and Screen Actors Guild.  This would appear to give her an unassailable lead for her performance as LaVona Golden, Tonya Harding's unrelenting and often cruel mother.  Mary J. Blige, Lesley Manville and previous winner Octavia Spencer make up the numbers here.  The fifth nominee Laurie Metcalf (for Lady Bird) is Janney's only serious opposition and herein may possibly lie one of the surprises of the night.  But, hand on heart, I think Janney has done enough to win through here.  She's my tip for this one.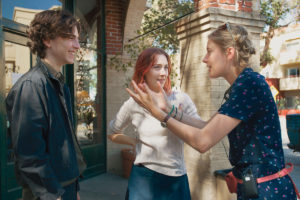 Best Original Screenplay:
This is one of the tightest categories of all and probably comes down to a three-horse race between Martin McDonagh (for Three Billboards Outside Ebbing, Missouri), Jordan Peele (for Get Out) and Greta Gerwig (for Lady Bird).  McDonagh won at the Golden Globes and the BAFTAs, but I'm going to pluck for Greta Gerwig in this particular category.  The American actress, writer and director is very well liked and regarded and Lady Bird has been a darling of the critics ever since its unveiling at the Telluride Film Festival in September 2017.  It's unlikely to win Best Picture or Best Director, so the Academy will seek to award it here I suspect.  But this tip comes with a hastened footnote – both Peele and McDonagh remain in strong contention.  Do not be surprised if either one of them takes to the stage when the envelope is open.  And what chances of a tie here I ask.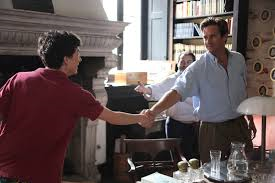 Best Adapted Screenplay:
The Disaster Artist, Logan, Molly's Game and Mudbound are nominated, but the clear favourite in this category appears to be the coming-of-age Call Me by Your Name and it's my own personal tip.  Based on the 2007 novel of the same name by Andre Aciman, Call Me by Your Name has been adapted for the screen by the legendary James Ivory – best known to many for his cinematic collaborations with the late Ismail Merchant (which include A Room with a View, Howards End and The Remains of the Day).  In being so nominated in this category, Ivory became the oldest man to be nominated for a competitive award in Academy history.  He's previously been nominated for Best Director for A Room with a View, Howards End and The Remains of the Day and, so, this presents the Academy with a perfect opportunity to recognise the soon-to-be ninety-year-old for a lifetime's contribution to cinema.  The fact that he has already won the Writer's Guild of America Award and BAFTA for Best Adapted Screenplay further bolsters his prospects on Oscar night.  The Michael Stuhlbarg-Timothee Chalamet father-son scene which occurs quite late in the film is also another good reason why Ivory deserves the Oscar that is surely coming his way.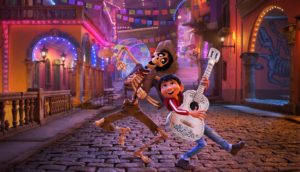 Best Animated Feature Film:
Irish interests will focus on Cartoon Saloon's The Breadwinner here, but the smart money is on Pixar's Coco which won at the Golden Globes and the Producers Guild of America Awards.  The National Board of Review named it the Best Animated Film of 2017 and it's also nominated in the Best Original Song category.  Pixar's domination of Best Animated Feature Film looks likely to continue methinks.  Since the establishment of the award back in 2001, the studio has won an astounding eight times out of seventeen.  This would make nine from eighteen if my prediction is accurate.  The other three nominees in the category are The Boss Baby, Ferdinand and Loving Vincent.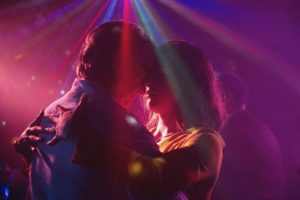 Best Foreign Language Film:
In the Fade won the Golden Globe Award for Best Foreign Language Film, but the German entry was, ultimately, not nominated in spite of making the December shortlist.  In its absence, the smart money appears to be on Chile's A Fantastic Woman which tells the story of a transgender woman struggling with grief and suspicion in the aftermath of her lover's death.  The other four nominations in this category are The Insult from Lebanon, Loveless from Russia, On Body and Soul from Hungary and The Square from Sweden.  If A Fantastic Woman triumphs, as expected, this will mark Chile's first ever win in the category.  Another potential first, therefore, on Oscar's night of nights.