The 90th Academy Awards – The Winners and the Also-rans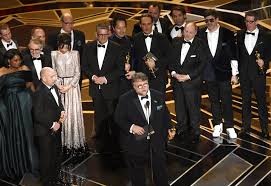 The 90th Academy Awards, which took place on the 4th March, 2018, threw up few surprises in terms of winners and was distinctly lacking in terms of a central talking point compared to the preceding ceremony of February 2017.  There was no glaring gaffe with respect to the announcement of Best Picture this year.  A smart and almost apologetic decision on the part of the show's producers was to invite Warren Beatty and Faye Dunaway back to announce the recipient for the final and most prestigious award of the evening.  Beatty and Dunaway had been chosen to do so for the 89th awards as well on the premise of Bonnie and Clyde's 50th anniversary and host Jimmy Kimmel referred to their return in the vein of the '51st anniversary of Bonnie and Clyde.'  The talk show host also referred to the debacle of 2017's conclusion as 'waterhouse under the bridge.'  Unlike the previous year, there was no hesitation on Beatty's part as he opened the sealed envelope.  Guillermo del Toro's romantic-fantasy The Shape of Water had taken Best Picture becoming the first film since the 87th Academy Awards to win Best Picture and Best Director.  Of recent times, we had become used to splits with these two pivotal categories.  Not so this year.  An unlikely winner when one considers its genre and subject matter, The Shape of Water backed up its wins at the Producers Guild of America Awards and the Directors Guild of America Awards.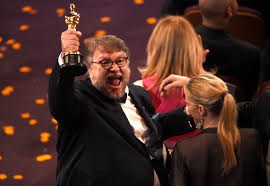 I had predicted del Toro's win for Best Director, but had tipped Martin McDonagh's Three Billboards Outside Ebbing, Missouri to shade it for Best Picture.  Three Billboards wins at the Golden Globes and BAFTAs suggested momentum to me and – as mentioned above – splits between Best Picture and Best Director have become more commonplace in recent years since preferential voting was introduced for the Oscar for Best Picture.  Del Toro was ever so gracious and well-spoken as he accepted his awards in the two categories.  The Mexican film director now joins his compatriots Alejandro G. Inarritu and Alfonso Cuaron in this fairly unique club.  'The Three Amigos of Cinema' as they are known now hold four directing gongs between them and all of them won during the 2010s.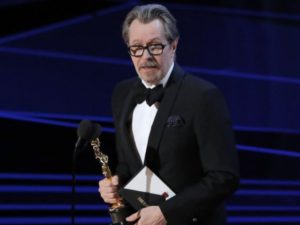 The acting categories held no surprises whatsoever and went the way I and others had predicted.  Gary Oldman won Best Actor for his portrayal of Winston Churchill in Joe Wright's Darkest Hour.  Oldman raised a suitable laugh when mocking the length of his own speech saying that he was not going to win the jet ski which Jimmy Kimmel had offered for the shortest speech, but struck an appropriately emotional chord as he paid tribute to his 98-year-old mother who was watching the ceremony – 'Put the kettle on, I'm bringing Oscar.'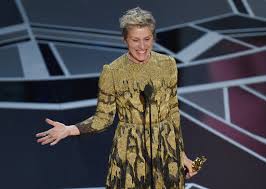 Frances McDormand's win for Best Actress (her second following 1996's Fargo) was something most of us had seen coming given her wins at the Golden Globes, SAG and BAFTAs.  McDormand requested her fellow female nominees in all other categories to stand with her and told the audience that 'we all have stories to tell.'  It was an immensely popular speech which concluded with the words 'inclusion rider.'  McDormand certainly left her mark on the 90th ceremony.  We earnestly hope that next year's Oscars throws up as many compelling performances in the lead actress category based on her words.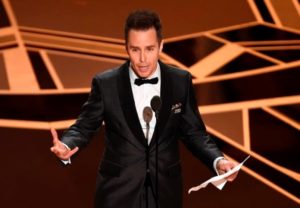 Sam Rockwell's acceptance speech for Best Supporting Actor struck a lighter note as he reminisced on a ruse his father employed when he was a kid to take the family to the cinema.  Rockwell was robbed of a nomination for 2009's Moon and fully deserved his gong.  The only pity in all of this was to see the great Willem Dafoe leave empty-handed in spite of his work in The Florida Project.  We hope Dafoe's day will come before long and that he too will capture a gold statuette of his own.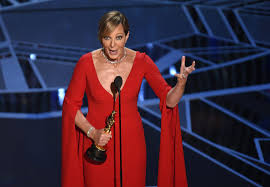 Allison Janney's win in the Best Supporting Actress category was fully expected and also backed up her wins at the Golden Globes, SAG and BAFTAs.  'I did it all by myself' the I, Tonya star joked as she accepted the award from Mahershala Ali.  Not so of course – as she quickly corrected herself – but there was no doubting the merits of Janney's win given her portrayal of LaVona Harding.  Janney especially singled out actress Joanne Woodward in her acceptance speech.  A nice touch from one Oscar winner to another.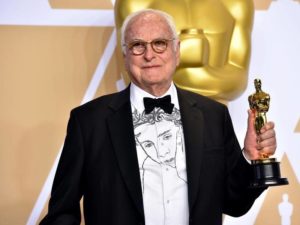 One of the most memorable and touching moments of the evening occurred when James Ivory accepted his award for Best Adapted Screenplay for Call Me by Your Name.  The director of Merchant-Ivory classics such as A Room with a View, Howards End and The Remains of the Day became the oldest recipient of a competitive Academy Award.  Ivory graciously paid tribute to the departed Ismail Merchant and Ruth Prawer Jhabvala in his speech and reminded the audience of Jhabvala's wins in the Best Adapted Screenplay category for A Room with a View and Howards End.  Ivory himself had previously been nominated three times for Best Director for the aforementioned Merchant-Ivory productions.  For Best Original Screenplay, I had tipped Greta Gerwig to win, but, on the night, the writer-director's much-admired Lady Bird went home empty-handed.  No one could possibly begrudge Jordan Peele's win here for the deservedly-acclaimed horror film Get Out.  In so doing, Peele became the first black screenwriter to win in this particular category.  The Best Animated Feature Film Award went to Pixar's Coco as expected and the Chilean drama A Fantastic Woman triumphed – as predicted – for Best Foreign Language Film (incidentally, Chile's first ever win in this category).  A notable winless streak finally came to an end as Roger Deakins won Best Cinematography for Blade Runner 2049.  The English DOP (best known perhaps for his collaborations with Ethan and Joel Coen) had a tally of 13 nominations with no awards going into the ceremony, but this ended mercifully as Sandra Bullock announced his name.  The audience recognised this fact and gave Deakins a much-deserved standing ovation.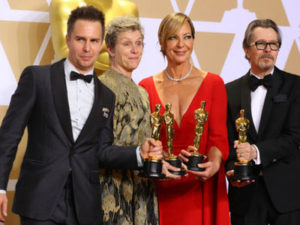 There was no runaway winner yet again this year and it says much when one considers that The Shape of Water emerged as the lead film with multiple awards with a tally of four (Best Production Design and Best Original Score as well as the awards mentioned above).  Christopher Nolan's Dunkirk came in second with three technical awards and Coco, Blade Runner 2049, Darkest Hour and Three Billboards Outside Ebbing, Missouri won two each.  The last sweep at the Oscars took place as far back as the 81st Academy Awards when Slumdog Millionaure won eight awards (including Best Picture and Best Director).  The last film to register in the double digits was The Lord of the Rings: The Return of the King which won 11 from 11 in 2004.  Such a feat may not be repeated ever again given factors such as the preferential vote for Best Picture.  And Hollywood seems intent on spreading its ethos of all inclusion which equals a bigger spread and mix of recipients.  A very good thing one has to say.  I wonder who will be the winners at the 91st ceremony.  The race for that officially begins now.