The 92nd Academy Awards – Who Will Win The Top Prizes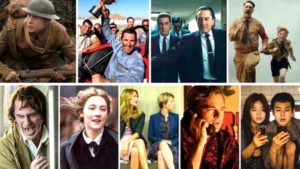 The 92nd edition of the Academy Awards takes place at the Dolby Theatre in Hollywood on February 9th, 2020 (much earlier than in recent times) and we look forward to Tinseltown's biggest night of the year and put forward our predictions in the ten main categories.  For the second year running the Oscars will be without a designated host following the apparent success of last year's format, but there can be little doubt that when the various presenters take to the stage, all eyes will be on the nominees in the 24 categories and collective attention will be firmly fixed on those sealed envelopes as they are opened.  Leading the field this year – with a total of 11 nominations – is Todd Phillips's controversial Joker starring Joaquin Phoenix as the titular character.  Coming in a close second with 10 nominations apiece are Martin Scorsese's lengthy crime drama The Irishman, Sam Mendes's World War I epic 1917 and Quentin Tarantino's personal ode to 1960s Los Angeles Once Upon a Time in Hollywood starring acting nominees Leonardo DiCaprio and Brad Pitt.  A total of nine films are up for the biggest award of the night and the Best Picture gong could conceivably go to one of three films – but more about that shortly.  The Oscar for Best Director might not line up with that of Best Picture either as has tended to be the case in recent years since the introduction of preferential voting.  The four acting categories on the other hand appear to be somewhat easier to predict given the consistent trends in awards season to date (I'm thinking Golden Globes, SAG, Critics' Choice and BAFTAs in this respect), but then one can never discount the possibility of a surprise during the show.  As for the remaining four main categories (Best Original Screenplay, Best Adapted Screenplay, Best Animated Feature Film and Best International Feature Film), read on below and see if you agree with my predictions.  And as the famous song goes, Hooray for Hollywood on its night of nights.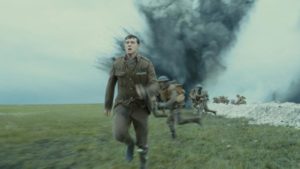 Best Picture:
Having secured wins for Best Picture at the Golden Globes and BAFTAs, as well as the Producers Guild of America Award for Best Theatrical Motion Picture, the momentum certainly appears to be on the side of Sam Mendes's 1917.  The World War I film has many of the essential qualities that the Academy tend to love – it's epic, it's set in the past and it's a heroic tale of personal sacrifice.  It has also fared quite well at the international box office and certainly oozes the word prestige.  That having been said, one cannot discount the possibility of a win for Bong Joon-ho's Parasite which triumphed at the Cannes Film Festival last year and became the first non-English film to win the Screen Actors Guild Award for Outstanding Performance by a Cast in a Motion Picture earlier this year.  As regards the other nominees, The Irishman has slipped out of view it seems and the multi-nominated Joker feels a tad controversial for the normally conservative Academy.  Once Upon a Time in Hollywood might still have an outside chance for the big prize, but – for me – it comes down to a two-horse race between Parasite and 1917 and I'm giving the latter film a slight edge given its wins at the Golden Globes, BAFTAs and PGA.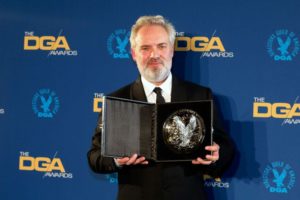 Best Director:
Sam Mendes (pictured above) won the top award at the Directors Guild of America Award held on the 25th January last and the DGA has traditionally been a very reliable barometer for the Best Director Academy Award.  There have only been seven occasions thus far that the DGA award winner did not go on to win the directing gong at the Oscars and one has to go back to 2012 for such an instance when Ben Affleck won for Argo in spite of not being nominated for an Academy Award for his sterling work behind the camera (Ang Lee subsequently won for Life of Pi).  1917 has – as I mentioned above – been building serious momentum in awards season so far, but let's not overlook the fact that, in recent years, the Best Picture and Best Director gongs have not been going to the same film as consistently as they once used to do – we saw a split in this regard as recently as last year when Alfonso Cuaron won for Roma, but Green Book won Best Picture.  Mendes's closest competitor in this particular category appears to be Bong Joon-ho once again and it would be quite a triumph if the South Korean film-maker's name were to be called out when the sealed envelope is opened.  That having been said, I expect Mendes to prevail and to win his second Academy Award for Best Director (he previously won for 1999's American Beauty).  Quentin Tarantino appears to be running third in this particular race, but I don't expect him to emerge as a surprise winner.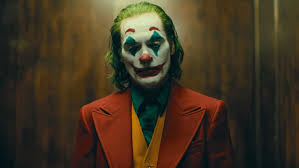 Best Actor:
Joaquin Phoenix is definitely the man to beat in this category having won the Golden Globe for Best Actor – Motion Picture Drama, the Screen Actors Guild Award for Outstanding Performance by a Male Actor in a Leading Role, the BAFTA Award for Best Actor in a Leading Role and the Critics' Choice Award for Best Actor.  Given its depiction of mental illness and violence, there's little doubt that Joker is one of the year's most controversial films, but I don't see this hurting Phoenix's chances in any meaningful way.  The four-time nominated actor is quite simply one of the very best of his generation and the Academy will feel his time has justly come.  His closest competition comes by way of Adam Driver's excellent turn in Marriage Story, but it's difficult to see anything but a Joaquin win on the night.  The category is otherwise populated by first-time nominees Antonio Banderas (Pain and Glory) and Jonathan Pryce (The Two Popes); previous winner Leonardo DiCaprio is also up for his part in Once Upon a Time in Hollywood.  But the Joker leads the pack here and Joaquin Phoenix should romp home with plenty of votes to spare.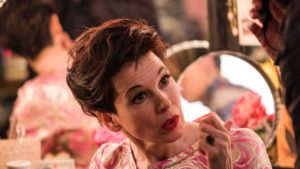 Best Actress:
After a six-year hiatus from the big screen, Renee Zellweger returned to much acclaim in 2019 for her portrayal of Judy Garland (during the last year of her life) in the aptly-titled biopic Judy.  The Texas-born actress has subsequently won the Golden Globe for Best Actress in a Motion Picture – Drama, the Critics' Choice Movie Award for Best Actress, the Screen Actors Guild Award for Outstanding Performance by a Female Actor in a Leading Role and the BAFTA Award for Best Actress in a Leading Role.  Just like Joaquin Phoenix for Best Actor, Zellweger has serious momentum going into the Oscar ceremony and it's very difficult to see anyone else troubling her on the night.  Former Best Actress winner Charlize Theron is also up for her performance as Megyn Kelly in Jay Roach's Bombshell and let's also not forget Saoirse Ronan and Cynthia Erivo for their respective turns in Little Women and Harriet.  Scarlett Johansson (also nominated for Best Supporting Actress for Jojo Rabbit) appears to be running in second place for her excellent work in Noah Baumbach's Marriage Story.  The head however says Renee to see them all off on the night and a win here would mark her second Academy Award (she previously won Best Supporting Actress for 2003's Cold Mountain).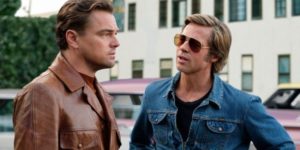 Best Supporting Actor:
Once again I refer to that magic word momentum here.  For his performance as stunt double and general factotum Cliff Booth in Quentin Tarantino's Once Upon a Time in Hollywood, Brad Pitt has claimed most of the major awards in the supporting actor category (BAFTA, Critics' Choice, Golden Globe and Screen Actors Guild) and it's very difficult to see his glory run come up short on the all-important night.  Twice nominated for Best Actor (2009's The Curious Case of Benjamin Button and 2012's Moneyball), and once previously for Best Supporting Actor (1996's 12 Monkeys), Pitt finds himself in the unusual position of being in the company of four former Oscar winners, namely Tom Hanks, Anthony Hopkins, Al Pacino and Joe Pesci.  Pesci won Best Supporting Actor for his memorable turn in 1990's Goodfellas and he appears to be Pitt's closest competition by way of his performance in another Martin Scorsese film The Irishman.  Pacino is also nominated for the same film for his superb offering as Jimmy Hoffa.  Hanks and Hopkins are the outsiders here, but it's nigh impossible to see anything else bar a Brad Pitt win in the Dolby Theatre.  He would certainly be one of the most popular winners of the evening and – like Joaquin Phoenix for Best Actor – methinks the Academy voters will have concluded that his time has come.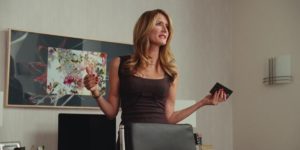 Best Supporting Actress:
Best Actress nominee Scarlett Johansson faces off against her Marriage Story co-star Laura Dern in this category and the smart money more than suggests that the Blue Velvet and Wild at Heart star (daughter of actors Bruce Dern and Diane Ladd) will prevail in this particular contest.  Dern has won a Golden Globe, BAFTA, Critics' Choice Movie Award and the Screen Actors Guild Award for her performance as savvy family lawyer Nora Fanshaw thus far and you would be hard pressed to unearth an industry expert who would be of the opinion that she will not complete her perfect collection of gongs.  She has previously been nominated in this category for 2015's Wild and also received a nomination for Best Actress for 1992's Rambling Rose.  The remaining nominees include previous Best Actress winner Kathy Bates (1990's Misery), English actress Florence Pugh for Little Women and Australian actress Margot Robbie for Bombshell.  If there were to be an upset here, then one would have to suspect it would come from Johansson (who has scored two acting nominations in the same calendar year), but – like the other respective front-runners in the acting categories – Dern has amassed a serious amount of momentum heading into Hollywood's night of nights and the sight of her famous acting parents watching on in the audience would suitably tug on the heartstrings.  Let's not forget the fact that Tinseltown loves such stories and a win for Dern would certainly deliver on the emotional scale.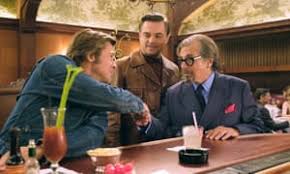 Best Original Screenplay:
Quentin Tarantino appeared to be in a relatively strong position to secure his third Oscar for Best Original Screenplay (previous wins for 1994's Pulp Fiction and 2012's Django Unchained) following his Golden Globe win for Best Screenplay at the 77th Golden Globe Awards in January of this year.  The writer-director might yet get his hands on another gold statuette, but the new favourite in the category now has to be Bong Joon-ho and his collaborator Han Jin-won for their work on the much-lauded Parasite.  The critical factors to consider here are recent wins for the two at the BAFTAs – Best Original Screenplay – and the Writers Guild of America Awards – also for Best Original Screenplay.  It's either them or Quentin for this one as far as I'm concerned and I'm going to tip my hat to a win for Parasite here.  The remaining three nominees in this category (Knives Out – Rian Johnson, Marriage Story – Noah Baumbach and 1917 – Sam Mendes and Krysty Wilson-Cairns) appear to be making up the numbers in this regard.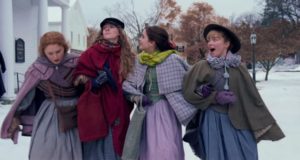 Best Adapted Screenplay:
The Best Adapted Screenplay category seems to be one of the most competitive of all this year.  At a relatively early juncture, Steven Zaillian's work on The Irishman (based on the book I Heard You Paint Houses by Charles Brandt) appeared to be a good bet, but this seems less likely now given that film's slide with respect to Oscar odds.  The Two Popes (Anthony McCarten based on his own play The Pope) and Joker (Todd Phillips and Scott Silver based on characters created by Bill Finger, Bob Kane and Jerry Robinson) are long shots and I don't expect a win for either in this category.  A two-horse race has pitted Greta Gerwig (Little Women – based on the novel of the same name by Louisa May Alcott) against Taika Waititi (Jojo Rabbit – based on the novel Caging Skies by Christine Leunens) and my slight inkling is a win for the New Zealand filmmaker in this regard.  Waititi took home the Best Adapted Screenplay Award at the BAFTAs and also won at the 72nd Writers Guild of America Awards (significantly beating out Little Women on both occasions).  It's a daring picture and a controversial subject matter, but Waititi should just about get there and his acceptance speech would be worth staying up for alone.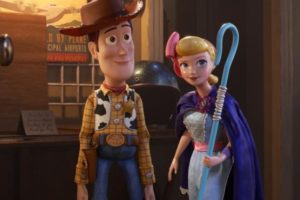 Best Animated Feature Film:
Following wins at the Critics' Choice Movie Awards and the Producers Guild of America Awards, Pixar's Toy Story 4 is the favourite in this category, but – mark my words – it's by no means a foregone conclusion.  The fourth installment in the Toy Story series, and sequel to the Oscar-winning Toy Story 3, did not win at the Golden Globe Awards held in January, nor did it prevail at the BAFTAs held on the 2nd February.  Those respective awards went to the stop-motion animated film Missing Link and the Netflix-backed Klaus instead, so Toy Story 4 is far from home and dry as a result.  The 47th Annie Awards – held on the 25th January – saw Klaus beat Toy Story 4 to the award for Best Animated Feature and the English-language Spanish animated film set at Christmas time appears best placed to cause something of a minor upset.  Pixar has dominated this particular category since its inception at the 74th Academy Awards (an astounding 9 wins in 18 years), but Klaus or even Missing Link might finish ahead of it just yet.  A difficult one to call, but – gun to my head – I'm going to call it for Toy Story 4 with the qualification that a win for the aforementioned Klaus also seems like a strong possibility.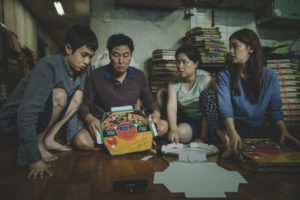 Best International Feature Film:
And in complete contrast to the previous category is this one in which Bong Joon-ho's Parasite is the red-hot favourite.  The South Korean black comedy about a poor household who scheme to become employed by a wealthy family began its lap of awards as far back as the 72nd Cannes Film Festival held in May 2019 when it captured the much-coveted Palme d'Or.  Since that time it has won a multitude of awards including BAFTA for Best Film Not in the English Language, Critics' Choice Movie Award for Best Foreign Language Film and the Golden Globe Award for Best Foreign Language Film.  It has a total of six Oscar nominations going into the ceremony and might yet win Best Picture as mentioned above.  It does not seem conceivable that it will fail to win this particular award, but if there were to be a major shock in this regard then Pedro Almodovar's Pain and Glory (Spain) would appear to be the closest challenge.  The remaining nominees are from Poland – Corpus Christi, North Macedonia – Honeyland and France – Les Miserables.  It should be Bong Joon-ho's Oscar at a canter though and this would be the first such award for South Korea.