The Attack On Pearl Harbor 75th Anniversary – Best WWII Films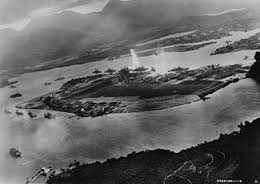 The 75th anniversary of the attack on Pearl Harbor takes place on the 7th December, 2016.  As a way of marking this watershed moment in the Second World War, which resulted in America's entry into the conflict in both European and Pacific spheres, I've selected 10 films set during the period which, for me, represent the very best in this particular genre.  Spanning from the years 1942 to 2004, these are stories often related on an epic scale with finer details which essay personal tolls, interactions and particular pressure points resulting from the factual events.  Three of the films mentioned below have as their setting a prisoner-of-war camp.  That, in itself, is a fairly unique situation, and tensions which are chronicled quite often occur between the inmates themselves.  There are glorious escape plans concocted by the high-minded, contrasted with the self-serving enterprise of the more cynical individuals, or scroungers as they were known.  A very famous entry below has as its subject a man who has espoused nobler ideals in the past, but now only thinks of looking out for himself.  Circumstances and the return of a love interest in his life will alter that as we know.  The individual in question gradually recognises the greater good and re-enters the fray.  Then there is the men-on-a-mission war movie; two classic examples below feature the screen legends that are Gregory Peck and Clint Eastwood.  Saving Private Ryan and Downfall are the more contemporary choices I've made for this list.  The Spielberg epic (which was partially shot in County Wexford) concerns itself with a small platoon who are tasked with the mission of finding and saving just one man amidst the carnage during and after the D-Day landings.  Oliver Hirschbiegel's Downfall on the other hand has as its focus a very notorious character who knows all too well that his days of power – and indeed life itself – are numbered.  The great George C. Scott dominates proceedings as the titular character in Patton.  The drama in Fred Zinnemann's 1953 From Here to Eternity largely takes place prior to the Japanese attack in Hawaii.  I could go on, but, instead, have a read for yourselves and see if you agree with my selection.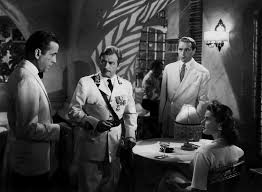 Casablanca (Michael Curtiz 1942)
There may not be much in the way of gunfire or open hostilities as far as this one goes, but it's impossible to keep it off this list when one considers its peerless dialogue, memorable cast, deft direction and old Hollywood ambience.  Some 75 years after its initial release, Casablanca remains as fresh as it ever was and is an absolute treasure for successive cinema-going generations.  The film did only modest business when first unveiled and was actually pushed out earlier to coincide with the Allied invasion of North Africa and the capture of the Moroccan city of the same name.  It went into general release in 1943 at the same time as the holding of the Casablanca Conference between Churchill, Roosevelt, de Gaulle and Giraud.  No matter about such historical backdrops really, it suffices here to say that Casablanca is classic Hollywood at its very best and, thankfully, it has never been the subject of a needless remake.  Long may this continue, but I would point out that variations on the theme were made in subsequent years such as Curtiz's own 1944 Passage to Marseille (which also included cast members Bogart, Lorre, Rains and Greenstreet) and Curtis Bernhardt's 1951 Sirocco (which also featured Bogart in the lead role); however, these pale in comparison.  In terms of the perfect cast, Bogart and Rains are the real stars of this film as they exchange cynical witticisms and, eventually, true sentiments of comradeship in that iconic final scene.  Dooley Wilson's rendition of As Time Goes By is one of several unforgettable moments.  Ingrid Bergman lights up the screen and exudes star quality.  Do yourself a favour and watch it all again.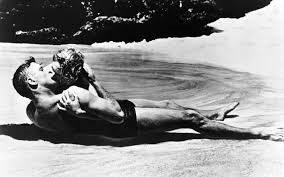 From Here to Eternity (Fred Zinnemann 1953)
In the context of the 7th December attack – 'a date which will live in infamy' as Roosevelt put it – this is a very fitting entry to include as it essays a number of U.S. Army lives in the lead-up to the Japanese attack on the American naval station.  Based on the novel of the same name by James Jones, the Fred Zinnemann-directed adaptation boasts a stellar main cast of Burt Lancaster, Montgomery Clift and Deborah Kerr.  Supporting players Frank Sinatra and Donna Reed netted best supporting acting Oscars for their respective roles.  The great Ernest Borgnine is suitably malevolent as Sinatra's oppressor 'Fatso' Judson.  The iconic shot in this one is of course that famous dalliance on the beach involving Lancaster and Kerr.  Rumours have it that their characters' affair extended beyond the screen.  Method actor Clift expertly steals the show as 'Prew' and reminds us of what a fine and charismatic player he was.  Winner of eight Academy Awards including Best Picture and Best Director for Zinnemann.  Clift and Lancaster lost out in the Best Actor category to the man in the film below.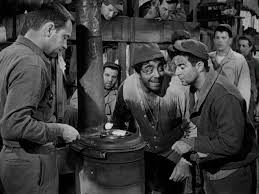 Stalag 17 (Billy Wilder 1953)
The first of three POW films I'm including in this selection, Billy Wilder's adaptation of the Broadway play by former inmates Donald Bevan and Edmund Trzcinski tells the tale of a group of American airmen who suspect one another of being an informant to their German captors.  William Holden (in uber-cynical mode) plays Sefton, a man disliked by many of the others on account of his ability to barter with the guards, and who gradually finds himself the chief suspect following a number of suspicious discoveries and failed escape attempts.  A stellar cast includes film director Otto Preminger, who plays the camp commandant, Don Taylor, Mission: Impossible's Peter Graves, Robert Strauss and Harvey Lembeck (the latter two also appeared in the original Broadway production).  Holden – as I mentioned above – won the Best Actor Oscar for his work in this, but later remarked that either Burt Lancaster or Montgomery Clift should have won for From Here to Eternity.  For my money though his performance was good value for the coveted statuette.  Billy Wilder's direction is razor-sharp as always and the terrific screenplay by him and Edwin Blum manages sarcasm, comedy and darker moments in equal measure.  A fitting finale has the comrades in captivity singing "When Johnny Comes Marching Home."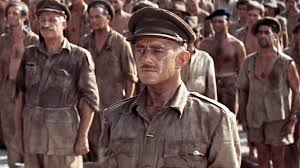 The Bridge on the River Kwai (David Lean 1957)
William Holden returned to somewhat familiar territory four years later in this David Lean offering which is also concerned with prisoners-of-war, albeit this time at the mercy of the Japanese.  Based on the novel Le Pont de la Riviere Kwai by French novelist Pierre Boulle (whose body of work also includes Planet of the Apes), this epic war film is quite rightly regarded as one of the very best of its kind and oozes sheer class in terms of its superb script (by then blacklisted writers Carl Foreman and Michael Wilson), first-class direction, sweeping cinematography and second-to-none cast.  Joining Holden in this regard are Alec Guiinness (in Oscar-winning form as the somewhat obsessed Colonel Nicholson), Andre Morell, Jack Hawkins and James Donald (who would subsequently appear in The Great Escape).  The premise of the story, as you will know, concerns itself around the construction of the titular bridge and borrowed elements from the actual Burma Railway which was built between 1942 and 1943.  The attendant mania portrayed here is shown to infect both sides and the highly explosive ending is of course one of cinema's most enduring images.  Madness!  Madness! indeed.  Kwai won seven Academy Awards at that year's Oscar ceremony.  Lean picked up the first of his two gongs for Best Director.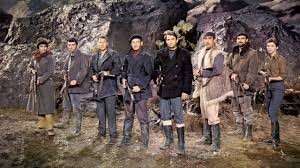 The Guns of Navarone (J. Lee Thompson 1961)
I wrote about this particular one earlier this year (2016) with respect to my article on the centenary of the birth of Gregory Peck.  The great actor was in top form in this one in which he leads a group of commandos tasked with the near-impossible mission of destroying the guns of the title in order to effect the rescue of hundreds of British soldiers.  Based on Alistair MacLean's 1957 novel of the same name (and scripted by Carl Foreman, as referenced above in connection with Kwai), this is perhaps the archetypal men-on-a-mission story and it is quite rightly regarded today as one of the very best of the WWII cinema crop.  A dream cast includes the aforementioned Peck, David Niven, Stanley Baker, Anthony Quinn and Anthony Quayle.  Watch out also for a brief appearance by a certain Richard Harris early on during proceedings.  A veritable war classic that serves as perfect Sunday afternoon entertainment.  Or any time of any day for that matter.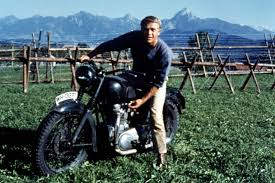 The Great Escape (John Sturges 1963)
Did I just mention the word entertainment in relation to war films?  Well here perhaps is the prime example of such with its ensemble cast and array of characters, snappy dialogue, panoramic vistas, memorable score (courtesy of Elmer Bernstein) and multitude of terrific set-pieces.  Director Sturges had already established his considerable credentials with Bad Day at Black Rock and The Magnificent Seven, but he went one further here in delivering a seamless piece of diversion based on a first-hand account of a mass escape from Stalag Luft III in occupied Poland.  Key players in this regard portray actual characters from the break-out or composites of a number of the escapees.  Such is the case for example of Steve McQueen's Virgil Hilts (aka The Cooler King) who was based on at least three pilots.  Other notables in this classic POW tale include James Coburn, Richard Attenborough, Charles Bronson, Donald Pleasence and James Garner.  The latter had participated in the Korean War during the 1950s (in which he was twice wounded) and was also a scrounger, as per his character Hendley.  Charles Bronson suffered from claustrophobia just like his character, Tunnel King Danny.  The aforementioned McQueen performed many of his own motorbike stunts and doubled as some of the Germans in pursuit of his character.  The jump scene was performed by stuntman Bud Ekins.  A perennial favourite for Christmas Day viewing, The Great Escape can also provide countless amounts of pub quiz questions.  For example, can you name the three characters (or actors portraying them) who do manage to get away without being recaptured?  Be honest about it now.  Try and puzzle it out without the aid of the internet.  Or better still, just watch this classic film again.  That's reason enough to do so.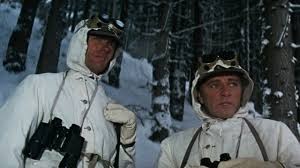 Where Eagles Dare (Brian G. Hutton 1968)
This is another terrific men-on-a-mission story based on Alistair MacLean's 1967 novel of the same name.  Richard Burton and Clint Eastwood (working well together on screen I might add) play Major John Smith and Lieutenant Morris Schaffer respectively who are part of a commando team charged with the task of infiltrating an almost impenetrable fortress in order to effect the rescue of one U.S. Army Brigadier General George Carnaby.  Carnaby is a chief architect of the second front and there is a race against the clock before the Nazis can extract information from him on this key operation.  All is not as it would seem though and Schaffer – the American – is perturbed at the turn of events when the team eventually reach the fortress and locate Carnaby.  Shot on location in Austria and Bavaria, Where Eagles Dare makes fine use of its wintry landscapes and rugged mountain faces as Burton and Eastwood et al expedite their intrepid mission.  There are several marvellous set-pieces in all of this, many of them staged by the legendary Yakima Canutt (he of Stagecoach and Ben-Hur fame).  British stuntman Alf Joint doubled for Burton in the fantastic cable car sequence; composer Ron Goodwin provided a very recognisable score.  Horror film veteran Ingrid Pitt features amongst the cast, as does Mary Ure.  Brian G. Hutton, who helmed the piece, would go on to direct Eastwood again in the 1970 somewhat lighter war film Kelly's Heroes.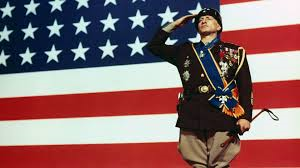 Patton (Franklin J. Schaffner 1970)
George C. Scott won the only acting Oscar of his formidable career for this one, but promptly turned it down owing to his personal dislike of the process and acting competitions in general.  The actor is in tremendous form as the famous general of the U.S. Third Army who succesfully led troops into the Mediterranean theatre of conflict, as well as the Allied invasion of Sicily and eventual drive through France and Nazi Germany.  Co-scripted by Francis Ford Coppola, Patton the movie begins with the general's famous speech to the Third Army, which, by all accounts, was a toned-down version of the real thing.  His various campaigns during the war are essayed, including the controverial incident when he slapped shell-shocked soldiers suffering from PTSD (which temporarily side-lined him from command).  A fine supporting cast includes Karl Malden as Omar Bradley.  Winner of seven Academy Awards, including Best Picture and Best Director, Patton is one of the great WWII films as well as a wonderful army biopic.  A made-for-television sequel also starring Scott was first screened in 1986 and chronicled the general's final days following injuries sustained in an automobile accident in Germany.  Personally, I've never seen this sequel, but could quite happily sit through its predecessor again and again, particularly in light of Scott's superlative central performance.  Deservedly selected for preservation in the Library of Congress by the National Film Registry in 2003.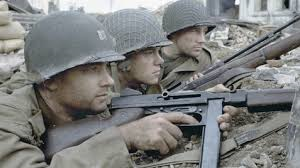 Saving Private Ryan (Steven Spielberg 1998)
The D-Day landing scenes for this one were shot in County Wexford and the realistic portrayal of combat depicted here continues throughout this superb war drama.  Tom Hanks (seldom better) plays Captain John H. Miller who is tasked with the unusual mission of locating one James Francis Ryan (Matt Damon), a paratropper who is missing-in-action somewhere in Normandy.  Ryan's three other brothers – also servicemen – have been killed in the line of duty and General George Marshall has ordered that he be found and returned home to his family.  The mission is a man duly begins and Hanks assembles a team which includes Tom Sizemore, Edward Burns, Jeremy Davies, Giovanni Ribisi and Barry Pepper.  Other notable actors popping up during the film include Dennis Farina, Bryan Cranston, Ted Danson and Paul Giamatti.  The film is nicely bookended in terms of the aforementioned Omaha Beach landing and the climatic defence of the fictional town of Ramelle against units from the 2nd SS Panzer Division.  In the interim there are several memorable sequences and more than a few good performances from the leading men.  Spielberg's direction does not hold back in terms of his gritty vision of war and the screenplay by Robert Rodat regularly raises pertinent questions concerning the nature and extent of duty and whether or not a single life should be elevated above the notion of the group or collective.  Winner of five Academy Awards, including Best Cinematography (regular Spielberg collaborator Janusz Kaminski), Best Editing and Best Director (Spielberg's second triumph in this particular category), Saving Private Ryan was quite scandalously passed up for the Best Picture award in favour of the much flimsier Shakespeare in Love.  Hanks and Spielberg went on to executive produce the superb 2001 miniseries Band of Brothers based on Stephen E. Ambrose's book of the same name.  The film and TV series can serve as perfect companion pieces if you have nothing else to do for a weekend and fancy some superb WWII viewing.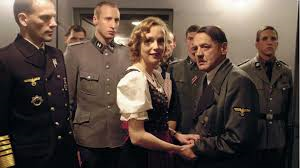 Downfall (Oliver Hirschbiegel 2004)
The final 10 days of Adolf Hitler's life and rule in Nazi Germany are documented in Oliver Hirschbiegel's superb historical drama which was based on a number of books including Inside Hitler's Bunker: The Last Days of the Third Reich by Joachim Fest and Until the Final Hour: Hitler's Last Secretary written by Traudl Junge, who, incidentally, passed away two years prior to this cinematic release.  Junge is a prominent character in the film herself as the inevitable cataclysmic defeat looms and Der Fuhrer and his inner circle are forced to take shelter underground.  Swiss actor (and Wim Wenders regular) Bruno Ganz is quite astonishing as the increasingly unhinged dictator who is all too aware of the impending end.  He is surrounded by a fine cast which includes Alexandra Maria Lara as Traudl, Juliane Kohler as Eva Braun and Ulrich Matthes as a most sinister Joseph Goebbels.  Ganz himself devoted four months of research to the role (including the studying of countless recordings of Hitler) and this  level of commitment more than shines through in his resulting performance.  The bunker and its intricate levels of commanders and administrative staff is handled particularly well, as are the scenes above ground as Berlin and the whole of Germany is engulfed in a perfect storm of advancing forces on all sides.  Nominated for the 2004 Best Foreign Language Film Oscar, this one, like Saving Private Ryan above, richly deserved to win, but was passed over by the Academy in its wisdom.  Perhaps they didn't want to honour a film that featured Adolf Hitler; I'm not quite sure.  The well-known scene in which Der Fuhrer loses patience with his commanding underlings has been parodied countless times on internet sites such as Youtube.  But watch the original scene and film if you haven't already done so.  Essential viewing in this particular genre.