The Battle of the Somme Anniversary – 10 World War I Films
July 1st, 2016 marks the centenary of the commencement of the Battle of the Somme, the largest battle of the First World War and generally recognised as one of the fiercest in human history in that more than one million men were wounded or killed during its duration.  As the commemoration of the Somme approaches, we consider 10 of the best World War I films.  The Great War, as its popularly known, has not quite provided the same hunting ground as the Second World War.  I don't have figures before me, but I think I can safely say that WWII films easily outnumber those of WWI.  There may be a number of reasons for this, but one I would propose is that the very nature of the Great War – which as we well know involved trench warfare and long periods of stalemate between the Allies and Central Powers – does not lend itself as readily to visual and aesthetic storytelling as the World War which followed it.  I'm not by any means denigrating the multitude of stories that are out there concerning the 1914-1918 conflict, I'm just suggesting that World War II represents modern warfare in a more tangible sense, and cinema, down through the years, has latched on to its stories of forces on the move, of individuals charged with clandestine missions, and covert operations behind enemy lines.  There are also the great set-pieces which events such as the landings at Normandy and the defence of Stalingrad tantalisingly offer filmmakers (just consider Spielberg's Saving Private Ryan in this regard).
World War I films, on the other hand, do tend to centre more so on the individual stories, the intimate human suffering.  The Great War was not a pretty war (though what kind of warfare is of course) and there is an emphasis (deservedly so I might add) on the often callow young who perished during its four-year history and those who were left forevermore scarred in its wake.  Admittedly, I include below, of all things, an Errol Flynn film, but also consider such accounts as presented in Lewis Milestone's seminal All Quiet on the Western Front and Peter Weir's Gallipoli.  The sheer lunacy of war and narrow-mindedness of the powers-that-be behind it are some of the themes explored in Kubrick's Paths of Glory and Joseph Losey's King and Country.  In both these films relative innocents are tried and executed for seeming acts of desertion.  The high-minded, yet morally degenerate bureaucracy holds sway; the physically-fatigued and mentally-distraught soldier is a mere pawn in this game – 'like flies to wanton boys' as a famous play by Shakespeare would have it.  There are also some stories of inspiration here, particularly Joyeux Noel – that depiction of the first Christmas of the Great War; also Spielberg's War Horse.  Lean's Lawrence of Arabia and the Powell/Pressburger classic The Life and Death of Colonel Blimp are also included; although they may not strike some as WWI films per se, much of their narrative thread – particularly the famous Lean epic – takes place during the conflict.  There is also a prisoner-of-war story (quite a popular sub-genre in the WWII canon as we know), though it has to be acknowledged that Renoir's La Grande Illusion is light years apart from, say, John Sturges' The Great Escape.
So in any case, let's consider some of the finest WWI films below.  The Great War as historical material has inspired some fantastic cinematic stories and we commend the following for your viewing, if you have not already seen them: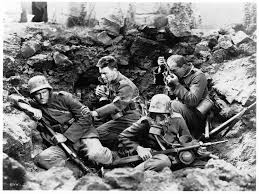 All Quiet on the Western Front (Lewis Milestone 1930)
'And our bodies are earth.  And our thoughts are clay.  And we sleep and eat with death.'  Based on the 1929 novel of the same name by war veteran Erich Maria Remarque, this early talkie remains one of the more harrowing depictions of the so-called Great War in that it highlights the absolute stress of trench warfare, both physical and mental.  Milestone's film begins with the rousing speech of Professor Kantorek and is almost book-ended by Paul's brief return to civilian life, during which he admonishes the patriotic fervour his former teacher is still peddling to boys even younger than himself.  The fatal butterfly scene is perhaps the most famous one here, but also consider the crater scene which Paul shares with the French soldier he has just stabbed.  The film was banned in Nazi Germany owing to its anti-war sentiment, and somewhat anti-German stance, and was also curtailed in countries such as France, Italy and Austria.  It was the first sound war film to win the Oscar for Best Film, along with a Best Director Oscar for the Moldovan-born Milestone.  Having just recently watched it again on a blu-ray copy, I'm pleased to report that, following extensive restoration work, the print of this 86-year old film is in wonderful condition and has lost none of its stark impact.  A big screen remake was announced in 2009, but, at the time of writing this, is still listed at pre-production stage.  It would be timely if made in the next two years, but might well struggle to recreate the original's unrelenting realism.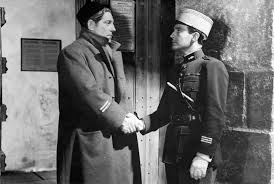 La Grande Illusion (Jean Renoir 1937)
In contrast to All Quiet on the Western Front, this one tells its story largely from the point of view of French soldiers who are prisoners-of-war and plotting an escape.  Jean Renoir's film was made at a very significant time as European nations moved ever so closer to the coming conflagration of World War II and, like All Quiet, was the subject of much derision and an official ban in Nazi Germany (Joseph Goebbels declared it to be 'cinematic public enemy no. 1).  Upon the onset of war in 1939, the French authorities also enforced such a ban for the duration of hostilities fearing that the film might adversely affect fighting morale.  In spite of this Illusion has often been held up as one of the great anti-war movies, and rightly so, and it is also a telling meditation on class relations (the aristocratic de Boeldieu and his German equal von Rauffenstein, who entertain common ground, in contrast to Marechal, an officer of lower social footing).  It's worth noting also that Illusion does not contain any battle scenes in its 115-minute running time, but there are references to the Battles of Verdun, Liege, Charleroi and Tannenberg.  The exemplary cast is headed by Jean Gabin as Marechal and Erich von Stroheim as the severally-injured Rauffenstein.  The latter's final scene with the dying de Boeldieu (Pierre Fresnay) is particularly moving and resonates with the theme of a fading social caste.  Fans of Renoir's masterpiece include Orson Welles, who said it would be one of two on his list for the ark.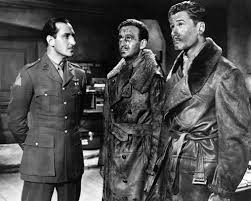 The Dawn Patrol (Edmund Goulding 1938)
A remake of the 1930 Howard Hawks film (which I haven't personally seen myself), this provided Errol Flynn with one of his many starring roles in the 1930s, and the great Tasmanian is splendid in a fine cast that includes David Niven, Basil Rathbone, Donald Crisp and Barry Fitzgerald.  The heroics of the aviation rank-and-file are firmly at the core of this story which centres on two friends, Courtney (Flynn) and Scott (Niven) who regularly put their very existences on the line in the services of the Royal Flying Corps.  Basil Rathbone plays their superior officer who is quite often put out by their boys-own antics, but weighed down himself by duty and the incessant death toll that plagues his squadron.  Although interspersed with scenes involving heady bravery and boozy fatalism, Dawn Patrol is also a pointed meditation on the noble deeds of fighting men in the face of their own precarious mortalities.  The film performs a notable shift roughly half-ways through as Flynn's character is elevated to Rathbone's position and, consequently, finds himself overburdened with responsibility and command.  This latter promotion affects his deep friendship with Niven most especially of all, particularly after Scott's brother Donnie is assigned to the ill-fated squadron.  It's worth comparing this one to a later Gregory Peck film Twelve O'Clock High (which is set during WWII).  Like Dawn Patrol Twelve O'Clock High is also a study of duty conflicting with friendship and the inherent pressures that accompany this.  A fine thumping score by the great Max Steiner underpins the aeronautical battle scenes.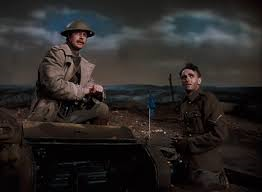 The Life and Death of Colonel Blimp (Michael Powell and Emeric Pressburger 1943)
'And here is the lake and I still haven't changed.'  This is one of the very best from Powell and Pressburger (A Matter of Life and Death, Black Narcissus, The Red Shoes) and it concerns a certain Major-General Clive-Wynne Candy and his military career as it traverses the Boer War, First World War and Second World War.  Released as it was during the height of World War II, Blimp was admonished by the powers-that-be on account of what was perceived to be its favourable portrayal of a German character.  Then prime minister Winston Churchill also had his objections and voiced his wish that the production be stopped entirely.  There are suggestions that Churchill may have believed Candy was a parody of himself seeing as how he'd also served in the Boer War and First World War.  Despite such contemporary criticism, time has been kind to Blimp and it has been rightly re-assessed as one of the great British pictures.  The World War I scenes, set at the front, only make up part of this piece of course, but viewers should marvel at the beautiful production values and stunning cinematography that were such a key element of the Powell/Pressburger collaborations.  Roger Livesey and Anton Walbrook are note-perfect respectively as Candy and the German officer Kretschmar-Schuldorff.  Deborah Kerr co-stars playing the three ladies at different stages in Candy's life.  As with All Quiet on the Western Front above, Blimp has also (quite rightly) been the subject of much restoration work.  Do yourself a favour and add the blu-ray copy to your collection.  Visually it's quite stunning and not just a little endearing.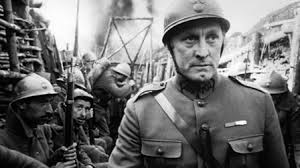 Paths of Glory (Stanley Kubrick 1957)
Widely regarded as one of the great anti-war movies of all time, Kubrick's First World War film is based on the Humphrey Cobb novel of the same name and tells the story of a small group of individuals who are court-martialled, and subsequently executed, for not obeying orders at the front.  The great Kirk Douglas is Colonel Dax, the commanding officer in the offensive on a German fortification known as the Anthill, and also the man subsequently engaged to defend the three soldiers who are handpicked to suffer for the group as a whole.  The so-called trial is a farcical event of course and the men are married to their fate.  The final scene is a haunting refrain as a captive German girl sings a folk song for the remaining soldiers, with the next set of orders and an inevitable return to no-man's land looming over their heads.  The story of Paths is partially based on a real-life event during the Great War which involved four French soldiers executed in 1915 for failing to carry out orders.  Not surprisingly retired and active military personnel in France did not receive the film very warmly.  It was not banned outright in France, but covert pressures on the distributor ensured the film was not shown there until 1975.  Germany and Spain also imposed similar curtailments.  Kubrick regulars Joe Turkel and Timothy Carey feature amongst the condemned men.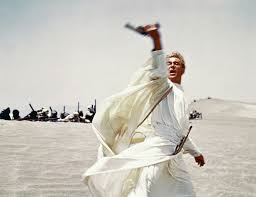 Lawrence of Arabia (David Lean 1962)
There's very little more I can say about this one which hasn't been said since its release over 50 years ago.  One of the great epics of world cinema, it perhaps represents a culmination in Lean's career and most certainly a pivotal role in Peter O'Toole's.  As regards its World War I connection, the film essays Lawrence's escapades in the Arabian peninsula during that time period.  A rather callow lieutenant in the British army, he is sent to assess the prospects of Prince Faisal (a tanned Alec Guinness) in his uprising against Turkish forces.  The crossing of the Nefud Desert and subsequent taking of Aquaba are among the many stunning set-pieces in full Super Panavision 70 glory here, but one should also consider the more intimate moments such as Omar Sharif's famous entrance, Lawrence's interactions with his young followers, and his own conflicted nature, which becomes more marked as his story and the Arab revolt unravel.  Other notable scenes include the blowing-up of the train and the push on Damascus.  Nominated for 10 Academy Awards, it won 7 including Best Film and Best Director for Lean.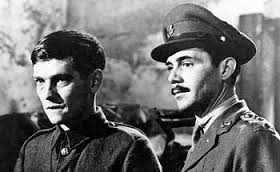 King and Country (Joseph Losey 1964)
This is one of the bleakest of all World War I films (if there can be such a thing) and is very comparable to Kubrick's Paths of Glory in that it concerns so-called desertion and the mechanics of the higher authorities making an example of an innocent participant.  The soldier in this case Arthur Hamp (Tom Courtenay) has wandered away from his post in an apparent delirium, caused no doubt by the horrors of trench warfare, and is subsequently court-martialled.  Dirk Bogarde plays his legal representative and, as per Kirk Douglas's Dax in Paths, he is also more than familiar with the severe nature of life at the front and the callousness of the upper echelons in this regard.  Leo McKern features as a doctor who habitually prescribes laxatives to the troubled soldiers.  An astute portrayal of class divisions as they apply in a war context.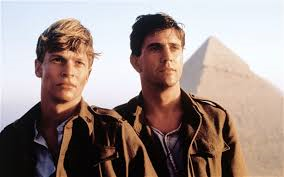 Gallipoli (Peter Weir 1981)
The Gallipoli theatre of war is the subject matter of this one and the story concerns two Australian friends (Mel Gibson and Mark Lee), both sprinters, who travel from their home in Western Australia to play their part in the Great War.  Much of Peter Weir's very fine film is spent on the themes of comradeship and coming-of-age and their is an inevitable denouement which comes about at the ill-fated Battle of the Nek which took place on the 7th August, 1915.  The film was shot primarily in South Australia (the coastline of Port Lincoln doubling for Gallipoli), but also features scenes at the Giza Pyramids in Cairo.  Watch out (or more pertinently listen) for the use of excerpts from Oxygene by Jean-Michelle Jarre during the sprinting scenes.  The final image of Lee's character being met by a hail of bullets in no-man's land is based on Robert Capa's famous photograph The Falling Soldier.  Veteran Australian actors Bill Kerr and Bill Hunter co-star.  The sumptuous cinematography comes courtesy of Russell Boyd.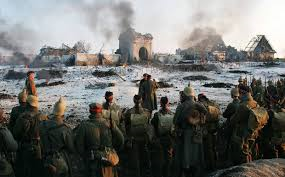 Joyeux Noel (Christian Carion 2005)
Christian Carion's very fine film depicts events which took place at the front in December 1914 when various opposing forces (in this realisation, French and German infantry and Royal Scots Fusiliers) met in no-man's land and put aside their differences for the season of peace and good will to all men.  It's based on an actual event involving the German Crown Prince dispatching a singer from the Berlin Imperial Opera Company to perform to troops at the front, which in turn saw French soldiers stand up and applaud his performance.  Carion's adaptation operates from this premise, and takes certain liberties with the actual details, but there is no doubting its affecting atmosphere and distinguished performances.  An exemplary cast includes Daniel Bruhl, Diane Kruger, Alex Ferns and Ian Richardson (in one of his final screen roles).  The film deservedly earned Oscar and Golden Globe nominations for Best Foreign Language Film (the languages employed in the film – quite fittingly – are French, German and English).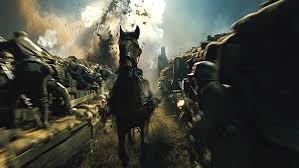 War Horse (Steven Spielberg 2011)
Yes, it's sentimental in a very familiar Spielbergian way, but, as per the director's other historical offerings, this is a beautifully-staged and lavish production and fitting adaptation of the Michael Morpurgo novel of the same name.  Jeremy Irvine plays Albert Narracott whose beloved horse Joey is sold to the army in 1914 to pay his family's outstanding debts.  The young man resolves to follow Joey to the front and is eventually involved in the Second Battle of the Somme.  Meantime, Joey has survived through chance and circumstance and the two are eventually reunited in a deeply moving scene (remember this is Spielberg) at the base camp hospital.  The famous director has made a number of forays into World War II material during his illustrious career (most notably with Schindler's List and Saving Private Ryan), but this was his first (and to date only) grappling with the subject matter and period of the Great War.  It's a fine meditation on both the human and animal suffering caused by that four-year conflict.  Records tell us that, in all, approximately 10 million horses died between 1914 and 1918.  That's a stunning loss of life in itself and is one of several grievous statistics arising from the Great War.  A terrific supporting cast includes Liam Cunningham, Benedict Cumberbatch, Tom Hiddleston, David Thewlis, Peter Mullan and Emily Watson.