The Blogger's Word – Movies, Hotels and Iconic Backdrops – Part 1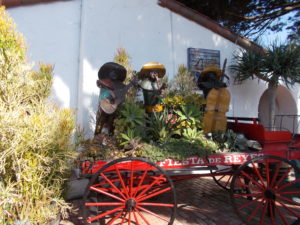 'For my part, I travel not to go anywhere, but to go.  I travel for travel's sake.  The great affair is to move.'  Words of wisdom from Robert Louis Stevenson which I tried to bear in mind as I set out for America on the 31st August, 2017, bound as I was for the western states of California, Arizona, Utah and Nevada.  I'd booked a holiday known simply as the Western Discovery some four months before (April 2017 to be precise) and now all that waiting and anticipation was at an end – at least I hoped it was.  Making such travel arrangements so far in advance (at least by my petty standards) caused me to fret as the day of departure loomed large.  I imagined all sorts of inconveniences and impediments blocking my entry into America.  What if my ESTA application had some glitch or mistake which I was unaware of?  What if I suddenly came down with some mysterious illness?  What if the San Andreas Fault should suddenly decide to shift its focal point and lead to untold disaster?  What if the interrogating immigration officer might simply not like the look of me?  My flight arrangements were as follows – a seven-hour flight to Toronto, Canada followed by a connecting flight to the City of Angels, namely Los Angeles.  I was quite certain calamity had indeed struck the day before departure when I learnt – to my consternation – that a travel visa is now also required for Canada.  'But I'm not even leaving the airport!' I pleaded in vain with my travel agent; the words and entreaties of a seemingly desperate man.  Nonetheless, the patient voice on the other end of the phone instructed me to fill out the online form.  Retrieving my passport in a hurry during my lunch break, I gritted my teeth and hoped for the best.  Thankfully, the good people of Canada allowed me into their country for the two hours I required.  Trip on I thought.  The 'great affair' which Mr. Stevenson spoke about was finally at hand.  I was on my way to America bearing a lightly-packed suitcase, several packets of paracetamol (just in case they were required) and a list of film locations I would be seeing during my stay stateside.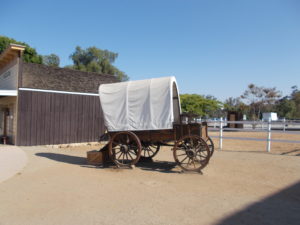 I fly pretty well (not literally of course), but never manage to sleep during the flight, so the first order of business at 1.30 p.m on the 31st August was to consult the menu of movies and television shows on offer during the journey from Dublin to Toronto.  Settling first of all on the Farrelly Brothers 1998 comedy There's Something About Mary, I was reminded of my first time seeing this film on its initial theatrical release in Sydney, Australia.  Or was it Melbourne?  Can't exactly remember.  Flight EI 129 was blessed with lots of entertainment options and I watched a few episodes of The Walking Dead Season 7 and Westworld Season 1.  Ever notice how most of the choices on offer on a flight do not contain scenes of crashing planes or stranded victims as per Lost or the film franchise that was the Airport movies in the 1970s and early 1980s? – go figure.  Personally, I don't expect to see Peter Weir's 1993 Fearless offered on a flight anytime soon; or last year's Sully for that matter.
The stress of long-distance travel was visited upon me in a much different way when I landed at Toronto's Pearson International Airport just before 4 p.m. local time.  Bearing in mind that my onward flight to LAX was due to depart at 5.25 local time, I puzzled at why there was a lengthy delay between landing and disembarking.  Again, those feelings of trepidation returned.  Is the universe conspiring against me I questioned under baited breath.  Why aren't we leaving this plane?  Don't they know I have about half a dozen things to do here between Canadian border control and US immigration?  The next hour did indeed seem like a traveller's worst nightmare unfolding.  For those of you who may choose to travel to the US via Pearson, be warned.  There are confusing machines and apparatuses which request your fingerprints and image.  You have to pick up your own bag and transfer it on to the relevant chute.  At US immigration yet more fingerprints are required.  The problem here also is that the machine does not always pick up on your fingerprints.  In my case, I believe this was on account of the fact that I was sweating profusely at that stage.  It was 5.30 local time.  Surely my flight to LAX was gone I imagined.  A night in the airport waiting for the next available flight was not the most endearing of prospects.  I wondered if there would be an extra charge for having messed up so monumentally.  If so, there goes some of my budget I concluded.  And I so dearly wanted to pick up some SF Giants merchandise whilst in San Francisco.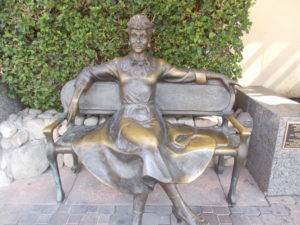 But my perceived tale of woe had a happy ending as it turned out.  Many flights to America were delayed that same evening owing to late arrivals such as myself.  American Airlines Flight AA2671 finally took to the sky at 6.30 local time and finally my return to American soil was assured – unless of course…I duly reminded myself not to watch any such genres of movies if they were available on this particular flight – there weren't any by the way; as I previously mentioned, it seems highly unlikely that such types of disaster movies would be offered to those of us viewing in mid-air.
The first thing which hits you – or at least hits an Irish man – upon leaving the terminal building at LAX is the dry heat, even after 8 in the evening.  The relentless traffic and impatient blowing of horns was the next thing which struck me as I awaited my complimentary shuttle bus to the Holiday Inn in Anaheim.  Anaheim for the record is a city outside Los Angeles and to the uninitiated (which used to include myself), is also the home of the Disneyland Resort which opened there in 1955.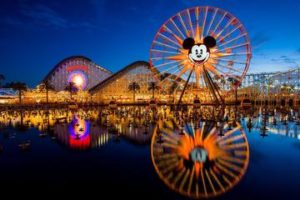 Donald Duck and Mickey Mouse were far from my thoughts as the taxi driver dropped fellow passengers off at other hotels en route to the Holiday Inn and, finally, at 11 p.m that evening I was just grateful to arrive at my destination unscathed.  With regard to my previous ignorance concerning the location of Disney in LA, I recalled the words of Paul Theroux when he surmised, 'Tourists don't know where they've been, travellers don't know where they're going.'  Perhaps I am a traveller after all I concluded as I laid my head down on the pillow just before midnight.  Silently, I prayed for sleep, pleaded against the onset of the dreaded jet lag.  A friendly and much appreciated note from my tour director Annette gently advised that I would have to hit the ground running early the next morning.  A city tour of San Diego – approximately 120 miles south of Los Angeles – was the first leg of the Western Discovery.  No room here for the fainthearted or sleepy-headed.  I am a traveller I reminded myself as I somehow managed to fall asleep.  I am not a tourist.  Paul Theroux would be proud of me I hope.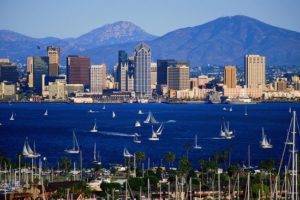 The buffet breakfast in the Burger Theory cafe downstairs did the trick as far as I was concerned and, as I refilled my coffee a number of times, I wondered which of these patrons might be on the same tour as myself.  Two German ladies from the other coach (all German-speaking), whom I would bump into several times over the next two weeks, were also sampling the culinary delights of American hospitality.  I remembered to tip the friendly waitress who enquired if I needed any change – not quite sure though if my change reached the requisite 15% mark though – a common mistake made I'm sure by many a European.  My archaic mobile phone (a relic of 2014 I do believe) was not picking up any American network, so the first concern was to let my family back home know I was safe and sound; had not perished in some fireball en route.  The internet in the hotel would come to my assistance later.  Meantime, I settled into the coach and surveyed the faces of those who followed me on board.  The coach left Anaheim at 7.30 a.m. and arrived in San Diego just after 9.  Our tour director Annette reliably informed us that this was good time.  The average working Californian apparently spends 29 days a year in their car.  Many commute to Los Angeles from far afield – no doubt even as far away as San Diego.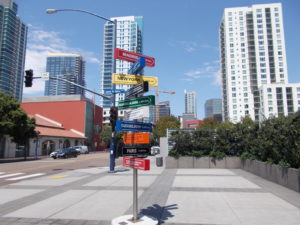 The home of the San Diego Padres (the eighth largest city in the US and second largest in California) is an attractive place and benefits from its location on the Pacific coast, its mild year-round climate and natural deep-water harbour.  Our first port of call was the Old Town which – as the name suggests – is the oldest settled area in the city and the site of the first European settlement in present-day California.  There are many curiosities here, as well as shops and eateries.  Soon, however, we were on our merry way again; at 10.50 we headed out to the salubrious environs of Coronado Island, taking in the vista of the highly impressive Coronado Bridge as we did so.  Nicknamed The Crown City, Coronado was the temporary residence of L. Frank Baum, author of the Wizard of Oz.  I thought myself very clever indeed (and quite the seasoned traveller) for knowing this in advance, but what I did not know was that the famous and historic Hotel del Coronado (opened in 1888) was the exterior setting for much of Billy Wilder's 1959 seminal comedy classic Some Like It Hot starring Marilyn Monroe, Jack Lemmon and Tony Curtis.  In that same movie – recently voted the best comedy of all time in an international survey conducted by the BBC – the hotel was called the Seminole Ritz and was fictitiously located in Southern Florida.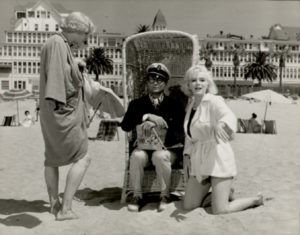 Serves me right of course for thinking I knew everything about movies.  Life is a constant education and it was with so many fond memories of that wonderful film that I gazed upon this beautiful landmark hotel, which I'm informed is the second largest wooden structure in the United States.  Nothing wooden at all about the wonderful cast and the riotous antics of Lemmon, Curtis and, of course, Marilyn.  Our last stop for the day in San Diego was at Seafront Village which reminded me of Pier 39 in San Francisco (more about that in a later installment).  Grabbing a quick burger and coke, I fed some pigeons and immediately regretted my kindness.  The feathered friends (so-called) descended upon me in their droves; I quickly wolfed down the bun and meat and prayed that feeding pigeons in the US was not an offence in the mould of jaywalking.
The first full day of the Western Discovery voyage came to an end as we arrived back at the Holiday Inn in Anaheim.  Again, Annette was greatly impressed by the lack of traffic jams and the time made.  It was Labour day weekend in the States and people were on the move she told us in English and Dutch.  The tour was to be a bilingual one in those two languages.  Some kudos were promptly extended to our driver Kyle for the part he played in the early return to Anaheim.  The only word in Dutch which I could properly decipher was his name; happily Kyle has the same ring to in no matter what the language.
My own evening concluded with some Salmon Rigatoni and coke (plus refill).  Having watched some TV in my room (at which point I was reminded of the incessant adverts which plague American television), I decided to retire early.  Trying to figure out how few hours sleep I'd got in the previous 48 worked wonders as I soon was dozing and then in full sleep cycle.  I must remember to use this particular trick on myself more often.  Mental processes involving numbers seem to be a highly effective sedative in my case.  Part two of my Western Discovery adventure to follow in due course.  After a well-earned night's sleep that is.