The Blogger's Word – Movies, Hotels and Iconic Backdrops – Part 10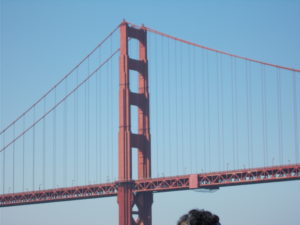 We leave the Ramada Hotel in Modesto just after 7.45 in the morning and hit the road for San Francisco which is just a little over an hour away, good traffic conditions permitting.  I'm so excited about visiting the city by the bay again and this is one of the highlights of the tour as far as I'm concerned.  Let me put it into a personal context for you the reader.  It's 26 years since I was last in San Francisco to be precise.  The year was 1991 and I was a young student in University College Dublin (U.C.D).  I was still in my teens at the time (just about, I might add) and working in San Francisco for the summer on a J1 visa was my first experience of working in a foreign country.  George Bush Senior was still president of the United States and the big blockbuster playing in cinemas that particular summer was James Cameron's Terminator 2: Judgement Day starring Arnold Schwarzenegger.  Other prominent films which debuted that very same year included The Silence of the Lambs and JFK.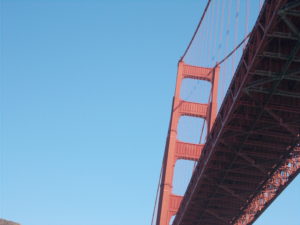 The traffic is very light on the road from Modesto – perhaps because it's Sunday – and we catch our first glimpse of the iconic Golden Gate Bridge just after 9.  First opened in 1937, the suspension bridge which connects San Francisco with Marin County is celebrating its 80th birthday this year and there's still no doubting its majesty and splendour spanning, as it does, a 2.7-kilometre length.  Our first stop though is down by the harbour where many of us embark upon a one-hour cruise around the bay.  It's an incredibly beautiful and warm day in San Francisco and I remind myself that this is truly atypical weather for a city that is so often a few degrees lower that most other parts of California.  Passing under the bridge during the cruise, I recall how it features in the opening establishing scenes of John Huston's screen adaptation of The Maltese Falcon from 1941.  This surely must be one of the first movies in which the bridge appears.  Another film which comes to mind with reference to it is, of course, Hitchcock's masterpiece Vertigo from 1958.  Do you remember that scene in which James Stewart fishes Kim Novak out of San Francisco Bay?  That was shot at Fort Point which is located at the southern side of the Golden Gate and which was completed just prior to the outbreak of the American Civil War.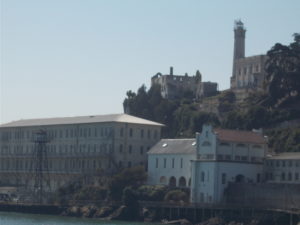 The Golden Gate isn't the only sight to behold from the boat however and there are some spectacular views of the city to take in as well.  The Transamerica Pyramid and Coit Tower are particularly prominent on the skyline.  Lying opposite them across the bay is the famous Alcatraz Island which I had the privilege to visit way back in 1991.  From a distance the island appears to have changed little since that time and the facade of its buildings appear to be more or less the same.  But I've no doubt that the visitor experience probably has altered quite a bit and that a tour of the island has been upgraded and rendered more interactive since I was there 26 years previous.  Famous films which one can readily associate with the site of the former federal prison include 1996's The Rock and, of course, 1979's Escape from Alcatraz starring Clint Eastwood.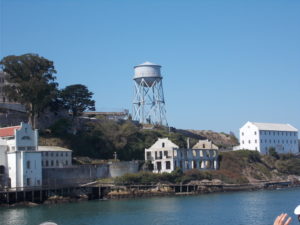 We're back on the coach by midday and on our way for a city tour which makes its way to the Golden Gate Bridge in the first place.  There's not enough time to walk the entire length of the bridge, but I manage to make it out to the first tower and feel some sense of accomplishment in that much.  Back in 1991 I managed to walk the entire length of the bridge in spite of a hangover from hell which had been occasioned by a 21st birthday party from the night before.  My recovery time since those days has certainly disimproved, but I've no such problems today seeing as how there was no alcohol consumed in the previous 24 hours.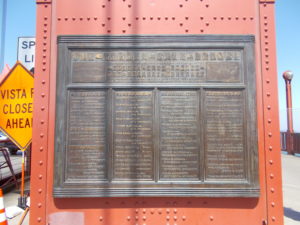 Returning to the nearby visitor centre, I purchase a Golden Gate cap for myself and a t-shirt which, appropriately, commemorates the 80th anniversary of the bridge.  It's small wonder that Frommer's travel guide refers to it as, 'possibly the most beautiful, certainly the most photographed bridge in the world.'  The Golden Gate truly has a beguiling aspect to it; one could return here again and again and never grow weary of seeing it.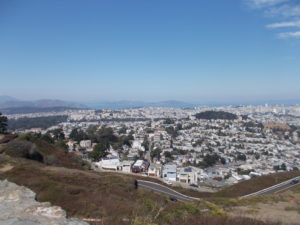 We drive around Golden Gate Park next and catch glimpses of the Pacific Ocean which looks as resplendent today as the azure sky overhead.  After 2 in the afternoon we arrive at Twin Peaks for some panoramic views of the city below.  From this vantage point I try to pick out the district of Sunset which is where I used to reside the summer I worked as a student in San Francisco.  It's quite a different experience returning to the city as a tourist now compared to then when I was a youth trying to eke out some work for myself during the summer of 1991.  Seven of us lived in an apartment on 46th Avenue for a few months between June and September 1991.  Work was not so easy to come by and I eventually got employment as a telemarketer in two different offices located on Market Street and Taraval Street.  It was quite a learning curve for me and I still believe I grew up quite a bit that summer – empty pockets and an empty stomach tend to have that effect on you.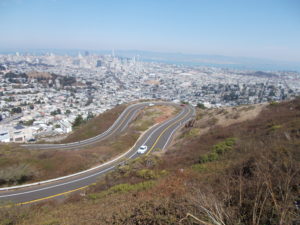 I kept a diary during that period of time and read through it again recently upon my return home.  The memories of searching for work and growing more and more frustrated with the lack of gainful employment certainly flooded back; as did those recollections of how mundane life is when you're young and have absolutely no money in your pockets.  My entry for the 4th of July that particular year, for example, begins quite abruptly with the terse remark – 'Bored on the 4th of July.'  At least things got a bit better from that point; I did manage to get two jobs subsequently and fared well at cold calling people in their homes.  To have quit San Francisco back then would have been a sizable mistake and a personal failure.  Sometimes you just have to roll with the punches and push yourself as hard as you can.  I think I came close that summer because I certainly worked hard and improvised the best way I could.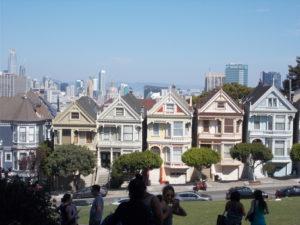 After 3 in the afternoon we take a short walk and get to see some of the famous 'painted ladies' near Alamo Square.  The term for these Victorian houses was first coined by Elizabeth Pomada and Michael Larsen in their 1978 book Painted Ladies – San Francisco's Resplendent Victorians.  Resplendent is, indeed, an apt term in this particular case.  In the background looms the financial district of the city which offers both context and contrast.  After a brief stop at City Hall, we say goodbye to some of our fellow travellers for whom San Francisco is their final destination prior to heading home.  The remainder of the group – including myself – are staying in the Sheraton Hotel for two nights which is located just a stone throw's away from Embarcadero, the eastern waterfront and roadway of the Port of San Francisco.  It's pretty much an ideal location as far as I'm concerned.  I even have a residual memory of looking for work in this hotel – what a difference a quarter of a century or so makes.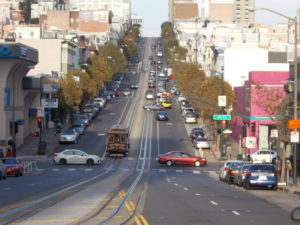 After a quick shower, I meet my Dutch friends downstairs and – with the kind assistance of a member of staff – we book tickets for a baseball game on Monday evening at the AT&T Park.  The San Francisco Giants – who apparently are having a very poor season – will be playing host to the Los Angeles Dodgers.  The last time I saw the Giants play was in their former residence Candlestick Park; on that particular day the opponents were the San Diego Padres.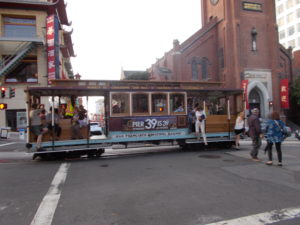 Some of us have opted for an evening walking tour of the city which includes a cable car ride and a meal in Chinatown.  En route we see a movie shooting which I later learn is apparently Ant-Man and the Wasp, the sequel to 2015's Ant-Man which starred Paul Rudd and will, for the record, be the twentieth film of the Marvel Cinematic Universe.  Upon my return home, I discover that some additional filming for this upcoming superhero film was, indeed, taking place in San Francisco in September 2017.  The city has down through the years been the location for many a memorable film – just think of classics such as the aforementioned The Maltese Falcon and Vertigo, as well as Dirty Harry, Bullitt, The Conversation, Zodiac, The Graduate, Guess Who's Coming to Dinner, A View to a Kill and Rise of the Planet of the Apes.  This action-packed day concludes with a top-notch meal in Chinatown followed by an unforgettable vista of the city by night from the vantage point of Treasure Island.  One of the best days of the tour in a city that truly has a certain magic and unmistakable charm about it.