The Blogger's Word – Movies, Hotels and Iconic Backdrops – Part 11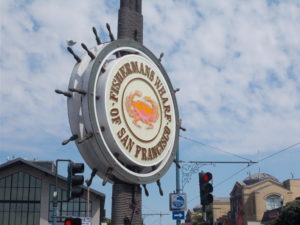 My first night at the Sheraton Hotel near Fisherman's Wharf leads to a very comfortable sleep and I feel quite rested as I rise and have a shower at 7 in the morning.  Downstairs there's a pricey breakfast buffet, but I figure what the hell.  It's more than likely that I'd find something down by the piers for half the price, but perhaps I'm becoming a little lazy in myself now.  After so many days of the road and eight hotels or so, I figure I can afford to be a small bit on the indolent side.  I'm sure no one will think me the worst for it.  And besides, it's a pretty darn good breakfast.  A well-versed traveller such as myself (I hope) deserves some comforts I do believe.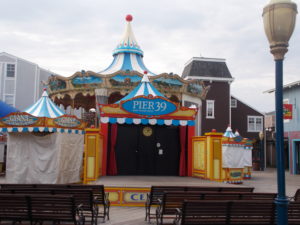 My first port of call for the day is the famous Pier 39 which is almost literally just a stone throw's distance from the Sheraton.  I'm very early as none of the shops down here are yet open, so I decide to pay a visit to the seals who slumber close by.  Determining that these nonchalant fellows would also have opted for the buffet breakfast back in the hotel, I walk up and down the pier, retracing my steps from some 26 years before.  Many was the day that I came down here following another fruitless search for work during the summer of 1991.  If memory serves, I passed my CV into more than one shop in this area.  None of them offered me any work however.  Telemarketing and cold calling thus became my livelihood in San Francisco that particular year.  At least now I have a few more dollars in my back pocket.  On that very note, I visit the NFL store on the pier and buy a few San Francisco Giants baseball tops.  My Visa Debit card doesn't appear to be working everywhere, so I'm greatly relieved when it passes the all-important test at the til.  Unfortunately, it doesn't seem to be working in the Sheraton at all and so I've had to pay for breakfast and beers in cash.  It's a nuisance, but contacting my bank about it at this stage is something I just couldn't be bothered doing.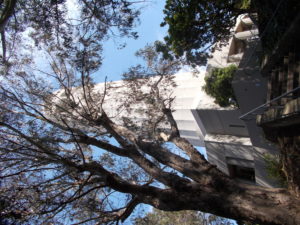 Well pleased with my purchases (which include a Giants baseball cap and some 49ers memorabilia), I drop them off at my hotel and set off on one of my main missions of the day – a visit to Coit Tower which is not too far by my reckoning from the Sheraton.  Also known as the Lillian Coit Memorial Tower, the 210-foot art deco structure is positioned in the Telegraph Hill neighbourhood of San Francisco.  I'm pretty sure I didn't visit it on the occasion of my previous stay in the city.  As I walk the steep gradient up towards the tower (this is San Francisco after all), I'm reminded of the scene from Hitchcock's Vertigo in which Kim Novak tells James Stewart that she was able to find his apartment again owing to its proximity to Coit Tower.  Stewart's character's response to this is as memorable as the classic film itself – 'Well that's the first time I've been grateful for Coit Tower.'  Hitchcock himself was apparently adamant that the tower should feature in this his greatest film.  When asked why he replied because it represented a phallic symbol.  There's a small queue inside for the single elevator which leads to the top.  The friendly operator of this enquires as to where we are from.  A French girl beside me tells him she lives and works in Dublin.  What a small world it is.  When it comes to my turn, I tell him that I've been to San Francisco before; 'many moons ago' I add as I remain suitably vague concerning the lengthy period of time which has passed by in the interim.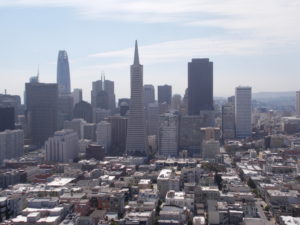 The tower offers many panoramic views of the city including the Financial District, Twin Peaks, Pier 39, San Francisco Bay and the Golden Gate and Bay Bridges.  The woman who made this building possible – Lillian Hitchcock Coit – was an eccentric wealthy socialite who, as legend has it, was an avid gambler who often dressed up as a man in order to gain entry to the males-only establishments of North Beach.  What a legacy to have left the city – she must have been a fairly successful gambler at that.  After my visit to Coit, I walk back down to Pier 39 again and further on up Embarcadero generally.  Some of my travelling companions are doing the hop-on hop-off city tour, but I'm perfectly happy to take things somewhat leisurely today.  The previous day's cruise around the bay and subsequent city tour covered quite a bit of ground as far as I'm concerned.  And besides all that, I've lived in this city in a previous existence – and fully intend to return another time in the future when, hopefully, I will have more time at my disposal.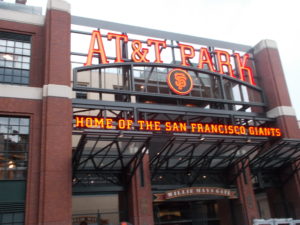 Lunch consists of a burger and fries plus a few beers as I enjoy the sights and sounds and uncommonly warm weather of the city by the bay.  Returning to the hotel, I decide to have two more beers as I wait to meet my Dutch friends.  This evening we are going to watch a baseball game at the AT&T Park – the home of the San Francisco Giants.  The team – which last won the World Series in 2014 – are not exactly enjoying a vintage season by their lofty standards.  The opposition tonight is provided by their fellow Californians the Los Angeles Dodgers, who, by all accounts, are flying high and may figure in the end-of-season decider.  We catch a bus out to the stadium which is located in the South Beach district and settle into our seats for an evening of hot dogs and beers – the standard fare which us Europeans associate with the game.  Personally speaking, I have to admit that I've no idea of the rules of baseball.  All I really know is that it has no set time and can go on for an indeterminate period.  The last time I saw the Giants play was in their previous stadium named Candlestick Park.  That lasted a few hours if I'm not mistaken.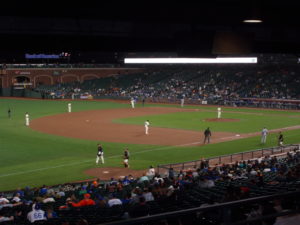 The evening turns out to be a much longer one than any of us had anticipated as the game gets delayed by some unfavourable weather conditions.  A spectacular lightning storm ensues which involves some heavy downpours and absolutely zero baseball.  On a number of occasions the covers are lifted prompting us to believe and hope that the game will continue before long.  But it's not until 10.50 that it recommences and later reports inform us that it did not finish until after 2 in the morning.  Despite the interminable wait, we watch the game until 12.30 at which point we then depart.  It's an early start again in the morning, so we have no choice.  No amount of 'Let's Go Giants' from the patient and good-humoured crowd around us can persuade us otherwise.  But at least the Giants won the game as it turned out.  Perhaps we brought them some good luck by way of our visit.  In any event, it's back on the road for us again tomorrow as we head down the Californian coastline.  There may be two days still left, but there is a feeling in the back of my mind that the Western Discovery journey is drawing to a close.  With a strange mix of elation and some sadness, I turn in at 1.30 a.m. following a typically lengthy baseball game that almost never was.