The Blogger's Word – Movies, Hotels and Iconic Backdrops – Part 12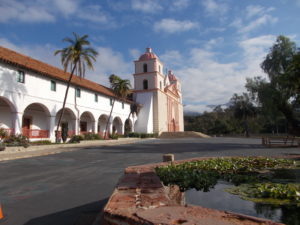 The final part of my Western Discovery journal/blog begins with our departure from San Francisco on Tuesday the 12th September.  My stay in this truly wonderful city has not been as long as previous, but it has evoked lots of good memories and abiding thoughts.  Two nights at the Sheraton Hotel have passed quickly, but I've already made the resolution to return again some day.  If I catch another baseball game on my next visit, hopefully it won't get delayed by rain.  And I must also walk the entire span of the Golden Gate Bridge if time permits.  So long San Francisco for the time being I say as we depart the city by the bay at 8 in the morning.  Hope to see you once again – let's not leave it as long as 26 years.  We stop for a coffee break at Carmel-by-the-Sea in Monterey County at 10.45.  Founded in 1902, the small city of some 4,000 residents has had a few famous mayors down through the years including Herbert Heron, Perry Newberry and Clint Eastwood.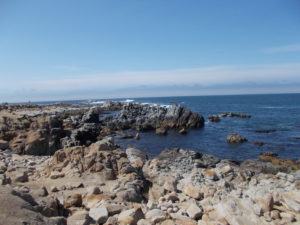 Our coach drive from here to Monterey involves some spectacular views of the Pacific coastline and we arrive into California's so-called first city at 12.30 following a photo stop along the beach.  I grab some lunch with my Dutch friends (a tuna melt in my case) and walk around the streets of the city for a brief time.  We hit the road again just after 2 in the afternoon and arrive into the Danish-influenced city of Solvang at 6 p.m.  Founded in 1911 by a group of Danes who travelled west to establish a colony, the city is indeed notable for the tasteful ways in which it recreates and seeks to offer a taste of Danish life.  There's a replica of the famous Little Mermaid statue from Copenhagen to be found here; a copy of Hans Christian Andersen's childhood home, as well as a statue of the famous author himself.  Aficionados of architecture will surely derive much pleasure from the facades and buildings which bring to mind the Nordic country.  It's a very pleasant evening here and the fine weather further reinforces a feeling of the old world merging with the new.  The penultimate evening of my trip concludes with me having dinner and a few beers with my Dutch friends in a German-style pub which Annette has recommended.  The food is excellent and the alcohol is top notch.  One could imagine oneself in Europe at this very moment.  Solvang is quite a unique location in this respect.  There's nothing tacky about the Danish capital of America; check it out if you ever happen to be in the vicinity.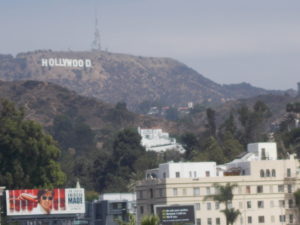 The last official day of our tour begins with the usual early start and the coach departing Solvang at 8 in the morning.  En route to our final destination of Los Angeles, we first stop at Santa Barbara just before 9 and visit the original mission there for approximately 10 minutes.  We travel on then to the courthouse in Santa Barbara which is one of the main tourist attractions of the city.  Composed of four buildings, the Spanish Colonial Revival-style building was completed in 1929.  It includes a Jail Wing which, happily, is no longer used to house prisoners.  My debit card is still continuing to act up on me and I have to visit a number of ATMs before I find one which does not reject my request for cash.  Arriving into Los Angeles at midday, we are escorted to the Dolby Theatre on Hollywood Boulevard and Highland Avenue in the general Hollywood district.  The theatre, which was formerly known as the Kodak Theatre, has hosted the Academy Awards since 2002.  Geographically speaking, it's located adjacent to Grauman's Chinese Theatre and the El Capitan Theatre.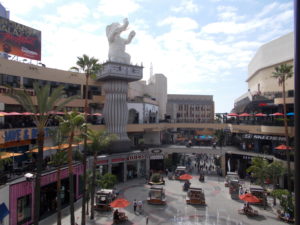 The famous Hollywood sign is visible in the far distance and, naturally, we avail of the opportunity of having our photos taken with it in the background.  Of more immediate proximity to us is the Hollywood Walk of Fame which currently comprises of more than 2,600 five-pointed terrazzo and brass stars embedded in the sidewalks along fifteen blocks of Hollywood Boulevard and three blocks of Vine Street.  Some of the notable names which I spot include Stan Laurel, Alfred Hitchcock, Steven Spielberg and Martin Scorsese.  The name of the late Robin Williams evokes some fond memories as well as a sense of sadness regarding his tragic and untimely passing.  Other stars and prominent names of the entertainment world whom we readily recognise include Star Trek's William Shatner and writer-director Quentin Tarantino.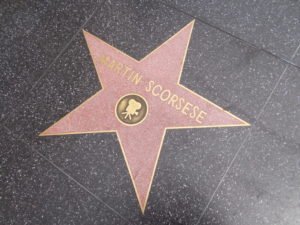 Having explored a huge souvenir store – appropriately named La La Land – we get back on the coach and press onward at 1.05 p.m.  The entrance to the famously affluent district of Beverly Hills provides us with yet another photo opportunity; close by is the well-known Beverly Hills City Hall which was built in 1931 and features in many motion pictures set here.  But alas our coach is not allowed to enter the area of Beverly Hills or Rodeo Drive as these are now off limits to such guided tours.  Perhaps it's just as well – there's no way I would be able to afford the prices of that famous shopping area.  With thoughts of films such as 1984's Beverly Hills Cop and 1986's Down and Out in Beverly Hills on my mind, we move on to Santa Monica at 2.15.  The last stop on our two-week tour, it's somehow appropriate that the beachfront location is home to the famous End of Route 66 sign.  This quite literally is where the trail ends.  Our journey – which has encompassed the states of California. Arizona, Utah and Nevada – is drawing to a close.  A tinge of sadness occurs as well as some creeping nostalgia.  It's been a terrific adventure, but all good things must come to an end.  As Seneca put it, 'Travel and change of place impart new vigour to the mind.'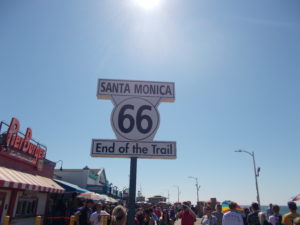 Our final hotel – the Custom Hotel, close to Los Angeles Airport – is the scene for some heartfelt farewells as we bid goodbye to one another as well as Kyle and Annette.  After a quick shower, I head out to dinner with my Dutch friends and we enjoy a fine meal at a nearby Thai restaurant.  To all intents and purposes the holiday is just about over, but some good friendships and a plethora of enduring memories have been struck up.  It's one of several reasons which determine my decision to book a similar trip for September 2018.  I hope you will tune in then for my journal/blog on the Rocky Mountain Frontiers.  Thanks for taking the time out to read this and happy travels to us all wherever we choose to spend our future vacations.