The Blogger's Word – Movies, Hotels and Iconic Backdrops – Part 2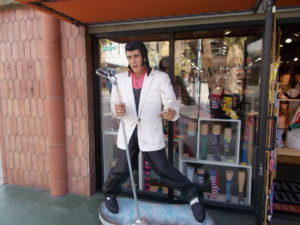 I can't remember a holiday (at least not in recent memory) when I got to bed so early at night and was up at the crack of dawn (almost literally) the following morning.  Perhaps it's a sign that I'm getting old or sad; or even just plain sad in my old age, but the pattern was begun on my first morning in the States when we undertook the day's trip to San Diego, and was pretty much continued right through to the end of the Western Discovery some 14 days later.  On Saturday morning, the 2nd September, 2017, I arose just after 5 a.m., had a quick shower and wandered downstairs to have breakfast in the Burger Theory cafe of the Holiday Inn in Anaheim.  Today we would be hitting the road in a most definite way and I reminded myself that breakfasts in America from this point on would have to be procured in other establishments besides the trusted Burger Theory.  My family back home in Ireland seemed pleased to learn I was still among the living and had an earthly address.  My sister had returned my message on Facebook.  Happy with my current station in life (aren't we all whilst on vacation?), I boasted to her about all that I had seen to date in the land of opportunity – San Diego, the Hotel del Coronado, the USS Midway – and some of the things which were immediately before me – the Grand Canyon, Monument Valley.  I also emailed a French friend who is now living in Belgium – I'm sure she saw through my emphatic swagger as well.
Our tour director Annette had stressed the need to be timely with our departures in both English and Dutch and, happily, our mixed international group of English, Irish, Dutch, Indians and Australians (hope I'm not leaving anyone out) had taken her seriously.  We departed promptly at 8 a.m. and drove into the vast desert.  We arrived at Palm Springs at 9.30 and Annette encouraged us to explore the small resort city.  Some of 1941's High Sierra starring Humphrey Bogart and Ida Lupino was shot here, or in the general vicinity.  The popular destination for some of Hollywood's elite has its very own Walk of Stars as well; some notable names on this include Truman Capote, Natalie Wood, Jane Wyman, Liberace, Mary Pickford, Frank Sinatra and even Cheeta the Chimp (of Tarzan fame).  As you can see from the above photo, I personally encountered The King himself.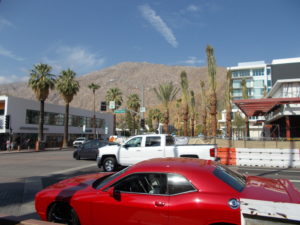 The Sonoran Desert gateway is indeed quite a spectacular approach to this particular destination and, offering a mix of recreational pursuits, as well as benefiting aesthetically from its mid-century modern architecture, it's quite understandable why the city of less than 50,000 inhabitants is a popular retreat for Californians.  Grabbing a quick double espresso and some water, I decided to wander about the main street which is replete with bars, restaurants and souvenir shops.  In one of these, the proprietor enquired where I was from.  'My surname is Walsh,' she informed me as she referred to her Irish roots, 'I hope to go there some day.  I understand it's not quite as hot as here.'  Understatement of the day Ms. Walsh I thought as I tried to come to terms with the heat which was becoming more and more apparent as morning gradually drifted into afternoon.  Annette had warned us to drink lots of water – 'we are going into the desert,' she reminded, 'take plenty of liquid even if you're not feeling thirsty.'
Our coach departed Palm Springs at 10.30 and we made a further stop at a small city called Blythe on our journey towards Arizona.  Located on the California-Arizona border, Blythe is essentially a stopover point for tourists/travellers on their way to larger areas such as Los Angeles and Phoenix.  Dove hunting is apparently popular here.  The current season had just begun the day before on the 1st September.  My previous trip to America had been some 10 years before (Washington, New York and Boston) and I'd forgotten the size of supermarkets in the United States generally.  Annette suggested we grab some lunch-to-go at one such establishment prior to our departure from Blythe, but she hadn't quite conveyed the nature and scale of the retail behemoth before us.  Many of my fellow passengers struggled to come to terms with this I do believe.  Personally speaking, I reminded myself of my J1 Visa days shopping in a nearby Safeways in the Sunset District of San Francisco.  The only difference between then and now was that I actually had some money in my pocket at the present moment.  The summer of 1991 in San Francisco was not exactly my most lucrative period financially; but then again how many students are moneyed at the tender age of 19 I suppose (more on this particular subject in a blog to follow).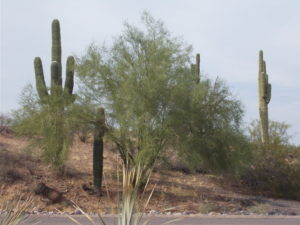 A Snapple and roll sufficed in any event and we were back on the road once again at 1.20 in the afternoon.  We arrived at our eventual destination for the day as Kyle manoeuvred the coach into the parking lot of the We-Ko-Pa Resort and Conference Centre near Scottsdale, Arizona just after 4 in the afternoon.  The Sonoran Desert is a palpable element of the experience here by way of the salubrious location, which includes Arizona's Four Peaks, Red Mountains and a plethora of giant cacti for as far as the eye can see.  If you don't believe me, then just refer to the above picture.  This was taken on the grounds of the aforementioned We-Ko-Pa.  But social interactions took precedent on this particular evening as both groups (us mixed languages ones and the Germans) were invited to attend a drinks reception at 6.  The drinks reception was something of a misnomer as it involved only one free drink alas and I suspect that, just like myself, many of my fellow passengers were weary and merely anxious for a soft bed for the night.  The thing about travelling on your own (as I was doing on this occasion) is that it can be a slightly daunting thing at times and serves as a reminder that you are not a in a relationship.  I've done many escorted tours over the years by myself and with significant others and the experience varies depending on whether you are with a partner or girlfriend or travelling solo.  Personalities on groups vary as well, but I had a good feeling for this one and so put my best foot forward in terms of socialising with some of the couples and other individuals.  Yes, I'm by myself I told them.  I've done this many a time.  It's no big deal.  And why oh why isn't there more free booze?!  Eventually, (and not due to any creeping sense of desperation I might add) I grabbed a quick bite to eat following the single drink reception and then retired to my attractive room in the We-Ko-Pa.  There is a casino on the grounds incidentally, but I decided to forego the temptation.  The Hangover was on one of the TV channels as I surfed from the comfort of my bed.  I'll be there in a few short days I thought as I watched Bradley Cooper and his pals get up to all sorts of shenanigans in Vegas.  Once again – and not for the last time – I retired a short while after 9.  Just like I said previously – becoming old and sad in my…well…old age!!  A day's journey through Sedona and on to the iconic and breathtaking Grand Canyon coming your way soon.