The Blogger's Word – Movies, Hotels and Iconic Backdrops – Part 3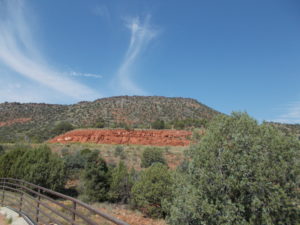 It's day 3 of the Western Discovery – September 3rd, 2017 to be precise – and we've come to one of the centrepieces of the trip as a whole by way of Arizona's famous and vast Grand Canyon.  I'm awake once again at 5 in the morning and it's not so much out of excitement as the early hour I've been getting to bed ever since my arrival in America a few days ago.  Is this what it's come to I ask myself.  Have I become this sad in my advanced years?  Or is it perhaps a heightened sense of discipline on the part of this seasoned traveller?  Decide for yourselves.  I get up and have a quick shower and check that my luggage is ready once again for the coach.  In all, we will be staying in eleven hotels for the duration of the Western Discovery – no sympathy I imagine for someone who leaves a toothbrush or other such personal belonging behind.  I remind myself that this is not the sort of holiday for everyone, but it is one which I enjoy immensely.  I've never been a sun holiday person even though I fully accept the merits of its form of relaxation.  I need to be on the move and I like the idea of moving between so many different establishments.  With that in mind, I take a quick walk around the grounds of the We-Ko-Pa before breakfast (which is due to commence at 6.30).  The two German ladies from the other Western Discovery coach are also up at this early hour.  I wonder if we are beginning a sort of competition as to who gets served first at each hotel.  So far we are neck and neck as far as I can tell.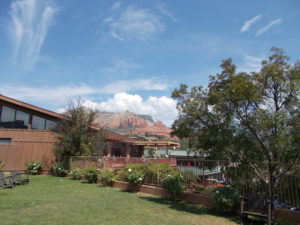 We depart at 8 as per usual and pass through Scottsdale en route to the Grand Canyon.  My sources inform me that films such as the Coen Brothers' Raising Arizona, Wayne's World and Bill and Ted's Excellent Adventure have been shot in the vicinity.  Back home, an adventure of the sporting kind is taking place.  It's the day of the All-Ireland Hurling Final in Dublin and the counties of Galway and Waterford are doing battle.  Looking at my watch, I realise that the game has already begun given that Ireland is eight hours ahead.  Privately, I wonder which one of the teams will end years of a barren spell without the coveted title – 29 years in Galway's case; 58 years in Waterford's.
We stop in the small city of Sedona at 12.10 p.m. and take a lunch break for about an hour.  The sandstone formations which are such a distinctive feature here have been well employed by the film industry over the years – some of Johnny Guitar was filmed here, as well as the original version of 3:10 to Yuma starring Glenn Ford and Van Heflin.  The red rocks which so dominate the backdrop have been used to double for California and Texas in the motion picture business.  Quickly devouring a club sandwich and a coffee, I go in search of an attractive t-shirt in order to mark my short time here.  My packing for this holiday is prudence personified (at least as far as I'm concerned) insofar that I brought only two such garments with me in the expectation that I'd buy many here whilst on the road.  A sandstone-coloured t-shirt with the name Sedona blazoned on its left-hand side is the third such t-shirt I've bought so far on my travels.  That's one per day and I'm already determined to pick one up at the Grand Canyon itself – I figure they don't sell ones proclaiming 'I climbed the Grand Canyon!' or anything like that.  In any case, I doubt anyone would believe me on that score; perhaps one gullible soul, who knows.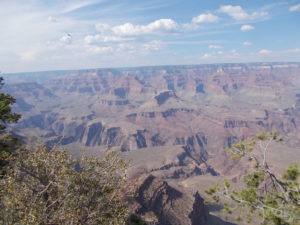 We enter the Grand Canyon National Park just after 2 in the afternoon and both Annette and Kyle are emphatic in their instructions regarding the walk along the southern rim which many of us will undertake.  The ultimate destination of this early afternoon saunter (in the considerable heat) is the Bright Angel Lodge which houses a small museum and…you guessed it…souvenir shop.  The path to this complex is a relatively straightforward one according to Annette, but Kyle seems concerned that some of us might lose ourselves nonetheless.  'If the Canyon is on your right-hand side, then you are going the correct way,' he tells us, 'but if it's on your left-hand side, then you are headed in the wrong direction.  Right-hand side…GOOD!  Left-hand side…BAD!'  No doubt, he must have some less than endearing memories of wayward tourists here in the past.  How could people mix up such simple instructions I wonder to myself.  Well, sometimes they just don't plain listen.  And sometimes they develop an undesired streak of sheer boldness as well.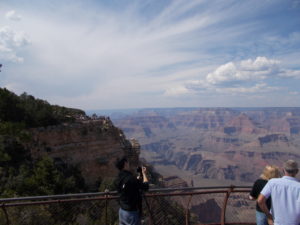 The Canyon more than lives up to its billing of course and we are once again blessed with some glorious weather (should I really be surprised by this?).  Part of the Colorado River Basin, the Canyon has developed over the course of some 70 million years (that's neither yesterday, nor the day before); for the record, it's some 277 miles in length, up to 18 miles wide and gets down to a depth of over a mile.  No matter how often you repeat those figures in your head, there is nothing to truly prepare you for the breadth and scale of this geological marvel.  Teddy Roosevelt – whose face is one of four former presidents adorning Mount Rushmore in South Dakota – was a major proponent of the Canyon's and hunted in the area quite often.  As I blissfully walk along the trail of the southern rim, I hunt for the perfect photo.  But, in truth, no such shot exists.  Every twist and bend of the path brings you to an even more stunning vista than the previous one.  A digital camera is an absolute requirement.  I'm using one for the very first time on vacation and feel quite proud of myself; and yet, the old fogy in me has also deemed it necessary to bring a disposable camera along…just in case the new technology should accidentally find its irretrievable way into the considerable mouth of the Canyon.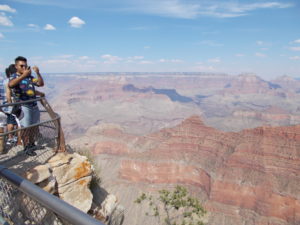 The walk along the southern rim seems to take longer than expected, but I imagine it's because I'm stopping so much to bask in this truly great natural wonder.  And I'm still searching for that perfect shot all this time – stop it you fool I think.  You're no Ansel Adams!!  Finally, I reach the Bright Angel Lodge and the aforementioned gift shop.  The selection of t-shirts here isn't quite as good as I hoped, but I nevertheless settle on one just to mark this time again.  A Grand Canyon National Park mug is also purchased.  Immediately, I begin to worry about it breaking in my luggage on the long trip home, or even before I depart the USA at all.  I must buy myself another bag I determine in a moment of traveller's clarity.  I wonder how much they'll let me carry on when I board the plane in Los Angeles in 10 days' time.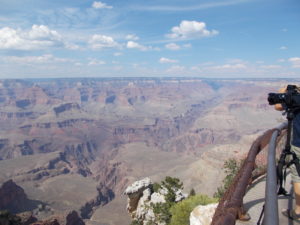 Many of my fellow passengers opt for the helicopter ride over the Canyon, but I decide against it.  At $200 for 25 minutes, I've no doubt it's an experience and a half, but I'm already more than satisfied with the day's proceedings.  The bus drops the flightless ones among us to the Great Western Hotel at 4.30 and we check into our rooms.  The shower in my bathroom does not appear to work and I politely ask at reception if this can be sorted.  A helpful hotel employee turns up at my door less than 10 minutes later and demonstrates how it should be done.  I feel slightly foolish and there I was thinking I was making great technological advancements with my digital camera.
On the main street of the small resort town, I buy presents for my Mom and nephew in the Indian Trading Post store.  The shop assistant immediately enquires as to my nationality when he hears the accent.  'Have you ever read Ulysses?' he asks when I identify myself as an Irishman.  It's the first time I've been asked such a question and the directness concerning Joyce's seminal modernist novel catches me slightly off guard.  Based on my previous travel experiences, the most common follow-up questions are ones such as – 'Do you live in Dublin?' or 'Do you like Guinness?'  But this guy – fair play to him by the way – has gone straight for the literary jugular.  Alas, despite having a Bachelor of Arts in English and History, I admit I have never read James Joyce's 1922 publication.  But that's ok, neither has my new friend.  Recommending Dubliners instead (a collection of fifteen short stories by the same writer first published in 1914), I bid him a good evening.  He looks vaguely disappointed as I leave; perhaps he was hoping for a quick synopsis on Ulysses there and then, I can't be quite sure.
My evening ends in the salubrious environs of a Wendy's and the attendant fast food this establishment has to offer.  Consuming a large burger and fries, I ponder the events of the day and the deep musings these have brought to mind.  Some Joycean motifs and common themes even raise their unlikely head.  What a place to have these I think – Wendy's!!  Of all the fast food outlets in all the towns of the world!!  As I take to my bed in my-now customary early fashion, I wonder if the amiable guy back at the Indian Trading Post is having a good laugh at my expense.  For all I know, he might have been an underground Joycean scholar.  I must keep an eye out for him at next year's Bloomsday in Dublin.