The Blogger's Word – Movies, Hotels and Iconic Backdrops – Part 4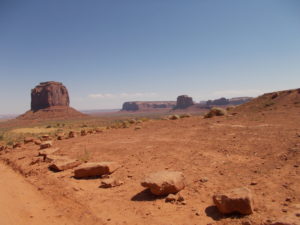 It's a 5 a.m. rise for me again and the day starts out in a promising way when the buffet breakfast in the hotel – which begins at 6.30 – is free.  Now I have my doubts as to whether this was intentional or not.  Some of my fellow passengers have a different package to myself which includes the first meal of the day included in each of the hotels we stay.  As for myself, I'm on the option which does not include any meals whatsoever, subject to the discretion of the hotel in question of course.  The girl who is allocating tables I do believe has made a mistake and has not charged some of us for our breakfasts; she seems to be somewhat confused imagining that we all have the same deal.  I did try to be honest about it and emphasised that I hadn't paid for this in advance.  But who am I to look a gift horse in the mouth; happily I munch away on my sausages and scrambled egg.  The coffee, as usual, is pretty good and in abundant supply.  Can this day get any better I wonder to myself.  Yes, it can – we're on our way to Monument Valley, one of the main reasons I chose this particular tour.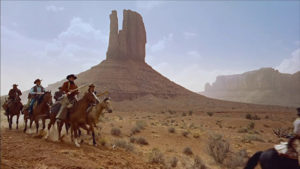 Our coach departs at 8 a.m. and we stop at the Grand Canyon Desert View at 8.40 for some more pictures and breathtaking vistas.  We're on the road again at 9.20 and pass into the Navajo Reservation just after 9.30.  John Wayne once referred to this part of the country as the place 'Where God put the West.'  The Duke shot to fame by way of 1939's Stagecoach, much of which was shot in Monument Valley and its surrounding hinterland.  That famous western was directed by Irish-American John Ford who collaborated with Wayne on over a dozen feature films.  To this very day, Ford still holds the record for number of Oscar wins for Best Director – four in total for The Informer, The Grapes of Wrath, How Green Was My Valley and The Quiet Man.  There's many a story and myth about how Ford (who directed nine movies in the area between 1938 and 1961) discovered Monument Valley, but the credit for this rests largely with a man by the name of Harry Goulding who had made this place his home in the 1920s.  With the onset of the Great Depression in America in the 1930s, which took its toll in the Navajo Nation like everywhere else, Goulding decided to market the area's most valuable commodity, its awe-inspiring panoramas.  Informed by a reliable source that Walter Wanger Productions was planning a western to be helmed by Ford, Goulding travelled to Hollywood where he managed to convince Wanger and Ford to avail of the natural wonders of Monument Valley for their western film.  The rest of course is history.  Stagecoach went on to be a critical and commercial success which helped launch the valley's association with this genre.  One point of detail I should add though is that Stagecoach was not the first feature film made here.  That particular honour belongs to a 1925 silent film called The Vanishing American which starred Richard Dix.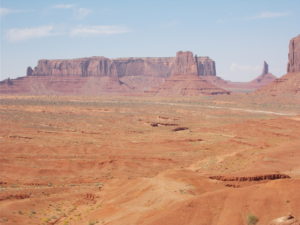 A list of subsequent films which have been shot here is as long as your arm, but I will take the time to mention just a few of these – 1946's My Darling Clementine, 1948's Fort Apache, 1949's She Wore a Yellow Ribbon, 1950's Rio Grande, 1956's The Searchers (as per one of the images above), 1969's Easy Rider, 1990's Back To The Future III, 1993's Forrest Gump and 2000's Mission Impossible II.  My own personal favourites among these would include Clementine, Yellow Ribbon and Ford's immaculate The Searchers – the greatest western ever made.  Who can possibly forget that iconic ending as Ethan Edwards (John Wayne) departs the homestead framed from the vantage point of a closing door?  They just don't make them like they used to I tell myself as my sense of anticipation mounts.  But sustenance for the tour to come must take priority and I avail of a McDonald's on a stop we make prior to entering the valley.  The last thing I want is to feel hungry and lightheaded in John Ford Country.  That just wouldn't do as I walk in the footsteps of famous actors such as John Wayne and Henry Fonda.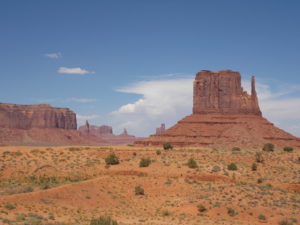 Goulding's Lodge – formerly known as Goulding's Trading Post – is the point where the coach arrives at just shortly after 1 p.m. local time (Utah is in a different time zone to Arizona).  Added to the National Register of Historic Places in 1980, it feels like a suitable place to begin from and we are introduced to our Navajo guide who will take us around many of the valley's signature features.  We get on board a small open-air bus which seats up to 30 people by my reckoning.  It's a sturdy vehicle necessary for the terrain which is, thankfully, devoid of any commercial intrusions in the main.  Annette isn't joining us for the hour's tour; no doubt she's seen it on many other occasions.  If I were a tour guide, this is the one excursion I'd keep doing over and over I do believe.  How could you ever get enough of a place like this?  It really feels like God's Country as opposed to John Ford Country.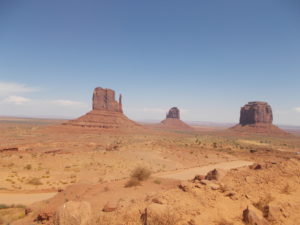 The border between Utah and Arizona cuts between the North and South Mittens (as they're known) and this is one of the many interesting facts which our excellent Native American guide points out to us.  Quite simply put, the valley is every bit the remarkable landscape I'd hoped it would be.  It's little wonder that Ford and Wayne returned here a number of times to shoot some of their most famous films. This is what the west looked like as I grew up watching these entertainments.  To stand here now and take it all in feels like something of a culmination.  I've finally arrived at one of the great film locations.  This is one of the things cinema does to you – it ingrains certain images and moments; it makes them synonymous with a certain experience which is both powerful and deeply resonant.  I feel suitably in awe.  Trigger-happy (so to speak), I take as many pictures as my digital camera and cheap disposable will allow.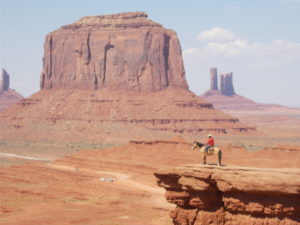 The highlight of the tour is surely John Ford Point which is referenced in the image above.  A solitary cowboy sits out there on his horse and stares at the vastness of it all.  Set against the big rock in the distance and the azure sky, he is the subject of many a photo (perhaps as many as some of the Hollywood stars who have graced the area).  Our Navajo guide encourages us to leave him tips in a nearby receptacle.  He's more than earned it in my estimation, as has our cheery driver/escort who imparts some amusing anecdotes along the way in English and his own mother tongue.  I earnestly shake his hand as we return to Goulding's Lodge and wonder if he realises how much this has meant to me.  Monument Valley was on my bucket list for a very long time.  Now a return trip sometime in the future has been added to yet another bucket list.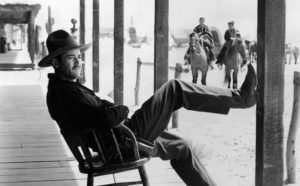 Inevitably, there is a souvenir shop in Goulding's Lodge, but this is definitely a place from which I want to bring one or two mementos.  I purchase a Monument Valley Trading Post sleeveless top as well as a t-shirt and a book on the history of film-making in Moab and Monument Valley by an author named Bette L. Stanton.  Appropriately enough, John Wayne graces the cover; the book also includes a history of television shows and commercials which have availed of the stunning scenery.  Alas, the moment of departure comes, but, being the seasoned traveller now (I hope), I remind myself of the fact that all such memorable excursions have their end point.  We have many more places to visit yet as part of the Western Discovery.  Much as I'd like to lounge like Henry Fonda above, I too must move on.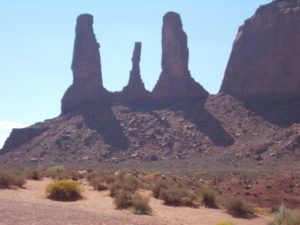 We arrive at the Best Western in Page, Arizona just after 5 in the evening and it's the familiar routine now of receiving key cards from Annette and hauling luggage to the rooms.  Situated near Glen Canyon Dam and Lake Powell, the small city in Coconino County numbers some 7,000-plus people and, happily, has a Safeways supermarket some 10 minutes up the street.  Many of the restaurants are closed this evening on account of it being Labor Day in America, a national holiday.  For those of us who do not have breakfasts included in our package, Annette has warned that the hotel will not accommodate us with either a complimentary or a paid breakfast for that matter.  And so it's necessary to get some provisions in advance for the morning.  Purchasing a package which consists of three huge filled rolls, I decide to eat in my room (how sad is that you will say) and also treat myself to three beers.  Scorsese's The King of Comedy starring Robert De Niro is on television and I watch most of it as I chew on the first of these culinary behemoths.  I bet John Wayne was never reduced to this whilst filming in Monument Valley I think.  Though then again, it might have happened on the set of Stagecoach before he became famous.  Hoping against my better sense that someone might one day discover me in such a fashion, I retire a short time after 9 o'clock.  Goodnight Duke.  Goodnight Monument Valley.  It's been a day to savour and I've finally visited the place where God put the West.