The Blogger's Word – Movies, Hotels and Iconic Backdrops – Part 5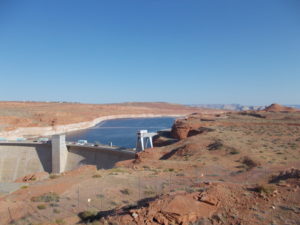 It's a 5 a.m. rise for me in Page and after a quick shower I grab the large rolls in my fridge which I procured the evening before in a local Safeways supermarket.  My improvised breakfast is a mixture of good news and bad news.  The good news is that I manage successfully to make two cups of coffee with the fancy coffee maker provided in my room.  Truth be told, it's a fairly straightforward apparatus, but for a technophobe, such as myself, this represents a major victory.  I slurp the first cup down with a deep sense of satisfaction and then make the second cup just for the hell of it, just because I can.  Having mastered this machine, I consider the idea of buying one when I return home.  The bad news is that the fridge in my room appears to be working a little too well and has turned my rolls into semi-icy blocks of bread and meat.  Tentatively, I bite around the edges scared to death of picking up some sort of food poisoning in the process.  Eventually, I chuck them both in the bin.  The last thing I need on a tour like this – which consists of long periods of travel on a coach – is a dodgy stomach.  Be sensible about this I tell myself, take the hit.  Lunch is surely only six or seven hours away.  You can do this.  The coffee from the fancy machine will sustain you in the meantime.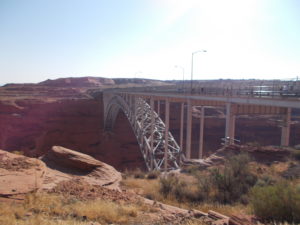 I leave the room at 7.20 and take my bag to the coach.  Most of the hotels on the tour offer the service of taking your bag to your means of transport, but I just prefer to haul it by myself.  Perhaps I just don't trust arranged systems like this.  Perhaps I don't want to feel lazy.  Perhaps I've heard one too many horror stories concerning lost luggage.  Kyle is already loading up the baggage compartment when I arrive.  By now I'm sure he's identified me as that Irish guy who insists on bringing down his own bag.  I wonder if he can appreciate my rationale.  Maybe he thinks I'm just plain paranoid about it.  I go for a short walk and board the bus at 7.50.  There are no designated seats, but by now – day 5 of the Western Discovery – it's obvious as to who sits towards the front, in the middle, and at the back.  Annette has encouraged us to rotate as regards the front seats, but most people seem to be content with where they are at.  As for myself, I'm tending to sit at the very beginning of the middle section.  The bus is never more than half full and so I always have a double seat to myself with a prime window view.  Who ever said travelling by yourself was a bad thing?  I get to do what I want, plus I have an unimpeded field of vision as regards the passing terrain.  We're only a mere twenty minutes on the road when we stop at Glen Canyon.  The concrete arch-gravity dam here forms Lake Powell, one of the largest man-made reservoirs in the USA.  The reservoir – which is named after John Wesley Powell, a one-armed American civil war veteran – was the setting for some of the original Planet of the Apes film and its 2001 remake.  Just watch the opening sequence involving Charlton Heston and his astronaut buddies and you might recognise some of it.  We walk the bridge and take some pictures of the dam and it's not long before we're on the road again.  Annette reminds us to adjust our watches given the time difference in the state of Utah.  One hour forward might not seem like much, but it could prove disastrous tomorrow morning as regards the coach.  So far, everyone's been bang on time for each and every departure.  And in spite of this, we still manage somehow to lag behind our German counterparts.  They're just far too clockwise for words.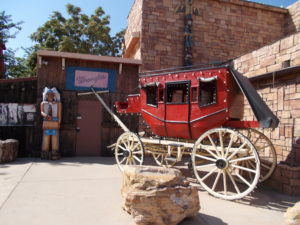 En route to Bryce Canyon, we stop briefly in the small city of Kanab which is located in Kane County, Utah, just north of the Arizona state line.  Popularly known as Utah's Little Hollywood, this has been the setting for many movies and television shows including The Outlaw Josey Wales, El Dorado, the aforementioned Planet of the Apes, Gunsmoke, The Lone Ranger and Daniel Boone.  In a local store/gift shop named Denny's Wigwam, I come across a t-shirt for my nephew which is impossible to resist.  'Who pooped in the Park?' should prove popular with him and his parents.  Yes, the humour is vaguely puerile, but, then again, sometimes the very best humour is meant to be just that.  With this precious purchase safely lodged in my bag, we leave Kanab at 11.30 local time and make tracks for Bryce Canyon.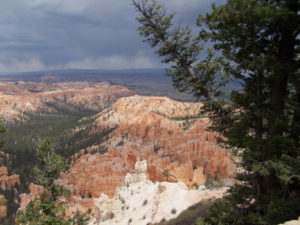 Our first port of call in Bryce is the Best Western Hotel complex where we are to stay and I'm eternally grateful for the local restaurant which Annette points out to us upon arrival.  A turkey club sandwich is on the menu today and I tuck into it with the enthusiasm of a man who hasn't eaten a proper meal since the previous day (which was, of course, the case if you'll remember).  With food in my belly once again, I'm ready to take on the world and the national park of Bryce Canyon seems like just the ticket.  The coach picks us up at 1.50 and, along the way, Annette informs us that this is her favourite national park of the Western Discovery tour.  Kyle also weighs in with his personal opinion that Bryce is the best of the bunch.  The term canyon is something of a misnomer in this particular case as Bryce is not really a canyon as such, but can be more properly described as a collection of giant natural amphitheatres.  Annette advises us that the more intrepid ones among us may descend into the geological structure if we wish; however, she quickly adds that we should only do so if we are prepared, and fit, for a slight ascent thereafter.  Naturally, with turkey club sandwich under my t-shirt, I feel entirely up for the challenge.  How difficult could it be I ask myself with residual memories of once having climbed Heart Attack Hill in Kings Canyon, Northern Territory, Australia.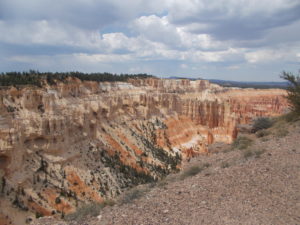 We go to a lookout point first for the customary plethora of photos.  An Australian lady who is on the tour jokes with me about my prospects of returning from the depths of the canyon.  Wondering if she's familiar with the aforementioned Heart Attack Hill, I jest about the stretcher bearers I will require if things go wrong down below.  But a small part of me warns against tempting fate in this way.  Furthermore, there are dark clouds brewing overhead.  It looks as if there is going to be a downpour – that might make the path just that bit more difficult and slippy I remind myself.  I'm joined by three Dutch people from the tour who have been nameless up until now, but introductions are exchanged and a commonality of purpose quickly sets in.  We are determined to make it down and back up again in spite of the ominous sky.  One of them happens to be a physical therapist – I ask myself if this is a good thing or a very bad portent.  The descent is the most difficult part and also the most hazardous.  Mercifully, the rain stays away and we walk among the hoodoos (tall, thin spires of rock), the Douglas Firs and Ponderosa Pines.  The air is clear and the scenery spectacular at the base of the canyon.  The hike itself is moderate in nature; nowhere as exacting as the lung-bursting one Down Under.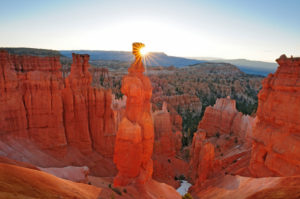 We arrive at our destination at Sunrise Point at 4.15 and meet some of the rest of the group who decided to walk along the rim instead.  Accounts of valour and feats of endurance are greatly exaggerated on our part, but none of them really believe us on account of our pristine appearance.  In future I should remember to adapt a disheveled look in such circumstances.  A bottle of water applied to the head would make for a more plausible story; perhaps even a semi-ripped t-shirt.  If Kanab is Utah's Little Hollywood, then a flair for the dramatic would surely not go amiss I imagine.  Charlton Heston managed it with great aplomb in the original Planet of the Apes after all, so why can't I?  'Take your stinking paws off me you damn dirty bobcat!'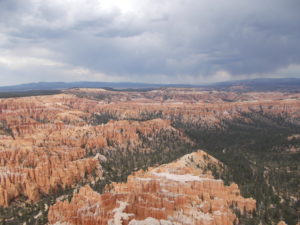 The coach leaves this glorious place at 4.45 and I get to my hotel room just after 5.  1976's Rocky is on one of the TV channels and I watch as Sly Stallone pounds the carcasses in the meat freezer.  There's an optional show across the road here in Bryce this evening which takes place at Ebenezer's Bar and Grill, but my understanding is that it's a country and western entertainment.  I've never been a fan of this music by and large and decide instead to dine at the same restaurant as earlier.  The queue which is almost coming out the door quickly puts me off that idea and, instead, I opt for an uncomplicated plate of fish and chips elsewhere.  Proud of my accomplishments for the day, I retire early and watch a couple of episodes of Modern Family on television.  I wonder if Phil Dunphy has ever been to Bryce is one of the last thoughts that goes through my head as I turn in.  Being the cool Dad, as he regards himself, I've no doubt that he'd want to complete the hike we undertook earlier today.  Success is 1% inspiration, 98% perspiration and 2% attention to detail as he would be wont to say.