The Blogger's Word – Movies, Hotels and Iconic Backdrops – Part 6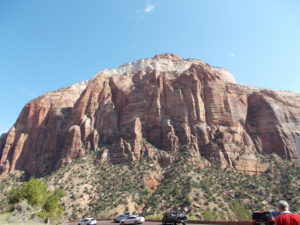 I take my usual short walk before breakfast and see a small deer crossing the road just before 6 a.m.  It's a nice image to begin the day with, but I also can't help feeling for the safety of these precious animals as they traverse a busy thoroughfare.  Unfortunately, accidents must happen from time to time especially in the semi-darkness as is the case this morning.  The light is just coming up as I make my way into the diner for breakfast before 6.30.  The buffet breakfast at the Best Western here is particularly good, especially the pancakes and scrambled egg.  My coffee mug gets refilled several times and I remind myself not to overindulge in this regard.  So far I've managed not to have to use the restroom on board the coach and I intend to keep it this way if at all possible.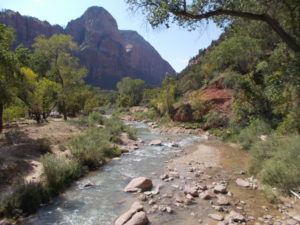 One of the Dutch couples on the tour are celebrating their 50th wedding anniversary and Annette passes around a card for us to sign.  I have no idea of the word for congratulations in Dutch, nor can I think of anything suitably profound to say, so I simply extend them my best wishes along with my signed name and nationality.  So they were married in 1967 I think to myself – the same year that Elvis was married to Priscilla Beaulieu in Las Vegas and The Beatles released their famous Sgt. Pepper's Lonely Hearts Club Band album.  The Six-Day War began and concluded in June of that year and Sandie Shaw won the Eurovision Song Contest performing Puppet on a String.  Major film releases from 1967 included The Graduate, Bonnie and Clyde, Cool Hand Luke and You Only Live Twice.  The reference to Las Vegas is an entirely apt one as that is our ultimate destination for the day, but, en route, we will be taking in Utah's Zion National Park.  It promises to be a day of contrasts in that regard; relative peace and tranquility followed by the glitz and hubbub of America's Playground.  Stopping at a service station for a coffee on the way, many of us are captivated as we watch a number of hummingbirds vie for water at a hanging receptacle.  It's quite extraordinary to think that these birds have wing-flapping rates which can vary between 12 beats to in excess of 80 beats per second.  Nature is truly a remarkable thing and never ceases to amaze.  The movement of these creatures is seamless and not a little bit hypnotic.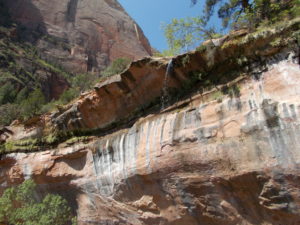 We enter Zion National Park at 10.30 in the morning and are afforded a photo opportunity before travelling on to Zion Lodge.  For the keen hikers amongst us, there are seven trails in all with round-trip times of half an hour to four hours.  The one taken by us a relatively easy one with few gradients or tricky inclines.  A time factor informs this.  The coach is due to leave at 1 p.m. approximately.  This is one of the longest days on the tour when the one hour time difference between the states of Utah and Nevada is factored in.  No sense in getting too intrepid or curious in our approach.  Vegas awaits us further up the road.  Annette has already forewarned us about the stifling heat in that city.  The walk, thankfully, proves to be uneventful, but it certainly is spectacular in the vistas we encounter along the way.  The most famous film shot here by my reckoning was 1969's Butch Cassidy and the Sundance Kid starring Paul Newman and Robert Redford.  Looking out across the wide tract of land from one particular vantage point, I visualise some of the best scenes from that film which involve the so-called super posse pursuing the two outlaws.  I can't be sure if these were shot in Zion, but the location certainly lends itself to this type of film genre.  Some 229 square miles in total, the park's most distinctive geographical feature is undoubtedly Zion Canyon which is located close to the entrance.  Formerly known as Mukuntuweap National Monument, the park had its name changed to Zion in 1918, the name used by the Mormons.  For my money, that's a much snappier and far more pronounceable title.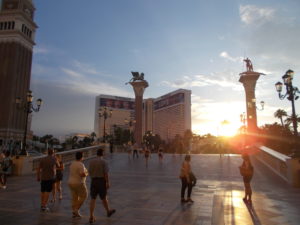 We stop for lunch at 2 p.m. at an eat-as-much-as-you-can establishment which Annette promises is one of the very best of its kind we're ever likely to come across.  She's not telling a lie; the choice of starters, mains and deserts is worth waiting for and every conceivable type of meat and salad is on offer.  They even have candy floss in the desert and sweet section.  Candy floss for God sake – it feels like we're in a fairground.  The excess of food and other such culinary temptations is somehow appropriate as we finally hit the outskirts of Vegas at 4 that afternoon.  As we enter America's 28th-most populated city, we see some of the iconic buildings and hotels which litter the 6.8-kilometre Las Vegas Strip.  The Trump International Hotel Las Vegas – whose exterior glass is infused with gold – is one such building.  Other notables include The Mirage, The Flamingo, Caesar's Palace, The Bellagio, Paris (with its replica Eiffel Tower), New York-New York and MGM Grand.  Annette directs our particular attention to the Stratosphere Las Vegas which has the famous Top of the World revolving restaurant.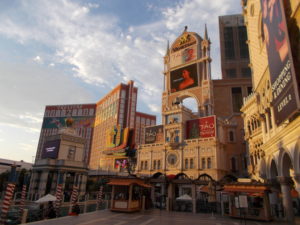 The hotel we're staying in is the Luxor Las Vegas which is situated close to the southern end of the strip beside Excalibur and the Mandalay Bay.  I've opted for the night tour of the city, which is due to commence at 5.30, and so hurry to my room and avail of a quick shower.  The size of this hotel and others in the vicinity is something none of us on the tour has ever experienced before.  Shaped like a pyramid – as per its Egyptian name – the hotel has in excess of 4,400 rooms with a large casino on its main floor and shopping malls shooting out from its centre like arteries.  As I change for the impending tour, I'm quite honestly afraid that I won't be able to find my way back to where Kyle has parked the coach.  It's easy to become lost in a building of this scale; this is a far cry from anything we have back home, a far cry from anything anywhere else for that matter.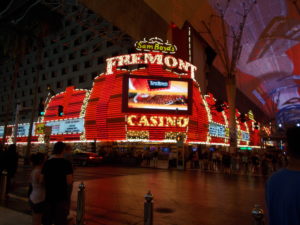 My just-about adequate orientation skills kick in fortunately and I'm mightily relieved when I see Annette and some of my fellow passengers at 5.30.  The walking tour of the strip includes visits to The Venetian, which is located on the site of the old Sands Hotel, and uses Venice in Italy as its design inspiration.  Having watched a short performance of Italian opera, we marvel at such features as the Rialto Bridge, the replica of St. Mark's Square and the Gondolas which pass by as per the actual Venice.  It truly has to be seen to be believed.  This is a resort hotel which really takes the breath away.  The strip outside is bustling and teeming with tourists just like ourselves as we visit other complexes such as Caesar's Palace.  We're definitely no longer in Utah I remark to one of the guys as I ponder what has been a remarkable day of contrast.  Las Vegas feels like several million light years away from Zion.  There's an electricity in the air which is unmistakable; the heartbeat of Sin City seems to move as fast as the wing flap rates of those hummingbirds we'd seen earlier.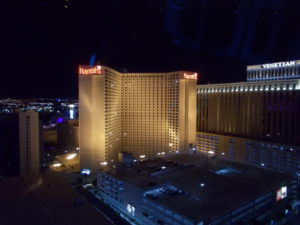 We pass many of the wedding chapels – for which Vegas is so famous – and even catch a glimpse of Elvis himself dressed in his trademark white jumpsuit.  Chances are that he has just officiated inside at someone's nuptials.  Annette, for her part, shares with us a story concerning a Dutch couple she had on tour from the previous year who decided to tie the knot here.  It seems quite straightforward according to her.  With memories of The Hangover still fresh in my mind, I wonder how many couples have rushed into this on the spur of the moment and soon lived to regret their decision.  'Wise men say, only fools rush in' as the lyrics to Elvis's famous Can't Help Falling in Love go.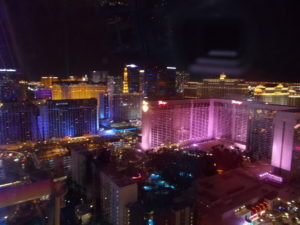 The highlight of the evening tour is undoubtedly the High Roller which, for the record, is the world's tallest Ferris wheel at the time of writing this article.  550-feet tall (or 167.6 metres), it was first opened to the public in March 2014 and affords some of the very best views of the city below.  A complete rotation lasts some 28 minutes as myself and two Australian friends discover as we hop on board.  In our passenger cabin (or capsule as its known), we're accompanied by some screaming girls in their late teens who seem to think they're all princesses of Vegas tonight.  Like ourselves, I can only imagine it's their first time here and, indeed, first time on the High Roller.  Anyhow, how can I possibly blame them for their gushing enthusiasm.  This is Vegas by night after all.  Even the most hardened of cynics would warm to its lights and attendant paraphernalia.  Myself and my two Australian friends catch a taxi home following the High Roller and I'm greatly relieved to find my bedroom without too much confusion.  Retiring just after 10, I contemplate this day of diversity once more.  A solitary deer on a darkened road, a group of hummingbirds, Zion National Park and, lastly, Vegas itself.  You just got to love the USA for its ever-changing environs.  A few hours on the road and it feels as if we've passed through several different lands.