The Blogger's Word – Movies, Hotels and Iconic Backdrops – Part 7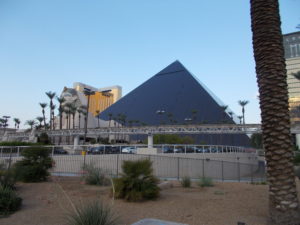 Well Vegas is certainly the town that never sleeps as they say and I can well believe it as I wander out of my room just after 5 in the morning and go looking for a place in the hotel that serves breakfast.  The casino floor of the Luxor is still quite active in spite of the early hour and I can only imagine how many of these people have partied through the night and gambled some of their holiday budget on the tables and machines which are strewn everywhere the eye can roam.  The machines are of particular interest as are the individuals who sit in front of them.  There are games based on every conceivable premise and more than a few on popular entertainments.  The Willy Wonka and the Chocolate Factory one catches my attention in particular.  I wonder how Roald Dahl would feel about this.  Or Gene Wilder for that matter.  Buttons are pressed and released as if there's some sort of logic or method involved in these flashy apparatuses.  Whatever happened to the good old-fashioned one-arm bandit I wonder as the smell of food entices me in a certain direction.  No doubt there are many of these available for use on the floor as well.  Most of them appear to be electronic now.  Personally speaking, I don't gamble; but even if I did, or were so tempted, I don't think I'd know where to begin.  The casino is huge and the point is to move you through it no matter where you are going within the hotel.  There's also a Titanic exhibition on offer as well as a Real Bodies exhibition.  Only those of us who have visited Las Vegas can comprehend the size and scale of these establishments.  Big is not the word.  Behemoth is far more apt.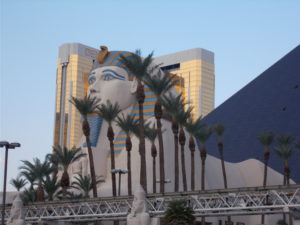 I dine in a fast food joint called Johnny Rocketts partaking of a sausage, bacon and egg muffin and pieces of deep-fried grated potatoes, more popularly known as Tater Tots (not exactly a low calorie breakfast you can imagine).  Some all-night revellers heavy of eye and weary of body order some food as I swallow the Tater Tots down like they were popcorn.  Unsurprisingly, they look a tad hungover with raspy voices which would certainly never get them a gig in this town.  I've been that soldier many times in the past myself and I know just how they might be feeling.  Sometimes you wonder if food is the right choice in such a circumstance.  Isn't your liver already overworked without more being thrown at it?  But then the munchies kick in and that settles that particular debate.  The four guys and solitary lady look as if they need their coffee and food badly.  Perhaps this is the very sustenance they need to see them through another few hours in Vegas.  Lots of Tater Tots required there so I think to myself as I head out for a morning walk along the strip.  Better ask for a bucket load.  And a gallon of coffee.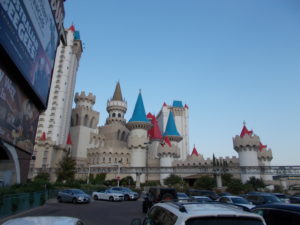 The strip looks quite different in the morning, but nevertheless retains its aura of the fantastic and extravagant.  The Excalibur Hotel which lies next door to the Luxor is themed on that of Medieval Europe.  The facade is that of a castle naturally and one of the permanent shows which plays inside is called the Tournament of Kings.  It's currently ranked as the twelfth largest hotel in the world and the seventh largest in Vegas itself.  For the record, the Luxor resides at number 9 on that worldwide list with the Venetian Hotel (also in Vegas) ranking as the second largest (and the largest in the United States generally).  Another hotel which one cannot but fail to notice on this particular part of the strip is the New York-New York Hotel and Casino.  To explain the name is something of an exercise in redundancy; the replicas of such structures as the Empire State Building, the Chrysler and the Statue of Liberty more than suffice in this respect.  One of the most notable features and attractions here is the roller coaster which traverses the exterior and interior, has a maximum drop of 144 feet and reaches speeds close to 108 kilometres per hour.  I've never had a head for roller coasters so decide to give this particular ride a wide berth.  Better to stay on the ground in Vegas I think and view the attendant madness at street level.  There are always bizarre sights to behold here; far-fetched attractions that cater even for those who suffer from acrophobia.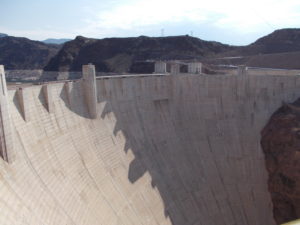 There's an option tour of the nearby Hoover Dam which I've decided to avail of and the coach departs at 8 a.m. from the east tower of the Luxor.  Situated in the Black Canyon of the Colorado River, on the border between Nevada and Arizona, the concrete arch-gravity dam is a feat of engineering prowess and construction ingenuity.  Built between 1931 and 1936, the dam was initiated to control flooding by the Colorado River (which was both unpredictable and rampant), to provide irrigation water and to deliver hydroelectric power.  It's a baking hot day out here even when we arrive before 9 and it's almost a blessing to descend by lift underground where we are taken to the engineering core of the dam.  There's a short film beforehand which outlines the history of the project and sets out the reasons for its construction.  Herbert Hoover – who himself was an engineer as well as 31st President of the United States – is lauded throughout.  Originally named Boulder Dam, the Hoover Dam was officially renamed by a joint resolution of Congress in 1947.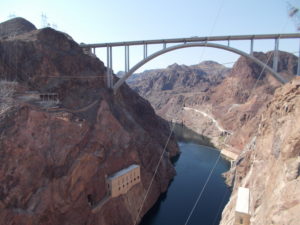 There are lots of facts and figures to digest during the course of the 45-minute tour, but one thing which strikes me is the extent of labour which was employed in the realisation of this mammoth undertaking.  The nearby city of Boulder, which is located in Clark County, was built to house workers who were contracted on the dam.  There were 112 deaths associated with the project and among these were some suicides which occurred on-site.  Employment peaked in mid-1934 at some 5,251 personnel.  Let's also remind ourselves that this was the era of America's Great Depression.  Thousands of workers descended on the area searching for a reversal of fortune, searching for a better way of life for themselves and their families.  A friend on the Western Discovery tour later suggests to me that aside from the recorded 112 fatalities, there must have been many other incidents of disputes and familial conflicts.  All too often, the history books fail to record these more intimate events.  Boulder was surely an interesting place in the 1930s, occupied as it was by people from all walks of life.  Quite a melting pot of backgrounds and personalities I'm thinking.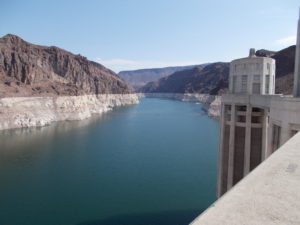 The heat outdoors is very intense as I cross over to the Arizona side of the dam and return again to the Nevada side.  The coach departs at 11 and we head back towards Las Vegas.  En route, we stop at a famous chocolate factory, but I can't imagine that too many of us have chocolate on our minds.  The temperatures in this part of the world are something which many of us are not used to, particularly us fair-skinned Irish travellers.  Downstairs in the Luxor, I avail of a fantastic buffet lunch which seems a steal at some $20 or so.  Afterwards, I hit the strip again, determining to make my way to the Bellagio Hotel and its famous fountains.  Walking along the strip is quite an experience as you are required to use the outdoor escalators in order to make your way down the 6.8 kilometre Boulevard.  I encounter an attempted scam along the way as a CD is suddenly thrust into my hands and an alleged music artist offers to sign it in my name.  Realising that the disclosure of such information will be promptly followed by a demand for hard cash, I toss the offending item back in his direction.  He doesn't seem very nonplussed by my reaction and directs his focus to the next possible victim.  Slightly annoyed by this, I decide not to go to the Bellagio after all.  It seems like too much work all of a sudden and, besides, it's too bloody hot.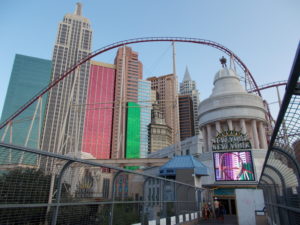 Returning to the Luxor before 3, I take a well earned shower and buy myself a carry-on case in a bag shop located within the hotel.  Most pleased with my purchase (a special Las Vegas case at that), I get ready for the dinner and show option tour which is on offer this evening.  A small group of us, consisting of myself, three English ladies, a Swiss couple and two German couples, are picked up at 4.30 and transported to a Hawaiian restaurant in the Venetian Hotel.  There's no Annette with us this evening, but her colleague (who is the tour director for the German-speaking tour) very sensibly advises us not to load up at the salad bar.  She's absolutely right.  For meat lovers, this is an Aloha heaven.  The waiters and skewers keep on appearing for the duration of the meal and there's more than a little steak, beef and other varieties of meat consumed.  Not really an establishment for vegetarians I would suggest.  But then again, the salad bar is very good as well if you are so inclined.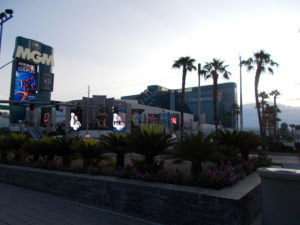 The show which follows is a variety entertainment of some 75 minutes which takes us through the history of Las Vegas.  There are Rat Pack impersonators with Frank Sinatra dominating these early proceedings.  Elvis features as you would expect, as does Elton John and Tom Jones.  The most moving part of the show actually occurs when we are reminded of the many famous and iconic hotels which have been demolished over the years to the strains of Elton John's Rocket Man.  Personally, I had no idea that such places as the Sands Hotel and Casino were no more.  The Venetian now occupies the site where it once resided.  1997's Con Air, incidentally, climaxes with the aforementioned aircraft crashing into the lobby of the soon-to-be demolished Sands.  That Hollywood footnote aside, it's somehow sad to think it's no longer there.  I'm thinking that Ol' Blue Eyes and his pals, such as Dean and Sammy, would have shed a tear on account of its passing.  As I retire later that evening, I recall the lyrics to the song One For My Baby as performed by the great man himself – 'And thanks for the cheer, I hope you didn't mind my bending your ear, But this torch that I found it's gotta be drowned or it soon might explode, So make it one for my baby and one more for the road.'