The Blogger's Word – Movies, Hotels and Iconic Backdrops – Part 8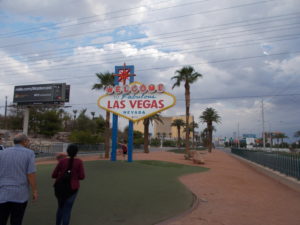 It's a 5.30 a.m. rise for me on this my last morning in Vegas.  Convincing myself somehow that it's later than it actually is, I grab a quick sandwich in one of the Luxor's many convenience stores and head out to the east tower with my luggage in tow.  The coach is nowhere to be seen and it's only after a few minutes that it dawns on me that it's 6.40 as opposed to 7.40.  Having consulted my trusted watch several times, I'm not quite sure how I've managed to do this.  Did some mild form of travelling panic set in in which I imagined myself missing the coach?  Or are all these early morning rises starting to take their toll on my mind?  In any event, I sit there with my bags beside me until an Australian friend arrives and offers to watch over them.  Grabbing a quick coffee at the Starbucks in the hotel, I return and chat to her about the end of her holiday.  For some people, Las Vegas is the last leg of their involvement in the Western Discovery tour.  A few are heading on to other parts in the States.  My Australian friend, her husband and a lady from Scotland are being driven to Los Angeles where they will catch flights at LAX to their respective destinations.  We say our goodbyes just before 8 a.m. and then check out the newbies who are joining our tour from this point onward.  The coach departs from the Luxor at 8, but there's a quick photo op of the famous Vegas sign as we depart the city.  Today we're heading into Death Valley and, from there, on to Mammoth Mountain which is located in eastern California along the east side of the Sierra Nevadas.  Annette advises us that we are lucky the predicted temperatures in Death Valley are not too high today; if it gets too hot, coaches simply cannot take the risk of driving through it.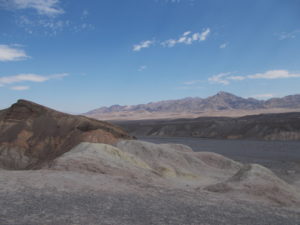 We stop at a Safeways at 9.15 and it's an opportunity to grab some provisions.  There isn't going to be a lunch stop as such today and Annette sensibly advises us to stock up.  Downing another Starbucks in the supermarket, I happily munch on a tuna croissant which is something I'm quite certain I've never had before.  The packet of pumpkin pie M and M's which I purchased way back in Page are still rattling around in my bag, so I give into this sweet temptation as we depart again at 10.  Zabriskie Point – located east of Death Valley – is the first stop en route and the shutters click away as usual as we admire its quite unique erosional landscape.  I've never seen the 1970 film of the same name by Italian director Michelangelo Antonioni, nor the 1964 Robinson Crusoe on Mars which utilises the location to represent the surface of Mars.  Part of 1960's Stanley Kubrick epic Spartacus was also shot here and U2 used it for their famous 1987 album The Joshua Tree.  And believe me, there are many such trees to be seen here along the route.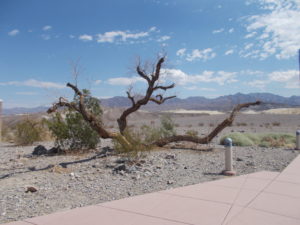 We arrive at Furnace Creek Visitor Centre at 11.35 and depart again at 12.  The record temperature for this place currently stands at 134 Fahrenheit or 57 degrees Celsius.  That's the highest ambient air temperature ever recorded on the surface of the earth.  Only the indigenous species and plants could last long in those kind of conditions.  Death Valley got its name from the prospectors who attempted to cross it during the California Gold Rush of 1848 to 1855.  Anyone who could have withstood this merciless journey certainly deserved to find lots of gold by my reckoning.  What an undertaking to make back in those harsh times.  We positively pale in comparison to them on our air-conditioned coach.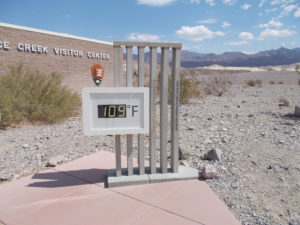 According to Annette, the exact name Death Valley was given by an unidentified prospector who managed to get across, but saw some of his companions expire in the unforgiving heat.  'Goodbye Death Valley,' were his words apparently as he turned and looked back on the terrain he had just traversed.  The area was placed under federal protection by order of President Herbert Hoover in early 1933; in 1994, Death Valley National Monument was renamed Death Valley National Park.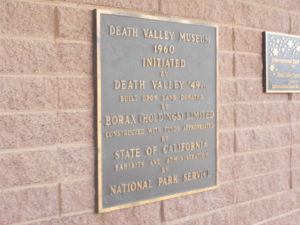 In terms of cinema, the valley may be best recognised from the first Star Wars film of 1977.  Others which have shot on location here include John Ford's 1948 western 3 Godfathers starring John Wayne and Harry Carey Jr., 1950's The Gunfighter starring Gregory Peck, 1961's One-Eyed Jacks starring Marlon Brando and Karl Malden (incidentally, the only feature film Brando ever directed) and 1966's The Professionals starring Burt Lancaster, Lee Marvin, Robert Ryan and Claudia Cardinale.  It's no small coincidence that many of the films shot here over the years are westerns.  One can understand how directors and photographers would be drawn to such a place and how it might serve to inform their storylines.  To survive here would be an act of sheer endurance and will power; a theme one often encounters in westerns is that of the taming of the land by man and his subsequent employment of it.  In spite of its stifling heat and sparse rainfall, the valley also boasts an extensive biodiversity.  Life exists here despite the name which suggests otherwise.  The western spirit is so often one of overcoming insurmountable odds whether posed by nature or man-made obstacles.  On that very note, I recall the image of John Wayne's character as he walks across the wide expanse of desert during the latter stages of Ford's 3 Godfathers.  An air of indomitability hangs over every step which the famous actor takes as he seeks to deliver a new-born baby to the fictional town of New Jerusalem.  Fair play to the Duke I think; I certainly would not be able to walk very far in this sweltering heat.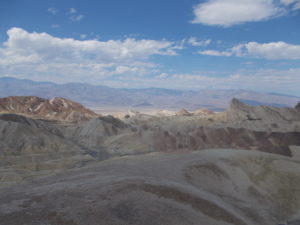 We make another short stop at the sand dunes at 12.30 and then at Father Crowley Point at 1.40.  At 4 p.m. we stop in the small city of Bishop which is located in Inyo County.  1967's Will Penny starring Charlton Heston was shot in these environs.  The wonderful character actor Elisha Cook Jr. (The Maltese Falcon, The Big Sleep, Shane and The Killing) lived in the vicinity for many years prior to his death in 1995.  Annette directs us to a Dutch pastry shop which has a wide variety of cakes, sweets and other such edible delights.  At 5.30 that evening, we finally arrive at our destination of the day, the Mammoth Mountain Inn Hotel.  It's quite a spectacular location nestled in the mountains as it is with overhanging gondolas to remind one that this is a very popular location for the ski set.  It's much too early for snow yet of course, but I can only imagine how this place looks in the winter.  The fireplace in the central lobby certainly suggests roasted chestnuts and hot bevvies.  But, at this particular time, we will just have to make do with potato chips and pink lemonade.  A small reception takes place which few of us knew about it seems given the meager numbers that turn up.  Myself and my Dutch friends on the trip joke about the riotous party we are throwing.  It's all very sedate, so I decide to have a few beers later on just to remind myself what alcohol tastes like.  At 10 that evening, I eventually give up the game and retire.  Fat chance of my ever making it across Death Valley I think.  Three or four beers and already I'm longing for the comforts of my bed.  Deeper into California we shall venture in the next leg of our tour and my travel journal.  Goodbye Death Valley.  Hello to more fertile climes.