The Blogger's Word – Movies, Hotels and Iconic Backdrops – Part 9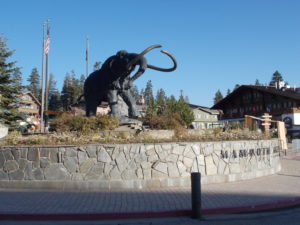 I get up at 6 a.m. on a beautiful but crisp morning at Mammoth Mountain and take my usual short walk before breakfast.  After the sweltering heat of places such as Las Vegas and Death Valley it's strange to feel a drop in the temperature all of a sudden.  I'm forced to wear a light jacket over my t-shirt this morning, something I haven't had to do since leaving Ireland.  In the restaurant upstairs I manage to get a table to myself just before official serving time begins at 7.  A large group of tourists are there before me and I figure that they must have some sort of prior booking.  Anyway, it works for me; I'm pretty hungry considering that my dinner the evening before consisted of a few small wraps purchased in Safeways.  I decide against the buffet option for a change and fix upon a breakfast aptly called the Mountainside Breakfast.  Feeling a slight hangover from the beers of the previous evening I briefly toy with the notion of a Bloody Mary as well.  When my waitress returns to my table bearing two large plates I imagine – as any normal person would – that only one of these is for me.  Turns out that I'm greatly mistaken though.  Both dishes are for my consumption – one is a large breakfast complete with bacon, eggs, sausages, hash browns, mushrooms and tomato; the other consists of two large pancakes with syrup.  By this time I've become somewhat accustomed to the large portions served in America again, but this is something far beyond my physical bulk or digestive tract.  Of course, I'm not able to eat it all.  I think Bigfoot himself might well struggle.  The food is really good, but there's just too much of it.  Word of advice – if you ever happen to stay at the Mammoth Mountain Inn order the Mountainside Breakfast by all means; just ensure that you have a partner to help you out in terms of eating it.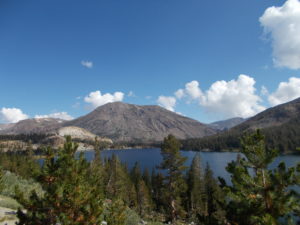 It's a later than usual departure this morning – 9 a.m. (on account of an option tour some of our group are doing) – so I take another short walk before hauling my luggage to the coach.  The focus of today's activities and journey is Yosemite National Park which covers an area of some 747,956 acres and extends across the western slopes of the Sierra Nevada mountain range.  A World Heritage Site which attracts an average four million visitors per year, the park is most famous for features such as the Sentinel Dome, the Half Dome, the North Dome and, of course, the majestic El Capitan.  A brief photo stop at 10.25 provides us with our first view of the park from afar.  The Tunnel View on State Route 41 expands further on this with a breathtaking panorama which encompasses El Capitan, Half Dome and Bridalveil Fall.  Then it's a steep drop down into the valley itself which calls upon all of Kyle's considerable skills as a driver.  Within the park, Yosemite Valley itself is the chief draw for visitors and tourists the year round.  Before we reach the very base of this, Annette grants us a further stop to capture some pictures of the iconic El Capitan which has featured in films such as 1989's Star Trek V: The Final Frontier (Trekkies among you might recall that Kirk is attempting to scale its face early on in that particular movie).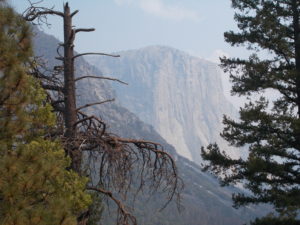 We arrive at Yosemite Falls Lodge just after 1 and are left to our own devices as regards walking or straightforward relaxation.  Myself and some Dutch friends opt for the former by way of a casual amble.  It's a beautiful day in Yosemite and the temperature has returned to a familiar heat following the high altitude of Mammoth Mountain.  In a funny way, I'm beginning to get used to this.  Anything below 30 degrees is almost a disappointment now.  Where's the challenge in walking in a climate which does not cause me to sweat profusely I ask myself.  I survived the Strip in Vegas after all and the searing environs of Death Valley.  We check out the falls and spend much of the time talking about language seeing as how my Dutch friend is more than proficient at English.  I tell him about some of the time I spent living and working in Italy, about some of the common mistakes that are made by foreign speakers of the respective languages and the unintentionally hilarious situations that can arise.  The wonderful thing about a tour of this duration (two weeks, give or take) is that it truly gives you an ample chance to connect with people who are on it for the same length as yourself.  Having done trips of this nature averaging one week in the past, I've come to realise how this is not enough time with respect to making new friends and forming alliances.  All too often before, I've been frustrated that I was just getting to know certain individuals just as the holiday was coming to an end.  On this occasion, thankfully, it's different.  Now we're all on a first name basis and naturally gravitate towards one another.  There's a definite and palpable bond now – a camaraderie forged from having been on the road together for more than a week.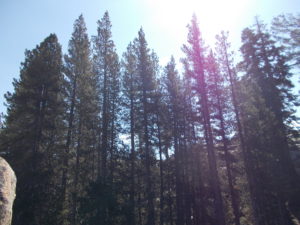 A simple cheese sandwich is as much as I need following the Mountainside Breakfast from earlier in the day.  Along with my Dutch friends, I sit in the shade and watch the world go by for a change.  There's been a lot of time spent on the road up to this point and, in truth, we've had very little opportunity for such quiet moments.  It makes for quite a change.  The touring has been intense on certain days and it's high time for a smattering of reflection.  We're more than half ways through the Western Discovery.  It causes me to feel a little sad as I realise there's less than a week to go.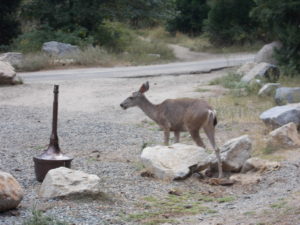 A small deer idly grazing in an open space is the focus of some attention just before we leave Yosemite.  The coach departs at 3 and we head towards our final destination for the day which is Modesto located some 150 kilometres east of San Francisco.  Star Wars and Indiana Jones creator George Lucas hails from this place.  His 1973 coming-of-age film American Graffiti was actually set in the city, though most of it was actually shot elsewhere.  Nine-time Olympic champion Mark Spitz was also born here before moving to Honolulu.  Deadwood and Justified actor Timothy Olyphant, on the other hand, moved in the opposite direction from Honolulu to Modesto; he was a graduate of the local Fred C. Beyer High School.  Fellow thespian Jeremy Renner is also a graduate of the very same school.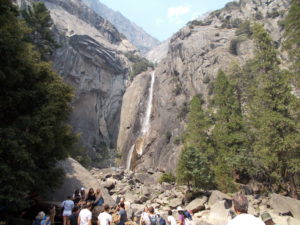 We arrive into the attractive city of some 200,000-plus inhabitants at about 6 that evening and my first port of call as usual is the shower followed by a quick change of clothes.  I've pretty much expended all of the cash I've been carrying on me since the beginning of the holiday and it's time to get some more notes for the sake of sheer convenience and for tipping generally.  My search for an ATM proves far more difficult that I could have imagined though.  The machine in the hotel is not working and the same applies to a service station a few blocks up the road.  A nearby shopping district provides no further relief.  In one supermarket my attempted transaction is declined at the last moment; in another store, the machine simply goes out of order just as I insert my so-called plastic friend.  Tearing my hair out at this stage, and not wanting to use a restaurant as I have no cash with which to tip, I settle upon a McDonald's where tipping is not required and where – thankfully – my Visa Debit is finally accepted.  It's nothing compared to the behemoth of a breakfast I'd been served much earlier in the day, but it will suffice for the moment at hand.  Needs must I tell myself as I sink my teeth into the culinary delight that is the Big Mac.  But thank you Ronald McDonald nonetheless.  When the chips were down (excuse the obvious pun), you certainly did come through for me you lovable clown.  With such profound thoughts in mind, I reflect on yet another eventful day and cast my mind forward to San Francisco which is no more than a stone's throw away at this stage…for a seasoned traveller such as myself that is.