The Blogger's Word – Rocky Mountain Frontiers and Western Terrains – Part 1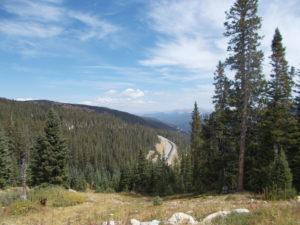 'Twenty years from now you will be more disappointed by the things you didn't do than by the ones you did do.  So throw off the bowlines, sail away from the safe harbour.  Catch the trade winds in your sails.  Explore.  Dream.  Discover.' – Mark Twain
It's 4.30 in the morning on Saturday 1st September, 2018 in Dublin and I'm not much in the way of dreaming or even sleeping at this all-too early hour.  My flight to Vancouver, Canada is scheduled to depart Dublin Airport at 10.10 a.m. and there's no chance of me returning to my slumber with thoughts of a hurried check-in or – much worse – a missed flight playing in my head.  It's much too early to head out to the airport just yet, so I decide to go out for a quick walk to pass the time and exercise the limbs before the laborious trans-Atlantic journey ahead of me.  It's semi-dark outside and the city streets are most certainly quieter even at this time than they would be on a normal working day.  Leaving my wallet and valuables behind me in my apartment, I pray that I won't be mugged or set upon by some late-night revellers ambling home after a night out.  How would I explain this?  What paltry sort of excuse would this be to the airline or a travel insurance company?  I couldn't make the flight because I got beat up in the early hours of the morning.  I didn't have the good sense to stay indoors until the time came to catch a taxi.  A likely story I'm sure they'd say as a line would be quickly struck through my claim.  But the Gods are on my side this morning.  I return to my apartment quite unharmed at 5.45 a.m.  One taxi ride later and I'm already at the airport by 7.05.  The flight to Vancouver takes off at 10.30 – a little later than scheduled – but hey I'm on my way I think.  I survived the early walk, I did not miss the flight.  It's hardly the most auspicious of starts, but it will suffice to the moment.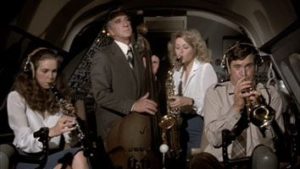 But what exactly can one do with 9 hours and 20 minutes when there is no in-flight entertainment system to hand?  That's the dilemma which occurs to me as we take to the skies.  The Air Canada plane I've caught today only offers an app which must be downloaded on your phone prior to take-off.  Sadly – and to my brief chagrin – there are no television screens on the back of headrests.  They only exist in business class which is where I'm not.  There are no current television shows available to me, no theatrical releases from the cinema which I can avail of to kill the time.  Sleep is not much of an option as I can never get entirely comfortable in the seats.  Fortunately, I strike up a conversation with my neighbour who – like myself – is States-bound via Canada.  Because he's visiting some of the places I got to in 2017 during my Western Discovery trip, I feel duty-bound to show him some of the pictures I still have saved on my digital camera.  Yes, the hotels are that large in Las Vegas.  Yes. it's a fact that some people fall into the Grand Canyon each year.  The flight passes more tolerably as the food is served, the conversation focuses on travel and cinema and a glass or two of wine is consumed.  We finally touch down in Vancouver at 11.20 a.m. and it's been a lot easier than I expected.  God bless the ancient art of conversation I think.  Who needs a fancy app when you can chat about past trips and bucket-list-destinations.  But in Vancouver Airport I'm all by myself once again and facing a five-hour-plus wait for my connecting flight to Denver.  How can I possibly fill the time?  I can only chew my food so slow.  There's only so much duty-free gawking that I can do in a single afternoon.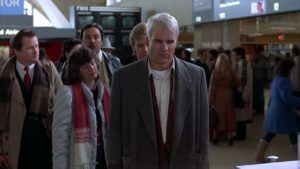 After 3 p.m. and a surfeit of such window shopping, I have a bite to eat in a sports bar in the airport – a chicken BLT and fries.  At one point in time I had contemplated the idea of heading into Vancouver to quickly take in some of the sights and sounds of the coastal seaport city in Western Canada.  But then I grew indifferent to the notion.  How much time would I have to get a flavour of the city?  Surely not enough before I'd have to be heading back to the airport.  Eventually, I decided that places such as the Lions Gate Bridge and Stanley Park could await a return visit.  The next time I'll do Vancouver properly I tell myself.  The next time there will be no half-measures.  Perhaps it's just as well because after the food, I hit something of a wall.  Maybe that 4.30 a.m. start back in Dublin was not such a wonderful idea.  Maybe I am a year older after all.  I'm greatly relieved when I finally board the Vancouver to Denver flight after 6 p.m. local time.  Even the sight of a very cute air hostess is not enough to keep me awake on this particular journey.  Arriving in the Colorado capital after 9 p.m. local time, I somehow manage to source the Super Shuttle service – for which I have a voucher – and reach my hotel in Cherry Creek sometime after 10.  At the front desk, my tour guide has left some literature for me to read, but I'm much too tired after this long long day on the road (and in the skies).  I've requested a 6 a.m. wake-up call as we're due to begin the tour at 8 and – mercifully – sleep comes easy.  Texting my Mom and sister before bed, I let them know I've arrived safely.  Back home it's a much different hour and already the following day.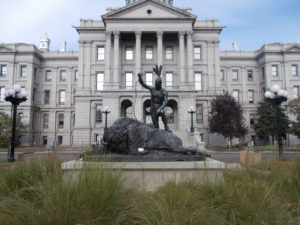 I've never been a good sleeper generally, but – in spite of a few forays to the bathroom and attendant moments of disorientation – it's not a bad rest and I decide to get up at 5.10 a.m.  I take the time out to begin my travel journal and get my bags organised.  This will all soon become second nature to me on this particular holiday.  Between now and the end, there will be only one hotel which we will reside in for two consecutive nights.  So it's high time to steel oneself in body and mind.  A good hearty breakfast downstairs in the Eggcetera restaurant at 6.30 also goes some way towards fortifying me.  Glancing around at the other tourists and travellers, I try to hazard a guess at who else might be on my tour for the next two weeks.  A US ladies volleyball team who are in town for a match would certainly make for some very eye-catching company, but my fantasy is soon shattered as they make for an entirely different coach.  I meet my tour director – Adrian – in the lobby at 7.30 and he immediately seems to sense my pain.  Yes, he too has spotted the female athletes.  Alas, he confirms that none of them will be accompanying us on our two-week odyssey.  Life is never perfect, but setting off at 8 a.m. on this wonderful adventure, it's pretty close nonetheless.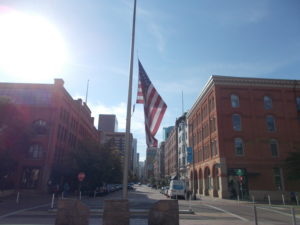 Our first port of call in the Mile High City is the State Capital building where all the American flags are noticeably at half mast.  The funeral of John McCain has just taken place the day before and, hence, the due respect to the former Senator from Arizona.  Denver gets its nickname on account of its 5,280-feet (or one mile) elevation above sea level.  Known also as the Wall Street of the West, the (presently) 19th-most-populous city in the US is very peaceful this morning in spite of a food fair which has been on-going through the weekend.  Tomorrow is America's Labor Day and I guess many people are in transit or already at their destinations for the last official US holiday of the summer.  Even the city's iconic Union Station (located at 17th and Wynkoop Streets) is relatively quiet when we visit there at 9 a.m.  This proves to be a jump-off point for us as we soon head into the Colorado Rockies.  En route, Adrian gives us an overview of the two-week quest ahead in English, German and Dutch.  There are a total of 36 people on this tour and nationalities include Irish, English, German, Dutch, Norwegian, Swiss and Austrian.  Adrian – who is Dutch himself – resides in Florida just as my Dutch tour guide Annette did from last year's Western Discovery.  Our bus driver is John and Adrian makes the joke that his name is in fact John Denver.  Stopping at an apparel store at 10.15, I top up my sugar levels with a Starbucks pumpkin spice latte.  This trip has already hit the ground running and I suspect I will need such replenishments for my energy levels.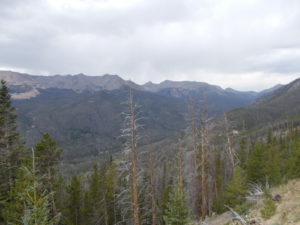 The vistas are spectacular as one can imagine as we ascend through the mountains.  Following a photo stop at 11.15 to view the Continental Divide, the Dutch members of our group very graciously inform Adrian that there is no need to do translation for them as they understand the other two languages very well.  So the remainder of our trip will be in English and German.  Adrian – for his part – seems mightily relieved by this.  Two languages is taxing to most; speaking in three would surely be even more of a burden.  After out first foray into a Safeways supermarket at midday, we reach the Rocky Mountain National Park at 1.15 in the afternoon.  The main features of the park – which was established in 1915 – include mountains and lakes and a wide variety of wildlife.  Arriving at the Park Ridge View and nearby Alpine Visitor Centre at 2.15, a few of us brave it further on up along the Tundra trail.  A helpful sign up this ascent reassures the fretful and breathless visitor that they are not suffering a heart attack.  The stress on the respiratory system is caused by the considerable elevation.  For not the last time on this tour, I ask some affable fellow visitors to take my picture.  Happy that I'm still alive and not in the throes of a cardiac accident, I descend again to the visitor centre where the first obligatory t-shirt of the holiday is duly purchased.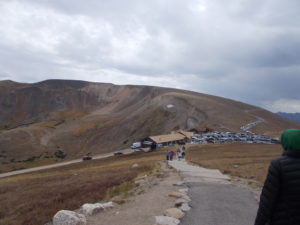 Arriving in Cheyenne, Wyoming at 6.10 that evening, the majority of us (I think) attend an informal drinks reception to mark the beginning of the Rocky Mountain Frontiers trip.  Apart from the Safeways sandwich which I devoured on the bus earlier, I haven't had a substantial meal since breakfast, but feel much too tired at this stage to even consider the notion of a square meal – too much work after this intense first day, much too much digesting which I barely have the energy for.  Instead, I satisfy and kill my appetite with a plethora of peanuts and small squares of cheese. We're staying in the Red Lion Hotel in the Wyoming state capital tonight and – truth be told – I think most of us are just longing for a few hours' sleep.  A glass or two of red wine gets me in such a sleepy mood.  Retiring at the much-too-early hour of 9 p.m., I wonder if I am getting old.  Perhaps the mileage of the last two days is starting to tell.  But then again, I remember those wise words of Mr. Twain as quoted at the beginning – Twenty years from now etc.  So rest up for the night I tell myself – and enjoy the unfolding odyssey to the nth degree.