The Blogger's Word – Rocky Mountain Frontiers and Western Terrains – Part 11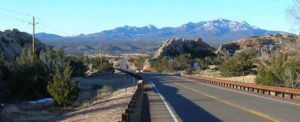 My morning rise in the Best Western Plus Rio Grande Inn in Albuquerque is at 6.20 a.m. and, following a shower, I go in search of the hotel restaurant and some much-needed sustenance for this early part of the day.  At breakfast I join a French guy from the group who has lived and worked in the United States in the past and informs me that he has visited 27 of the states in total.  By my own reckoning, I've now visited approximately 15 of them myself, including New Mexico.  That's probably more than most people worldwide; in actual fact, it's probably more than most Americans.  Breakfast for this well-versed traveller consists of eggs, toast, sausages, potatoes and coffee.  It's a more leisurely affair this morning seeing as how we are departing at the much later time of 9 a.m.  After several refills of coffee, I return to my room and get my bags ready as per usual.  The coach leaves at 9 as scheduled under John's careful stewardship.  On official tour duties as always, Adrian informs us that we will be travelling from Albuquerque to Santa Fe via The Turquoise Trail which is designated a National Scenic Byway and extends for some 87 kilometres approximately.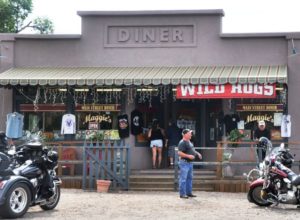 There are some terrific mountain views along the way, which are perfectly complemented by the azure blue sky, but one of the highlights of this particular section of the tour is our half hour stop in the very quirky town of Madrid, New Mexico – quite different, I might add, to the more famous Spanish capital city.  Located in Santa Fe County, Madrid has become a latter-day artists' community with a number of galleries lining its main street, as well as remnants of its history as a mining settlement.  The Wild Hogs Diner will be of particular interest to those who value and appreciate the unconventional and off-centre.  There are many biker-themed t-shirts and other merchandise on sale and posters which festoon the store are of the 2007 film Wild Hogs (starring John Travolta and William H. Macy) – part of which was set in the town.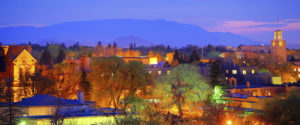 But there's no rest for the wicked or wild on this tour and we're on our way again arriving into the outskirts of Santa Fe – New Mexico's state capital and fourth most-populated city – at 11.15 a.m. approximately.  There's a flavour of officialdom first as we visit the New Mexico State Capital building, which is located at 490 Old Santa Fe Trail, at 11.35.  For the record, this is the only round state capital in the whole of the United States and hence its informal title as the Roundhouse.  After taking in some pleasant sunshine outdoors, we carry on in the coach to the neighbourhood of the Cathedral Basilica of St. Francis of Assisi which is situated at 131 Cathedral Place.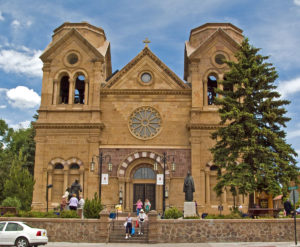 Built between 1869 and 1886 on the site of an older adobe church, Saint Francis Cathedral is a prominent structure in Santa Fe and is especially noteworthy for its Romanesque Revival style.  We are left to our own devices for a number of hours in this the Santa Fe Historic District and the Basilica is the first port of call for many on this beautiful September day.  Other famous buildings which Adrian has recommended to us include the De Vargas Street House (purportedly America's oldest house) and the Loretto Chapel which is located at 207 Old Santa Fe Trail.  Officially consecrated in 1878, the former Roman Catholic church is most famous for its miraculous staircase which rises some 20 feet to the choir loft without the support of a newel or central pole.  Constructed sometime between 1877 and 1881, the staircase is a remarkable feat of carpentry and much rumour and speculation surrounds the mysterious – and unidentified – craftsman who fashioned it.  One version of this tale would have you believe that it was St. Joseph himself who built it.  In any event, it's quite a sight to behold – all the more so when one considers that it is held together by wooden pegs and glue as opposed to nails or screws.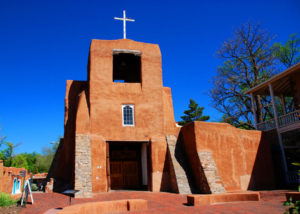 The other building of no-small significance which I must mention is that of the San Miguel Chapel – a Spanish colonial mission church which is the oldest known church in the continental United States.  Its original adobe walls are, thankfully, still intact and masses are still offered here on Sundays.  All this sight-seeing brings on my appetite naturally and, mid-afternoon, I enjoy a toasted ham and cheese sandwich with some potato chips.  After a few purchases in the souvenir stores, I return to the Basilica one more time before the coach picks us up at 3.40.  Our hotel for the evening – The Lodge at Santa Fe – is a little way from the Historic District, but Adrian reliably informs us that there is a regular shuttle service back into town.  Like most people, however, I'm content enough to take my ease for the evening and the first such duty is to avail of the shower in my room to freshen up.  Going out into the main lobby again just after 6, I bump into Stephen on the stairs and the two of us agree on a drink or two before dinner.  The bartender makes the gin and tonics extra strong – which I don't complain about – and the two of us sit outside on the balcony with some of our fellow group members.  Most of us are grateful for this bit of respite now.  We've been constantly on the go for more than 10 days at this point.  It's been wonderful on the whole, but also quite intense.  A second such gin and tonic (and more gin really) convinces me of the need for some food and the two of us join Marc in the restaurant where I partake of some rib eye steak accompanied by two glasses of red wine.  Retiring at 10 that evening, I have cause to reflect on a memorable day in this fascinating and historic-laden place.  Little wonder that it's nicknamed The City Different.  A much-deserved moniker indeed.  But I wouldn't venture onto the miraculous staircase with a few of those extra-strong gin and tonics on me – ill-advised methinks.