The Blogger's Word – Rocky Mountain Frontiers and Western Terrains – Part 12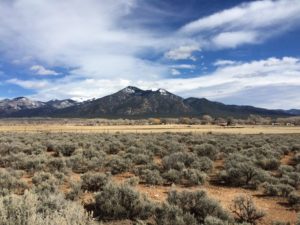 The final segment of the Rocky Mountain Frontiers tour of 2018 for me begins with a typically early morning rise at 5.30 a.m. in my hotel in Santa Fe.  Breakfast in The Lodge at Santa Fe is scheduled for 6.30, but I don't get served until about 7 due to the number of us who show up together in unison for this first meal of the day – the kitchen staff certainly appear under pressure.  The food – mine is a French Toast Combo with sausage and coffee – is most definitely good when it is eventually served and I leave a decent tip for the beleaguered-looking waitress.  The coach under John's diligent stewardship departs at 8 and we make a photo stop along the Rio Grande at Adrian's encouragement at 9.  Arriving in the town of Taos in the north-central region of New Mexico at 9.30 approximately, we visit a nearby Albertsons Supermarket where provisions for lunch are acquired.  The official itinerary for the day's tour has included a visit to the UNESCO World Heritage Site that is Taos Pueblo, but, upon arrival here, Adrian learns that the historic settlement is closed to tourists for the day on account of a death in the community.  It's a disappointment, but the customs and traditions of this private community must be strictly observed.  Adrian even refuses to allow anyone off the coach to take a picture.  Such a seemingly innocuous act could be perceived as an insult to the natives.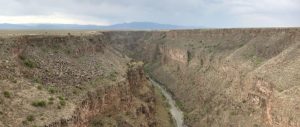 A photo stop of great extent and scale soon makes itself available to us when we stop at the Rio Grande Gorge area for a much-earlier than planned picnic at 11 a.m.  The views from the Rio Grande Gorge Bridge (the tenth highest bridge in the United States) are spectacular to say the least.  The structure, which was commenced in 1963 and completed in 1965, has also featured in a number of films including Natural Born Killers and Terminator Salvation.  Departing from here at midday, it's not long before we find ourselves re-entering the state of Colorado after all this time and many miles on the road.  It's a somewhat unpalatable reminder that the tour is very much entering its latter stages.  Time flies when you're having fun as they say.  All good things must, inevitably, come to an end.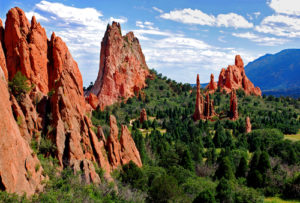 Arriving on the outskirts of Colorado Springs at 4 p.m. approximately, we enter the famous public park that is Garden of the Gods at 4.20.  The red rock formations here are simply stunning and the vistas are second-to-none on this bright sunny day.  A particular standout is the Balanced Rock which makes for some great photos.  Our hotel for the evening is the Hyatt Place in Colorado Springs which we reach at 5.40.  After a slight confusion regarding my room, I'm more than happy to freshen up with a shower before venturing out for some evening-time sustenance.  Meeting Marc downstairs, the two of us agree on a nearby Applebees for a drink or two before dinner.  We're soon joined by Stephen and the three of us enjoy a few more beers to accompany dinner (sirloin steak with Parmesan and shrimp in my case).  Back at the Hyatt, there's time for one more drink before we retire.  After a satisfying Dewar's whiskey, I duly hit the hay at 11 p.m.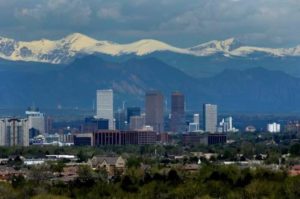 The very last day of the tour begins with a 6 a.m. rise in my case followed by some breakfast downstairs.  There's quite a queue this morning as another group staying in the hotel are leaving quite early so a smidgen of patience and some hot coffee are the orders of the day.  Availing of an ATM in a nearby gas station, I put together my envelopes of tips for both John, the coach driver, and Adrian, the tour director.  In both cases, these tips have been well-earned and merited.  If you should ever have either of these gentlemen on an escorted tour, then you will be very lucky.  The coach departs the Hyatt at 8.30 and the first stop of the day is at the United States Air Force Academy at 9.  Located immediately north of Colorado Springs, this military academy was established in 1954 and has as its motto: Integrity First, Service Before Self, Excellence in All We Do.  It certainly is a worthy phrase and philosophy and the competitive nature of the establishment is resonant even in the visitor centre.  In marked contrast to this is the shopping outlet centre which we reach at 10.25.  Having spent some of our hard-earned money, we depart again on the dot of 12.  Arriving into Denver just after 12.30, we are informed by Adrian that the total distance of the tour has amounted to some 3,150 miles approximately.  That's quite a bit of travel for 13 days if I may say so myself.  It's never once been onerous and more than worth it.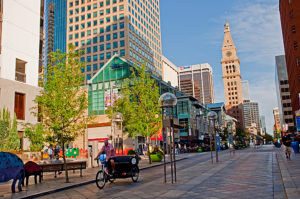 The coach drops us off close to 16th Street Mall which is a pedestrian and transit mall in the heart of downtown Denver extending for some 1.25 miles.  The first order of business here is to get a bite to eat with Marc and Stephen.  It's a blistering hot day in Denver for this time of year and an outdoor bar and restaurant more than suffices for this purpose.  Soon afterwards, myself and Marc see Stephen off at the coach again as he is catching a flight later that evening from Denver Airport.  The goodbyes continue apace as other members of our group are also departing for other connections or various legs of their respective tours in America.  It's always sad to bid farewell to people one has travelled with intensely for the course of almost two weeks, but such is the nature of this business.  Aldous Huxley once observed that 'To travel is to discover that everyone is wrong about other countries.'  Certainly perceptions of places and other peoples can change within a relatively short space of time.  I'm glad to say that my experience in this regard has been positive for the most part.  The Rocky Mountain Frontiers tour finally comes full circle as we return to the Holiday Inn at Cherry Creek just before 5.  After many more farewells, I check into my room and meet Marc for some dinner at 6.30.  A few more beers go down quite well and – in spite of my very early scheduled rise for the following morning – I do not retire until about 11.  Good night America on that very note.  Hope to see you very soon again in the not-too-distant future.